Did you know why March 21 is World Down Syndrome Day?
The symbolism of this date lies in the fact that people with Down syndrome on the 21st pair have three instead of two chromosomes.
World Down Syndrome Day has been celebrated worldwide since 2011 to raise awareness about Down's syndrome, support people living with it, to improve their quality of life and inclusion in society.
As a sign of support, in addition to wearing different colored socks, we wrote about actions dedicated to this date and support for people with Down syndrome.
Read how others are helping and join in where you can help yourself.
#LotsOfSocks - a symbolic act of support that everyone can show
One way to show your support is to put on long colorful socks, take a photo and post the picture on your social media with the hashtag #LotsOfSocks.
You have probably noticed this action on social networks in previous years, and it is undoubtedly relevant every March 21.
There are several answers if you don't know why different colorful socks are worn. They are taken as a symbol because they are similar in shape to chromosomes, they symbolize the acceptance of diversity, and there is also the claim that people with Down syndrome cannot match them.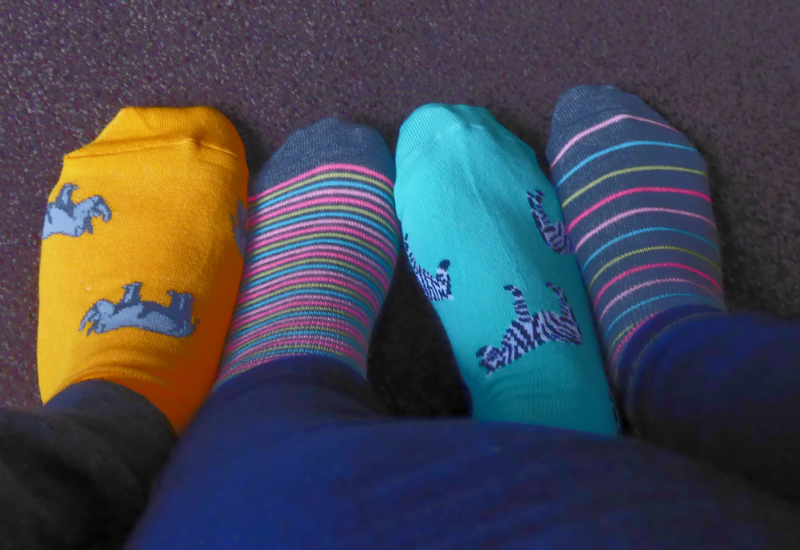 #WithUsNotForUs
Around the world, World Down Syndrome Day will be marked by the #WithUsNotForUs campaign dedicated to the inclusion of people with disabilities and their involvement in decision-making.
The main event is a conference organized by Down Syndrome International at the headquarters of the United Nations in New York.
The conference is attended by people with Down syndrome and disabilities, supporters, government and UN officials, and representatives of non-governmental organizations who will share knowledge, experience, and good practices from countries worldwide.
To find out how else World Down Syndrome Day will be celebrated worldwide, follow the hashtag #WithUsNotForUs and the Facebook page Down Syndrome International.
Sales exhibition and gathering in Mostar
Association for Down syndrome Mostar organized a sales exhibition of works created at the association's creative workshops and a pleasant socializing with members in anticipation of the World Day of People with Down Syndrome.
Down Syndrome Albania– the #LotsOfSocks campaign and fundraiser to provide therapeutic services for children
Foundation Down Syndrome Albania invited supporters to join the #LotsOfSocks campaign and buy socks to support fundraising for providing therapeutic services for children at the PRO PAK center run by this foundation.
Humanitarian match
Center Jonathan from Albania is organizing a basketball game on the occasion of March 21, the World Day of People with Down Syndrome.
The activity will occur on March 21 in the Olympic Park in Tirana from 18:00 to 20:00 with young people from Raiffeisen Bank, Mulliri and Vjetër Coffee Shop. The match will be organized to raise awareness about Down syndrome, and the ticket cost ALL 700.
Funds collected during the match will enable free therapy hours for children with Down syndrome in Albania.
The event is supported by: the Municipality of Tirana, the Agency for Parks and Recreation of Municipality of Tirana, Raiffeisen Bank Albania, Mulliri and Vjetër Coffee Shop, and Special Olympics Albania. Application for participation can be made via the link.
Can I work too?
This year, the Croatian community for Down syndrome marks the World Day of People with Down Syndrome with the Employment of People with Down Syndrome conference held in Zagreb.
A screening of the film Can I work too? will be organized as part of the conference. In the film, participants will see how five young people and adults with Down syndrome work with fulfillment and joy.
Follow the sunflower
Traditionally, the Diamant company organizes the socially responsible campaign "Follow the sunflower," whose goal, besides financial support, is to encourage further inclusion of people with Down syndrome.
This year's novelty is the anthem, which was specially designed to mark the World Day of People with Down Syndrome, sung by the author Bojana Vunturišević.
As part of the campaign, this year, there will be one million two hundred thousand bottles of Diamant oil on the shelves, with a specially painted label, by purchasing which we all become active participants in the "Follow the Sunflower" campaign. Each bottle purchased will separate, and donate one dinar to the Alliance of Associations for the Help of People with Down Syndrome.
Heart sounds
If you are in Belgrade and haven't visited the cafe yet, Heart sounds, then today may be the right occasion for it. People with developmental disabilities work in this cafe, run by an organization called A child's Heart.
In addition to stopping by for a coffee, you can help the work of the organization and the people it helps by buying some of the handicrafts made by beneficiaries of the A child's Heart organization.
We believe that some of the actions we wrote about will motivate you to show support. Some of the ways are:
Donate to organizations supporting people with Down syndrome or organize your fundraising campaign for this cause.
Get involved in volunteer activities organized by local organizations working with people with Down syndrome.
Support on social networks by sharing information about World Down Syndrome Day and actions organized in connection with it.
Be inclusive and support people with Down syndrome in your local community. This may mean inviting them to hang out, helping them with their daily activities, or simply getting to know them and supporting them in everything they do.
If you know of an action we missed writing about, let us know. If you want to learn more about donations to support people with Down syndrome or get detailed information about donations for different areas in the Western Balkans, visit our Giving Balkans application.