Nonprofits often work towards solving some of the most pertinent and complex social issues. And yet, getting to money to fund their activities is not always easy.
In last week's blog, we talked about ways of getting online donations currently available in Serbia. Before you dive into resolving the technical tips and tricks, it is advisable that you have a good idea on how and for what purpose you will be raising the money for.
For that reason, today we ask ourselves what makes a fundraising campaign "creative", that is different from the rest?
When we think of creativity, the first thought that comes to mind is usually art. The nonprofit sector is no exception in that respect as art is increasingly becoming a tool for social good.
However, creativity is not exclusively tied to the arts. Creativity is also the ability to think in a different way, a synergy of different things and the ability to find connections which may not be entirely obvious.
This is exactly why a creative approach can also be the key to success of a fundraising campaign – whether in regard to an unorthodox manner in which the money is raised, an extraordinary cause which is helped or the way in which the campaign allows intersectoral cooperation.
Here are 10 such campaigns from 2018:
1. DrumoDom 
Have you ever heard a really cool idea and thought: "How is it possible that this is only just happening?"
DrumoDom campaign launched by the organization Adra is just such an initiative. An ordinary bus, practically invisible in the midst of chaotic, city traffic – and yet a place that also brings great hope to some and provides a space where they can meet some very basic need, those most of us take for granted.
This mobile bathroom is a place where homeless people can shower, wash their clothes but also get experts' advice on how to improve their lives. The campaign ended in December and raised EUR 12,300 (USD 14,000) that is 101% of its goal, and the first bus is supposed to start running some time soon.
2. #ŽeneBiH 
Crowdfunding is a relatively new trend in the region. But this doesn't mean there aren't many people ready to support great ideas in this way.
On the contrary…
Crowdfunding campaign WomenBiH (#ŽeneBiH), for example reached 513% of its goal and enabled the printing of a book about important historical women from Bosnia and Herzegovina. Of course, the book is also a testament of women's accomplishments today, primarily illustrators and authors who created this fantastic book.
Because of the campaign's outstanding success, the authors are also able to donate copies to public libraries and schools, which an important step in education children and young people about gender equality and the emancipation of women.
3. My Tree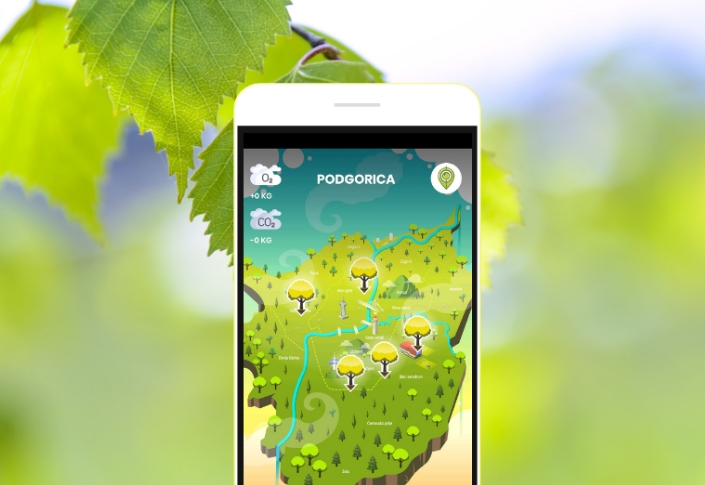 As we at Catalyst are well aware, besides art a great tool for social good is also technology.
Montengro brought us a great story in that respect, about the mobile app My Tree (Moje drvo) which allows citizens and companies to donate money for planting trees in Podgorica.
A combination of ecology, technology and digital fundraising is interesting in itself, but what is further exceptional about this project is the way it enables cooperation between different sectors. The idea came out of the nonprofit sector, the technical part of creating the app was done by the IT company Amplitudo, and experts from the public company Zelenilo took over the planting and deciding which trees may be planted.
The main donors are of course companies, but also all citizens who apart from donating can also volunteer to help with planting of the trees – also through the app.
4. Ljubinka's Legacy 
The story of Ljubinka Vičar sounds like fiction. A woman who looked after and cared for animals throughout her life, in her will left her apartment to Orca Organization for Respect and Welfare of Animals.
And the people from Orca had a great idea on how to share Ljubinka's grand gesture with the entire community. That's why they launched a crowdfunding campaign on Donacije.rs in order to raise money for renovating the apartment which will be turned into the 1st student home for two female students in the fields related to the protection of animals and the nature.
By bringing together animal and environmental welfare, social empowerment of women and the sustainability of giving for the greater good, Orca managed to raise EUR 8,848 (RSD 1,048,464) for renovating the apartment, while the works are currently underway.
But this story about the ripple effect of kindness does not end here!
In the meantime, another woman offered to help the work of the organization by including them in her own will, as the inheritors of her own apartment.
5. My Rainbow Family
Do you remember your favorite childhood picture book?
From traditional fairytales to Disney films, children's books are full of well loved characters and important messages we remember throughout our lives. And yet, there is one important message which is underrepresented in books which today's kids are reading.
This is the message that families in the 21st century are very diverse, and also the message about the importance of acceptance and inclusion. Precisely for this reason the Rainbow Family Association (Udruga Dugine obitelji) from Zagreb launched a crowdfunding campaign in order to publish a picture book featuring children characters with same sex parents.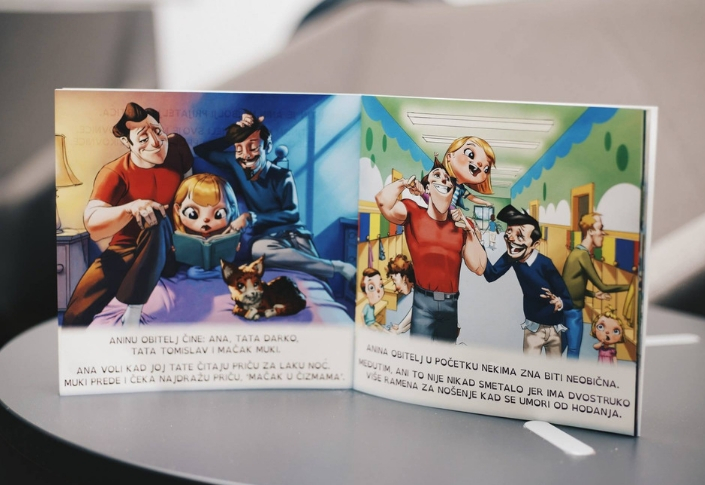 The campaign has very quickly been recognized in the public as an important initiative, and raised a total of EUR 8,900 (USD 10,116) for the printing of this special book, which supports the social integration of children with same sex parents in a very original way.
6. Dostojno jest 
Yes, books and kindness make a great team, and another example of that from last year was the book called It's Dignified (Dostojno jest).
This Kontrast publishing edition is a collection of poetry and prose. The catch is that the entire revenue from the sale of the book is directed towards BELhospice center for palliative care in Belgrade.
Everyone who has bought the book didn't just help a great cause, but also enriched their library with a piece of work of great literary value, as the anthology includes the works of some of the greatest contemporary domestic writers.
A further testimony of this project's impact is the recent NIN Person of the Year Award presented to Vladimir Manigoda, founder of Kontrast publishing.
7. Fierce Woman 
A similar idea, as #ŽeneBiH in Croatia didn't produce a book, but rather a board game called Fierce Women with cards featuring illustrations of the greatest women historical figures.
However, unlike #ŽeneBiH the cards didn't include women just from Croatia, but world famous women activists, artists, scientists and politicians.
An especially interesting aspect of this project is precisely the choice of creating a board game. Unlike books, games aren't often educational in character. However, this idea made a very playful merge of fun, education, social entrepreneurship and raising awareness of women's issues and gender equality.
8. Cinema for the City
Crowdfunding is not just a way to raise money. It can also be a great opportunity for communities to come together behind a cause which is important to all the people who live in them.
This was the case with the recent crowdfunding campaign Cinema for the City, which helped the organization Anibar raise money for renovating the oldest cinema in Peja, Jusuf Gervalla.
The fundraising campaign achieved significant success – EUR 14,000 was raised over the platform Kosova Ideas. However, it is also important to note that the crowdfunding campaign was preceded by numerous initiatives to preserve the cinema, and stop liquidation and demolishing. Once this had been achieved, it was necessary to make this beloved public venue once again fully functional for all the different cultural happenings which will be taking place.
The necessary reparations will once again make the cinema into one of the most important cultural centers in the city, but also a popular meeting place for members of the community which worked together to save it.
9.Artists Anonymous for "Support Life" Foundation  
Alright, we do have one very obvious example of how visual arts can help good doers. Artists sell their work and collect money for an organization which supports the treatment of sick kids?
Pretty simple, right?
And what if we told you that the artists in question are young, still mostly undiscovered artsits from the hub Artistis Anonymous which was launched at Metropolitan University last year. While many like them are mostly concerned with using their talent to earn a living, these young people offer their socially engaged work for free, through an online library.
They did, however, decide to sell some of the designs at Jevremova 25 concept store, but they donated the entire revenue – about EUR 1.000 (RSD 100.000) to "Support Life" Foundation in November last year.  
10. Chocolate Auction for Center for Autism  
Some artists use words on paper, others brushstrokes on a canvass, and some make beautiful sculptures from an unusual sculpting material – chocolate.
This extraordinary auction of artworks made entirely out of chocolate is becoming traditional in Skopje, but in December last year it also helped support a very interesting cause – the opening of the first regional center for children with autism which will offer special standardized programs.
This is exactly the kind of creativity we talked about at the beginning. What do chocolate, art and center for autism have in common?
Sometimes, we need stories like this one to see that these connections exist.
Conclusion
There are very many good causes, but even more ways to support them. Along with the development of tools organizations are using and the transformation of the entire structure of the nonprofit sector, every year we also witness new ideas, people and amazing connections between kindness, creativity and fundraising.
This was our 2018 selection. Do you know of a story that we missed?