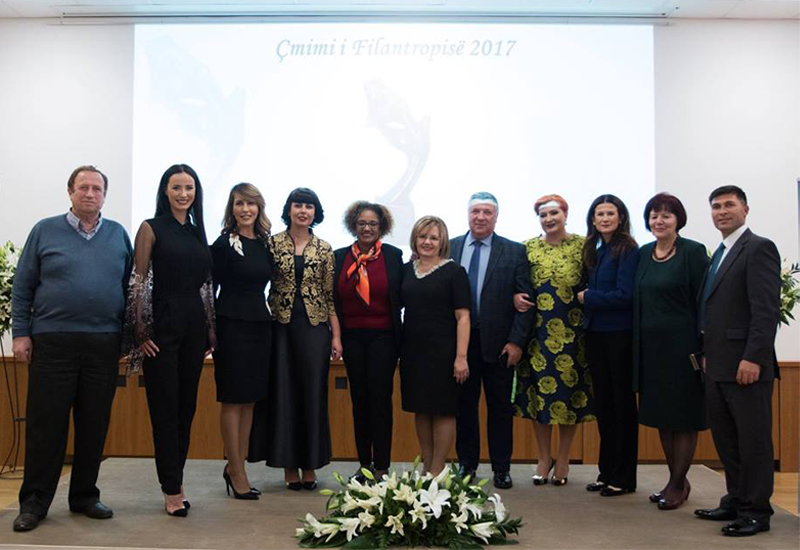 Philantropy Awards in Albania recognize effort and express gratitude to individuals, families and companies that contribute to life improvement in their communities, and this year they were awarded on December 1st.
The event, that has been organized by Partners Albania since 2011, was attendet by many government officials, representatives of diplomatic corps, international institutions and donor agencies, representatives of the business sector, nonprofits and media.
The awards for philanthropy for 2017 were awarded in a number of categories:
Award for Contribution at National Level - TELEKOM Albanija, for contibuting to the social, healthcare and environmental development in the country, specifically for providing public libraries in Tirana with books on art, donating medical equipment to the "Shefqet Ndroqi" hospital and to the Neurology department of the "Mother Theresa" University hospital, and also for the special contribution to the research of battling dementia through the use of VR.
Award for Contribution at Local Level -  HAKO sh.p.k, for supporting the field of education, therapy and developement of children and youth with disabilities in Tirana.
Award for Individual Contribution - Albana Osmani, for a special contribution to the reconstruction of the Pediatric-oncohematological department of the "Mother Theresa" University hospital, and for raising solidarity and awareness of the necessary help for children who suffer from blood diseases through the "You are a sunflower" campaign.
Special Award "Pioneer of Philanthropy " - Kristaq Zografi (posthumously) - for extraordinary activities in the field of education and culture, and especially for founding the first Gymnasium in the village of, awarding scholarships to young people and starting a few public works in the country and abroad.
Certificate of Appreciation - Gjergji Renja, for the continued support of families in need from the villages in Berat, especially for supporting education and integration of youth in the area.