Every March 8th, on International Women's Day, we celebrate the fight for women's rights and equality worldwide. This international holiday promotes economic, political, and social equality of women and men, and since 1975 it has been part of the official calendar of the United Nations. 
The struggle for women's economic and social empowerment continues today, and women's rights and equality are the principles we have been guided by from the very beginning. The co-founder of Catalyst Balkans, Aleksandra Vesić, was one of the most incredible activists and feminists, and she advocated solidarity, equality, freedom, and integrity. With her work, she tried to engage each of us to demonstrate the words we utter with our actions. Today, we are proud to point out that 70 percent of Catalyst's team is made up of women, as well as 56 percent of our organization's management. 
This day is crucial for us and our society, so we wrote about recent actions, protests, and demands for a better position for women throughout the Western Balkans and campaigns of socially responsible companies that raise awareness of this important social issue. Therefore, below, read a cross-section of only some of the events, campaigns, and donations that marked Women's Day in the region this March. 
Solidary and Rebellion: A Protest March for Women's Rights 
This year, many feminist organizations and individuals were jointly organizing a protest march called "Solidary and Rebellion! For labor rights, for justice, for peace!". 
A protest march for women's rights was held on Tuesday, March 8, in front of the Student Cultural Center. 
We want to remind you that March 8th is the day when we get up and join the efforts and victories of all brave women who have been leading this fight in this area for 111 years. Unfortunately, the struggle for women's rights is still far from over. That is why this year, we stand in solidarity for women living in social injustice, poverty, and violence. We take to the streets, an important place of women's struggle, to point out the poor state of labor rights and the lack of justice for the oppressed in our society and express solidarity with all disenfranchised workers, multiply marginalized women, displaced persons, and refugees. 
Serbian women demand: 
• That legislation and practice ensure a maximum of 8 hours of working time during the day, fair and dignified wages and working conditions, 
• That institutions adequately and timely address the problem of gender-based violence, 
• We call for peace, and we appeal to the state to provide support to the people of Ukraine. 
Traditional March 8th festival dedicated to women: "Be strong, healthy and beautiful" 
The traditional March 8th festival dedicated to women, entitled "Be Strong, Healthy, and Beautiful," began on March 8th in Sarajevo. 
By promoting women's entrepreneurship and the rights and role of women in society, members of the association "Our Concept" and the Association of Creatives will present unique handicrafts and homemade products.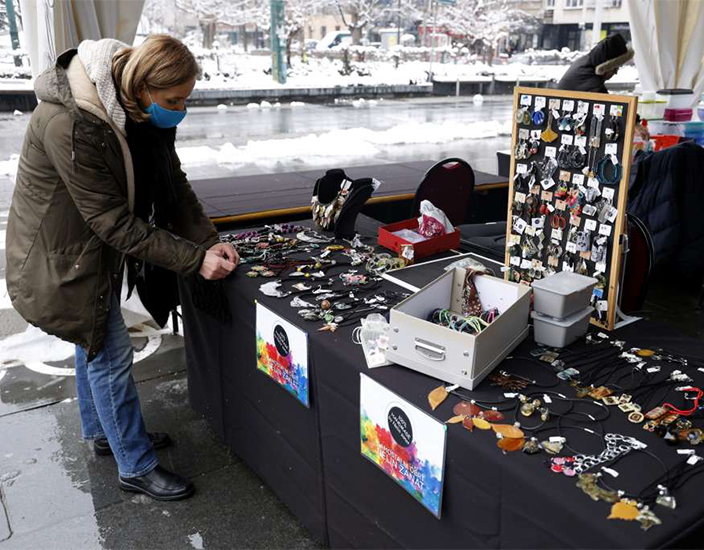 Foto: FENA/Amer Kajmović
The president of the association "Our Concept," Sanela Merjem Muharemović, stated for Anatolia that the association's primary goal is to fight against poverty and preserve cultural heritage. 
Our members must get the opportunity to show what they are doing. These women mostly do housework and do not have their business premises. In this way, we enable them to show what they are doing, Muharemović pointed out. 
In addition to promoting the values of women and their ideas through the cultural heritage of BiH, the event also has a humanitarian character because it provides assistance for women in need. 
Kosovo Women's Network marched against femicide 
The non-profit organization Kosovo Women's Network marched to oppose injustice and violence against every woman and girl, to demand freedom, equality, and justice. 
The march started at the Palace of Justice in Hajvalija, to continue at the Flag Circle, and then to "Zahir Pajaziti" Square. 
The march ended in front of the Government of Kosovo, in whose yard they put 48 pairs of red shoes, as a symbol of 48 women over whom men have committed femicide in Kosovo since 2010. 
March 8th in the sign of donations from the company dm 
The company dm drogerie markt traditionally donated goods worth 700,000 dinars to safe houses throughout Vojvodina on March 8th. In addition, the drugstore chain rejoiced humane ladies who donate blood with the gifts. 
On the most significant women's holiday occasion, dm Serbia donated the protégés of safe houses from Novi Sad, Pancevo, Sremska Mitrovica, Sombor, and Zrenjanin, and in that way showed them that they are not alone in their fight. 
It is known that we have been providing support to women for years, especially those from endangered categories. We have traditionally chosen March 8th to support the users of safe houses fighting for their existence and contributing their struggle and quality of life. We will try to help women in this situation in the future, motivating society to do the same, because it is essential to be there for each other, said Alexandra Olivera Korichi, director of dm drogerie markt Serbia and Northern Macedonia. 
On March 8th, the company also sent gifts to humanitarian ladies who have been donating blood for years as part of the "Nothing Without Women" campaign at the Blood Transfusion Institute of Serbia in Belgrade.  In addition, dm intended gifts for all women and their partners who donate blood on this holiday at the University Clinical Center in Kragujevac. 
We made the blood donors from Belgrade and Kragujevac happy as a sign of gratitude. Even in these challenging times, they think of others and try to provide a personal contribution to society. Our company is committed to supporting these seemingly small acts of humanity on which our community rests. On this occasion, I call our fellow citizens to follow their example and to create a better environment for the life of all of us, said the director. 
On the occasion of Women's Day, dm also prepared gift packages for the audience of the play "Baked Cat," which is performed on March 8th at the Theater on the Hill. Since the play speaks loudly about violence against women and supports the fight for women's rights, this was a reason for the drugstore chain to delight the ladies in the audience and their companions. 
Association "Pipol" realized the campaign "Supermoms are not alone" 
The Association of Families and Friends of Children with Leukemia and Other Malignant Diseases "Pipol" realized the campaign "Super mothers are not alone" within the psychosocial help and support program to mothers of children with cancer who are in intensive hospital treatment. 
The campaign was organized to celebrate International Women's Day in cooperation with the Clinic for Children's Diseases of the University Medical Center Tuzla. "Supermoms are not alone!" campaign is intended for mothers of children with cancer, whose struggle for the recovery of the child lasts 24 hours a day, 365 days a year, tirelessly, non-stop, which is why they deserve support. 
President of the Association Amra Saračević points out that the campaign's goal is for "supermoms" to know that they are not alone in their fight and that this Association and the entire society understand their pain and suffering and supports them to find the most hidden atoms of strength. They would be a light during the dark to guide their little ones on the road to victory. 
International Women's Day is an opportunity to point out the struggle of modern women in various segments of life, and at the same time to support and recognize women and their contribution to the development of the individual, family, and society, with particular emphasis on women - mothers of seriously ill children. They carry a tremendous burden in the fight against childhood cancer, and in addition, they must deal with all other challenges and problems of modern society. 
This year's campaign, "Supermoms are not alone," includes mothers of children with cancer who are hospitalized with their children in the Department of Hematology and Oncology at the Clinic for Children's Diseases, and mothers separated from their second child and other family members. 
Plasma calls for gender equality because #equalitycomesfromthehome 
Have you ever tried to break a plasma cookie into two halves? Although it may seem difficult at first glance: it is possible. It is similar to the idea of ​​equality: it is not easy to achieve, but if we all work together, the chances are much higher. With this in mind, on March 8th, when we celebrate International Women's Day, Bambi's most famous brand, Plasma, wants to draw attention to economic, political, and social gender inequality. 
Plasma launched the "Equality Comes from the Home" campaign last year to raise public awareness of women's inequality and with the belief that by drawing attention to inequality and empowering women, we can all contribute to social inclusion. The results of the research "Gender Equality and Balance between Business and Private Life" showed that men spend significantly less time than women doing routine household chores. In urban areas, 75 percent of women do housework, while that percentage is up to 84 percent in rural areas. The same research showed that although regulated and allowed by law, maternity leave is not sufficiently used by men (only 5%) due to stereotypes about gender roles and that 55% of women believe that they have not reached their full career potential. 
Inspired by the positive reactions of the campaign "Equality comes from the home," which marked the Women's Equality Day in 2021 and for which they won the 'Grand Prix,' UEPS Festival, Bambi and Plasma, through a video clip, specially created for this day, point to socio-economic gender inequality. The video also suggested the fact that only 32 percent of women are in management positions ("Women and Men in the Republic of Serbia," Republic Bureau of Statistics from 2020), compared to 68 percent of men, which indicates the unequal position of women in crucial leading roles in Serbia. 
With the campaign "Equality comes from the home," Plasma continues to inspire that we can altogether influence the position of women in our society, starting from our own homes, because equality comes from home and leads to equality. As a synonym of true family values, Plasma indicates that it is important for our family to instill the right attitudes, way of thinking, and awareness of equality. In that way, we protect the family, but we also give a better example to generations of girls and boys because #equality comes from home. 
A monument to a strong woman 
Instead of individual March 8th gifts for employees, Mortgage Bank decided to donate 5,000 EUR to erect a monument to Princess Ksenija in Cetinje. This donation represents a joint contribution of the Mortgage Bank and the women employed in it, marking the character and work of Princess Ksenija. She was a great humanitarian, a woman of strong character and spiritual wealth, beautiful, educated, intelligent and gifted, very special, the first woman in the Balkans to drive a car, and the first princess to engage in photography, the Mortgage Bank said. 
We believe that she deserved a monument in her hometown of Cetinje, which will symbolize true female strength and remind us of the values that we believe each of us values and carries in itself, in its way: strong character, uniqueness, courage, education, empathy, talent, creativity... And the women employed in Mortgage bank are certainly that, they say from Mortgage bank. 
The initiative committee for the sculpture of Princess Ksenija, created by famous artist Dimitrije Popovic, thanked for the donation, saying that this gesture of ladies from Mortgage Bank shows their high social awareness to help an endeavor that will permanently symbolize the emancipation of Montenegrin women. 
UniCredit Bank employees supported the work of women's associations 
In order to support projects and activities dedicated to empowerment, networking, and assistance to women in local communities, UniCredit Bank Banja Luka decided at the initiative of its employees to redirect funds for this year's International Women's Day gifts to several Women's Associations under the message "Empowering we create equal opportunities for each of us." 
At UniCredit, we believe that a supportive atmosphere and an equal society that values women's skills and expertise can bring greater growth and prosperity to all of us. UniCredit Bank Banja Luka is committed to continuously supporting, highlighting, and strengthening the position of women through global and local development and inclusion programs. That is why today, believing in a better future for all of us, we celebrate the strength, courage, and perseverance of women to overcome all challenges and remain committed to what is important and what they truly want. 
With this gesture, the employees of UniCredit Bank Banja Luka want to send a strong message of mutual empowerment and support to other women who, through their activities and dedicated work, influence the improvement of living conditions of various groups of women in our society. 
For these purposes, UniCredit Bank Banja Luka has set aside the amount of 5,000 KM to support organizations that work for the benefit of the local environment, i.e., women who need support and assistance in various segments of society. Associations that have contributed to the networking and empowerment of women in different parts of society with their activities and work will receive support and donations. 
The funds will be sent to the Women's Center "Trebinje" Foundation, which advocates the continuous improvement of the position of women and their economic empowerment and a life without violence. Support for its activities and workshops will be given to the Association "Mama M" Bijeljina, which works to improve and preserve the health of pregnant women and mothers, then the Association "Roma Girl - Romani Će" Prnjavor, which seeks to strengthen the position of Roma women. 
Employees of the Bank provided support to the Srbac Women's Association, whose members deal with various types of handicrafts and the production of unique items through the purchase of hand-made Softa natural soaps made by one of the members of the association. This fragrant soap packed in a unique packaging suitable for the most sensitive skin is a symbol of the energy, ingenuity, and creativity of a woman and our mutual support and understanding. 
Representatives of these associations expressed gratitude and positive surprise at this gesture of UniCredit Bank Banja Luka employees. They used the opportunity to wish them and their members a happy holiday and success in implementing activities aimed at inclusion and establishing equal relations between men and women in all spheres of life and work. 
Caffe Tok bar in action for the Autonomous Women's Center 
Belgrade's Caffe bar Tok at Kraljevića Marka 1, on the occasion of March 8th, shared on its Instagram profile its desire to support those who have been fighting windmills all year round. Therefore, all the profits they made on International Women's Day from 5:00 pm to 11:00 pm will be donated to the women's non-profit organization Autonomous Women's Center. 
The goals of the Autonomous Women's Center are: 
Overcoming the trauma of domestic violence, partner violence, and/or sexual violence (male violence against women) through psychological and legal professional support to be able to make autonomous decisions and realize the right to live without violence. 

Sensitization and education of professionals in institutions on violence against women, women's human rights, and institutional procedures for protection against violence. 

Prevention of all types of violence against women. 
Promotion of women's human rights at the individual, legal and institutional levels. 
Infinity Group supports the economic empowerment of women 
Thanks to the Fund for Women's Economic Empowerment launched by the United Women of Banja Luka, many lives have changed. That is why, they say, the donation from Infinity International Group is their March 8th gift, which they were happy about from the bottom of their hearts. 
Work on women's economic empowerment is work on the prevention of violence, says Gorica Ivić from the United Women and notes that every mark that flows into their Gold Fund is valuable. 
It is crucial for us that large companies recognize the work and importance of the Fund and its further filling because in this way, among other things, we develop a culture of fundraising. We recently had a donation that our fellow citizen left us with a will, and we placed it in the Fund. We allocate money based on regulations, although it is challenging to uniform those rules in our country because these are specific cases and specific needs, says Gorica. 
The need for a woman who leaves the Safe House to have a job was the primary motive for founding the Fund, explains Amela Bašić Tomić, a long-term coordinator of the Safe House in Banja Luka. It depends on how the women will live. 
That is why it is imperative to us when we have support in the employment of these women, and that is why we realized that we need funds for some pre-work, such as education, retraining, training. Many positive stories were born from that, so several users dared to start a business.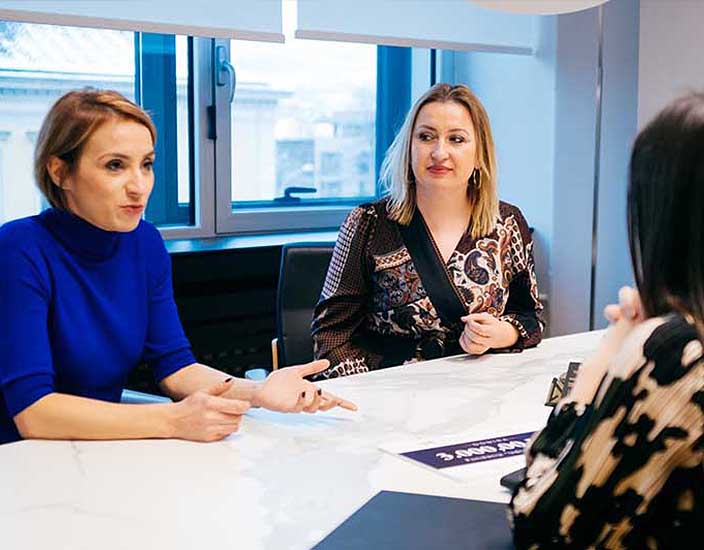 This project aims not only humanitarian aid but also aid that will solve the fundamental problem of women struggling for existence in the long run. We have recognized that they say in the Infinity group. That is why the March 8th check for three thousand marks is just the beginning of cooperation. 
Through our GO FAR Foundation, we have already joined the funds for the empowerment of young people and women and their entrepreneurship in small businesses. From the very beginning, our goal was to encourage people and other companies to get more involved in helping the broader community. Only in this way can we all be better, more prosperous, and happier. We will undoubtedly continue our cooperation with the United Women in future projects, says Mirjana Tepšić, the GO FAR Foundation director within the Infinity Group. 
Donation for the Safe House Istria 
Members of IWK Pula visited the Safe House Istra and delivered vouchers for each ward and a basket of fruit, cosmetics, and boxes with books, toys, and treats for children. In that way, they tried to bring more joy into the everyday life of women and children in the Safe House Istria on the eve of Women's Day. 
Support, closeness, and compassion are the messages that members of the Inner Wheel Clubs of Croatia want to send to victims of violence, especially women and children protected in Safe Houses throughout Croatia on the occasion of Women's Day. It was decided at the meeting of IW District 191, held on January 10 this year, on the International Inner Wheel Day, emphasizing that the funds of this year's joint district action in June will be intended for the protégés of the Safe House Istra to equip renovated premises. The act of donating money to safe house wards and various practical necessities was encouraged due to the message of the members of the Inner Wheel Clubs of Croatia on the need for continuous work to sensitize society to prevent abuse, especially recognition and prevention of domestic violence. 
Free logo design for a company run by girls or women 
The holiday of March 8 is marked by various events in the region and beyond. In addition to protests and calls for the advancement of women in society, Tirana and Oslo-based Agi Hajimurati LLC have decided to provide a logo and visual identity for a company run by girls or women in Albania. 
The company announced this action through its Facebook page, at the same time inviting those interested in applying, while the selection of the entrepreneur will be made within a week. 
Action Solidarity above all 
On March 8th, the Women's Section of UGS "Nezavisnost" organized a humanitarian action under the slogan "Who gives - wins" for the Children's Inn at Krfska 7a in Belgrade, donating clothes, hygiene products, toys, and sweets. This action is just the beginning of humanitarian work outside the borders of the trade union struggle. 
With this action, they want to set an example to the society as a whole, which means solidarity, which they stand for every day as a trade union organization. 
Let's support the words we say, the principles we respect, and our intentions with actions and deeds. In addition to the gifts you may have given to women around you this holiday season, you can help the campaign support women in need of economic empowerment. Women who are victims of domestic violence and unable to become independent often do not have the opportunity for work or adequate training to develop their abilities. Support them on Donacije.rs, where the social enterprise Somborska šnajderke is launching a project that empowers ten women throughout Serbia, trains them for work, and actively participates in the process of their independence.