As the Covid-19 virus is still present in our lives, we reviewed nonprofit organizations from the region, which explained to us in 2020 and 2021 how the pandemic affected their work, daily activities, and lives in general.
It is possible that some of their systemic adaptations to new circumstances inspire other organizations that encounter this text to devise new ways or apply some of the existing examples in their program activities.
In today's text, you will be able to get to know some of the prominent organizations from the Western Balkans and their methods of adapting to the new normality.
In an interview with the "Svetionik" organization, which has been working since 2006 to initiate positive changes in Novi Pazar and the whole Sandžak region, we learned about their work amid the Covid-19 virus.
The program coordinator of this Association, Nusreta Brunčević, revealed to us how the pandemic affected the "Svetionik" activities.
Nusreta: We almost didn't have room to rest, and our whole focus was on how to make it easier for people on home therapy and doctors in the hospital. We directed the funds that came to us to purchase devices, masks, and medical equipment in general. Then we took it to our hospitals in Novi Pazar, Tutin, Sjenica, Priboj, Prijepolje, and rural clinics. Those citizens who lost their jobs or became ill during the pandemic received humanitarian packages and other types of assistance, such as bringing medicine and the like.
The president of the "Svetionik" association, Mirza Alickovic, explained why it was difficult to work during the pandemic.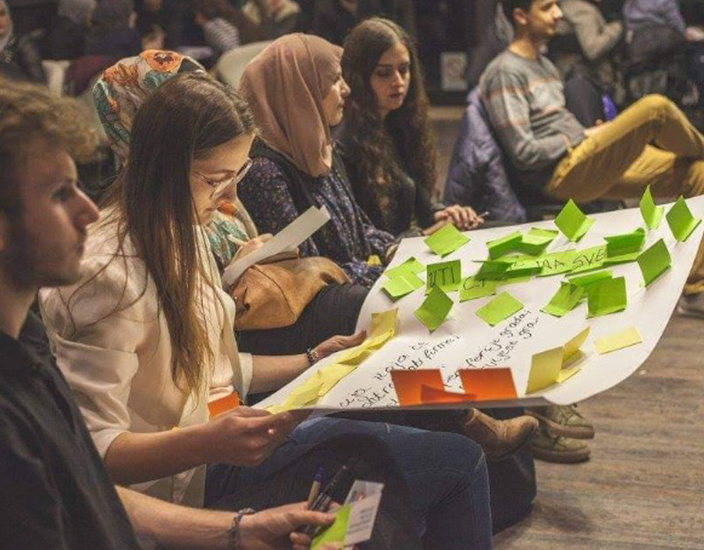 Mirza: It was challenging to work during the pandemic because the official data differed from accurate data. Then we created a network of associations and individuals in Novi Pazar to monitor the state of donations in hospitals, to know what they need. We networked and informed each other who buys what, who donated what, and in what place, so there would be no duplication.
From the second interview we singled out, you will learn about the experience of the Association of families and friends of sick and cured children from leukemia and other malignant diseases "PIPOL" in adapting to pandemic conditions.
This organization from Bosnia and Herzegovina, led by Amra Saračević, president of the Association and social worker, works every day to improve the quality of life of these children and their friends and families, and below you can read Amra's explanation of their work during Covid-19.
Amra: The COVID-19 pandemic is a global challenge for the whole world, but its consequences are mostly felt at the local level, in the lives of ordinary people with small and big problems, special needs, especially in people belonging to socially vulnerable categories.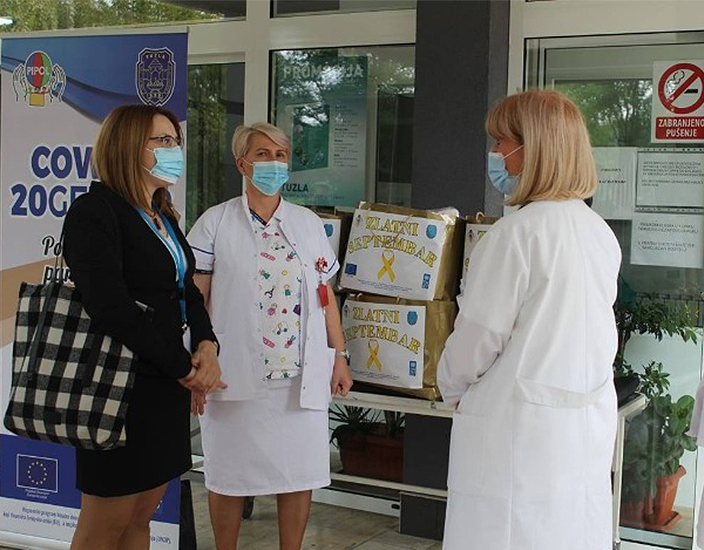 Association "PIPOL" is a small Association that sets high challenges to be as much support as possible to "our" children and their parents. As in everything else, the association "PIPOL" is specific in the way of financing because we have almost no donations, and we finance all programs and activities by applying for public calls and grants.
The crisis caused by the COVID-19 pandemic also affected the work of our Association since the association "PIPOL" is financed exclusively by applying to public calls and grants published by state, federal, cantonal, and local institutions, local self-government units, as well as social responsible companies, and international organizations.
Apart from the city of Tuzla, which not only retained but also increased funds intended to support the most vulnerable categories of society, most domestic levels of government and socially responsible companies have abolished or significantly reduced grants to support the most vulnerable categories of society, including children with cancer.
However, some companies supported us to help our members, such as BH Telecom, which donated eight laptops for children cured of cancer as part of an extensive support campaign to monitor online classes, which lasted from March to the end of June 2020. 
In cooperation with the socially responsible companies Violeta and Argeta Atlantic Group, at the beginning of the pandemic, we prepared hygiene and food packages and protective masks for children suffering from and cured of cancer and their families.
We provided psychosocial assistance and support to our children and their families through the project "I CANcer, WE CANcer" which we realized in that period with the financial support of the city of Tuzla, and in cooperation with UNDP BiH and the EU delegation, through the Regional Program of Local Democracy in the Western Balkans - ReLOaD. That was aimed to reduce the renewed feeling of social isolation and reduce the effects of the pandemic, which is an equally great enemy of this population, just like cancer.
Thanks to the city of Tuzla but also the support of other donors, in August 2020, we provided 60 school bags for children with cancer and their siblings.
After the highly successful project "I CANcer, WE CANcer", representatives of the UNDP and the EU delegation in BiH contacted, and with their, but also financial and mentoring support of the city of Tuzla, we implemented another project as part of initiatives to reduce the negative consequences of the pandemic. COVID-19 to the most endangered social categories, again through the Regional Program of Local Democracy in the Western Balkans - ReLOaD.
Thus, from September to the end of October 2020, following hygienic and epidemiological measures in the city of Tuzla, we implemented many activities aimed at reducing the adverse health, economic and social consequences of COVID-19 on children suffering from and cured of cancer and members of their families from which we issue: distribution of complete school supplies and equipment for children suffering from and cured of cancer of the city of Tuzla and their siblings, distribution of family packages with hygiene and disinfectants, distribution of packages with hygienic and disinfectants, pajamas and didactic equipment and materials, production and distribution of protective face masks with the symbol of the Golden Ribbon, a substrate for home cultivation of mushrooms, and we realized several educational, recreational and occupation workers (such as making workers) and decorative items, making personalized photo books with motivational messages, making personalized magic cups) to provide psychosocial support.
So we can freely say that we have harmonized all our activities with our users' current situation and needs, and certainly with the financial possibilities.
The following organization comes from Croatia – the Association "Sve za NJU", which provides daily psychosocial, informational, and logistical support to women treated and who have any type of cancer throughout Croatia.
In our interview with several members of this Association, prof. Psych. Ljiljana Vukota, Secretary-General, and Head of the Center for Psychological Assistance "SVE za NJU", explained how the Association continues its daily activities despite the difficult circumstances.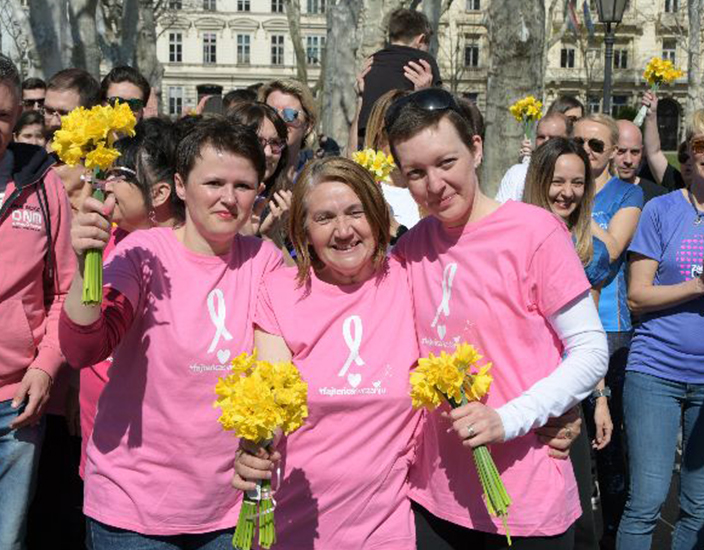 Ljiljana: The COVID-19 pandemic affected everyone, and on top of that, we experienced a devastating earthquake in Zagreb. We could not use our premises for a while, and we worked from home, but I can proudly say that we did not stop working for a single day.
As we could not physically meet most of the programs we digitized, individual consultations with psychologists, psychotherapists, and nutritionists are conducted by phone or video, and workshops on lectures, support groups, promotions, professional gatherings, forums, etc. maintained through the digital application Zoom. Since many of our women are in the process of being treated with chemotherapy, targeted therapy, or radiotherapy and are immunocompromised, we still avoid live meetings.
We all miss direct physical contact, a hug, a handshake, but we are patient. We will endure. Patients need to be given a lot of information about how the health system works in new circumstances, calm them down, and give advice. The psychological distress of the disease was followed by the fear of Covid, delayed examinations, and recurrence of the disease. Some users were killed in the earthquake and lost their homes. We see every day how necessary and valuable we are to them.
When asked about the most significant challenges they face in their work, Ljiljana mentioned that the biggest challenge at the moment is the Covid-19 pandemic.
Ljiljana: Currently, the biggest challenge is the Covid-19 pandemic and the inability to implement programs in the Center for Psychological Assistance, which is an integral part of the Association's work so that programs take place in physical encounters, which our users and we miss. Although we were always in contact with women outside Zagreb by phone or e-mail, the vast majority came to our premises for counseling. It will also be challenging to provide funding for the program's implementation, but we will strive to maintain the current level.
As many nonprofit organizations across the region suffered economic hardship and limited working conditions during the pandemic, many still survive even in emergencies. Strong messages of survival and the continuous struggle to selflessly provide their services even during a crisis may inspire new ways for organizations to gain the necessary support of systems and communities. In the coming period, it remains to be seen how many consequences Covid-19 will leave and whether the pandemic will affect the formation and implementation of entirely new ways of providing solidarity.