During 2021, Catalyst Balkans recorded donations worth 2,220,000 euros, collected through 693 instances of donation.
Excluding the pandemic year, philanthropic activity in 2021 returned to a similar level to 2019.
The amount donated per capita is 1.2 euros, less than the regional average.
For what purposes does Kosovo donate?
Contrary to 2020, when donors mainly focused on eliminating the negative consequences of the pandemic caused by the COVID-19 virus, donors in 2021 shifted their attention to other areas.
The most frequently supported area was education, followed by seasonal benefits. Regarding the amount donated, the most significant donations were intended for social entrepreneurship.
This area accounted for two-thirds of the total donated amount. This result was obtained through only one act of giving.
Namely, the Golden Eagle Foundation and the Frutex company implemented a project to start a social enterprise worth one million euros.
In addition to social entrepreneurship, another area that stood out in terms of monetary value is healthcare, which received 17% of the donated amount and 13% of the total number of donation actions. Funds for health support were mostly donated through fundraising campaigns, with the largest share going to treatment.
Who are the recipients of donations?
As in the previous year, in 2021, most of the support was given directly to individuals and families. Together with public institutions, they received the most donations from prominent individuals, while non-profit organizations received the most support from citizens through mass donations.
Non-profit organizations experienced a rise in the frequency of giving. More precisely, one-quarter of all donation instances and more than three-quarters of the total donated amount was donated through the work of non-profit organizations. most support toward the non-profit sector was donated for the support of marginalized groups, including people with disabilities, children without parental care, the elderly, and single parents.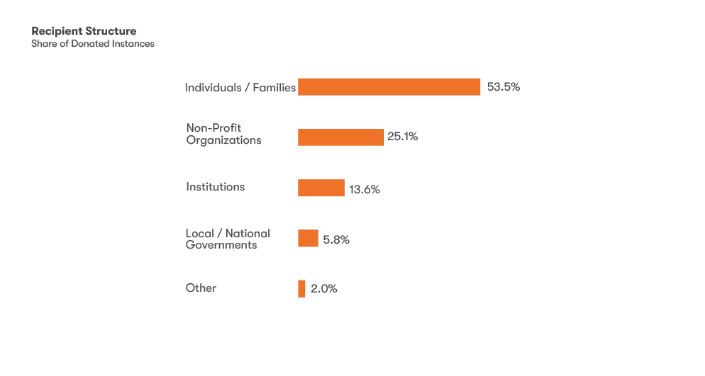 One of the successful examples of support for non-profit organizations is the campaign of the Foundation 17. The organization launched a campaign on the Kosovoideas platform to raise funds to renovate the gallery space, which should serve as an experimental space for artists. During September 2021, various donors helped raise a total of 15,000 euros.
Watch the story of this successful campaign in the video.
Find out more about the philanthropy actions and examples of good practice in the Giving Kosovo 2021 report on the link.
Register on our Giving Balkans application to explore philanthropy in Kosovo and the entire Western Balkans from 2015 to today.
This article is made possible by the generous support of the American people through the United States Agency for International Development (USAID). The contents are the responsibility of Catalyst Balkans and do not necessarily reflect the views of USAID or the United States Government.
The Citizen Engagement Activity in Kosovo is a five-year initiative implemented by Kosovar Civil Society Foundation (KCSF) in partnership with the United States Agency for International Development (USAID).