In 2021, citizens and companies donated 2,220,000 EUR for the common good through 243 donation instances. 
Generous individuals remained the most active donor in 2021, with a share of almost half of all donation instances. Most of these donations were from donors from the diaspora.
The diaspora, being one of the most significant assets in the development of the country's economy, has had a major and active role in the philanthropic ecosystem in Kosovo throughout the years. It is estimated that around 800,000 people from Kosovo live in the diaspora. According to data from Catalyst Balkans' database, in the period from 2015 until 2021, donors from the diaspora helped the citizens of Kosovo with donations valued at more than 6.5 million euros. In 2021, diaspora donors initiated 194 donation instances through which more than 276,000 euros were donated. Most of the support outside of Kosovo was directed toward education. Considering the intended effect of giving, strategic donations, such as the donation of scholarships, equipment, and services, were the most frequent ones.
Structure of Diaspora Donors

Regarding the structure of donors, identifiable individuals were by far the most prominent donor type. More precisely, in the period from 2015 to 2021, the average share of identifiable individuals in the structure of donors was 62%. Individual diaspora donors were found to most frequently donate directly to individuals and families in need without the mediation of non-profit organizations or the state. In terms of the theme of giving, individual donors most commonly donated to support education.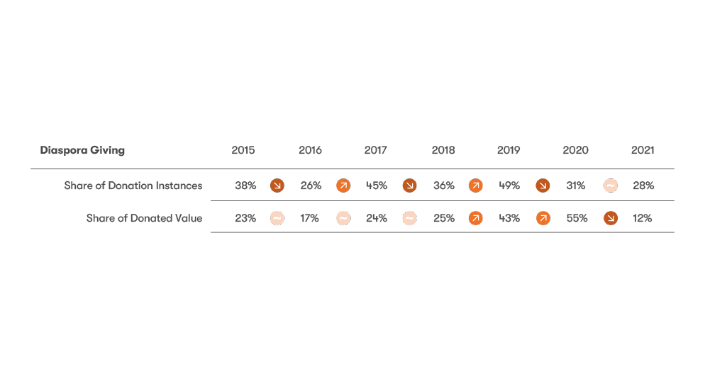 After identifiable individuals, donors from the diaspora commonly donated through mass-individual donations. Citizens (mass-individual giving) participated at 27% on average within the structure of diaspora donors. Most support from citizens (mass-individual giving) was directed to individuals and families. Poverty relief received the largest percentage of donation instances from citizens.
From January 2015 until December 31, 2021, donors from the diaspora donated scholarships totaling 1.3 million euros to students in Kosovo. A donation instance that stood out in 2017 includes the Association of Kosovar Businesses
in Germany donating 143 scholarships to students in Kosovo valued at 134,000 euros. Additionally, the American University of Kosovo organized a fundraising event in New York in 2018. Their goal was to raise funds for students from socially disadvantaged families. During the event, around 42,000 euros were raised to finance the studies of students in Kosovo.
One of the examples is also Mark Kosmo, the founder, and president of the Global Albanian Fund who got the FIDES Award for diaspora contribution in 2021. The Award was granted to him for his efforts to promote philanthropy in the diaspora and develop innovative ways of raising funds outside the borders of Kosovo and Albania.
In the report Giving Kosovo 2021, see the detailed results of our research on the state of philanthropy in Kosovo.