On Thursday, January 27, at the How NGOs Can Show Transparency and Gain Trust event, we talked about three tools that make it easier to show responsibility to the community more effectively. We presented information on the importance of transparent work through available resources with which organizations can gain greater trust and proactively exercise their influence in society.
Does your organization work in accordance with these standards?
Building trust requires time and commitment, but in three simple steps you can check the extent to which your organization shows responsibility and whether you follow defined standards in your work.
The online platform for assessing the transparency and integrity of nonprofit organizations Neprofitne.rs was created with the idea that donors and citizens have insight into the work and influence of civil society. By entering valid data on their work, organizations from Serbia can win one of the three badges that confirm their transparency, which enables their work and responsibility to be more visible, and thus increasing the possibility of the support of the community and donors.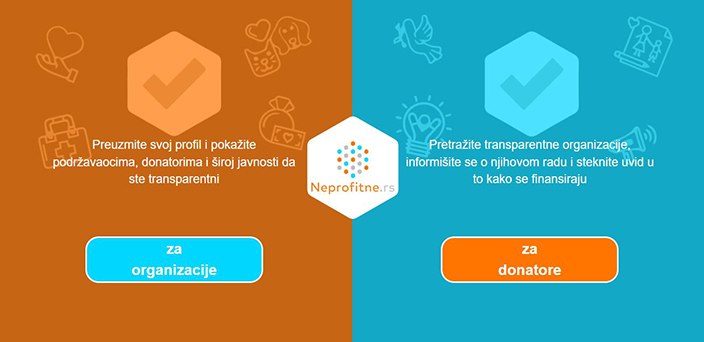 Neprofitne.rs platform
Global Standards for CSO Accountability are a very practical framework that easily adapts to different cultural, geographical and organizational needs. Developed by organizations around the world, this document describes 12 standards that civil society organizations (CSOs) need to meet in order to be held accountable.
Through simply described internal practices, organizations can strive for defined standards, and can be used by governments and donors to create appropriate funding policies for organizations, as well as all stakeholders who hold them accountable.
---
Download the Global Standards for CSO Responsibility in Serbian, Montenegrin or Bosnian and find out if your work and your values are in line with established principles.
---
Translation and adaptation was provided by Catalyst Balkans with the support of BCSDN and financial support from Sida.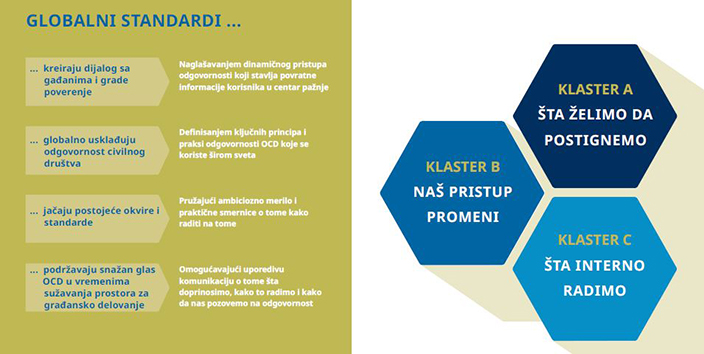 The Global Standards for CSO Responsibility
The Render App forms the Global Standards for CSO Accountability in a set of 26 questions. This easy evaluation system helps organizations get concrete recommendations that they can adopt to be more accountable to their members, employees, and the society in which they operate.
Participants of the event created to improve the concept of CSO responsibility were Nathan Koeshall, co-founder and director of Catalyst Balkans, Bojana Selaković, Program Director of Civic Initiatives, Zorana Marković, Executive Director of the Center for NGO Development (CRNVO), Aida Daguda, Director of the Center for Promotion of Civil Society (CPCD), as well as Milica Antić, Digital Transparency Manager, Catalyst Balkans.
Event speakers
The event was made possible within the "Protection of Civic Space - Regional Center for Civil Society Development" Project funded by the Swedish International Development Cooperation Agency (Sida) and implemented by the Balkan Civil Society Development Network (BCSDN).
The contents, information and views do not represent the official views and opinions of Sida and BCSDN. Responsibility for the information and views expressed in the event rests entirely with Catalyst Balkans.