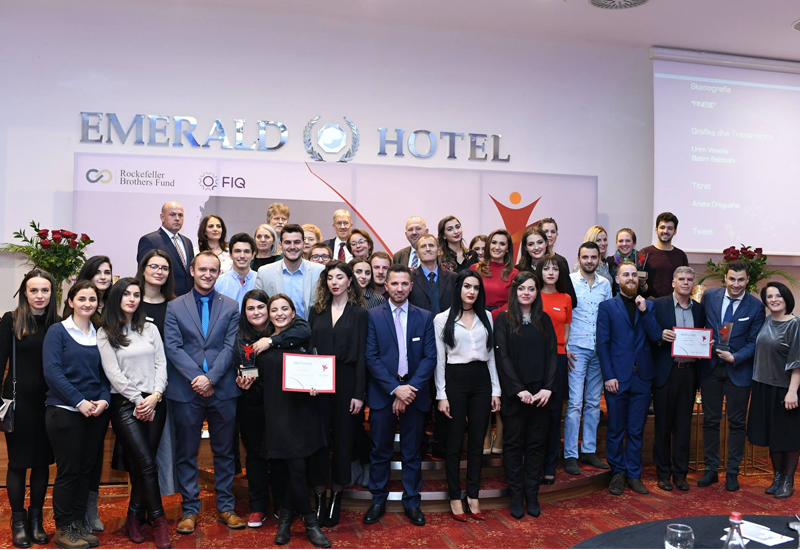 Forum for Civic Initiatives form Pristina works to promote sustainable philanthropy through working with the local community. On November 29th, for the 9th year in a row, the FCI organized the FIDES Philanthropy awards in Pristina.
The ceremony was opened by Dajana Berisha, the director of the Forum, and added that this event, which is already becoming a great tradition, fills people with optimism and hope and emphasized that FIDES awards recognize individual humanitarian contributions, the support of the private sector of education, kindness and continuing support from the diaspora, voluntarism and energy of the young, the leaders of women's empowerment and the ones who protect the environment.
The awards were presented in different categories:
Postuhumous award to Robert Elsie for his contribution to exploring history, culture and lives of Albanians.

FIDES award for women's empowerment - Kadire Tahiraj from the Center for Promotion of Women's Rights in Drenas, for her unparalleled contribution to promoting and protecting women's rights, and their empowerment.

FIDES award for individual contribution - Vezir Ramushi, for the help to families and individuals in need, particularly those with medical needs.

FIDES award for young leaders -  group Families in Need, for organizing exceptional voluntary activities and their support to families in need, with a special focus on children with health issues from families in economic need, living on social assistance.

FIDES award for a national contribution "Hasan Prishtina" - Raiffeisen Bank Kosovo, for their contribution in projects that advance education, innovation and culture.

FIDES environmental award - ERA Group, which continually works on protecting and preserving the environment through youth education.

FIDES award for a contribution from diaspora - Fadil Berisha, for unconditional support from the United States.