Companies across the region continue to provide support for their communities through donations, volunteering, and socially responsible initiatives.
This Friday we dedicated our weekly review to corporate social responsibility and ways that companies contribute to the development of their communities. Read on and find out how you can participate in some of the initiatives yourself.
Galenika's support for the Institute of Oncology and Radiology of Serbia
Last week, Galenika a.d. Beograd made a donation of 10.000 Euros to the Institute of Oncology and Radiology of Serbia, to improve the quality of treatment.
The donated funds were raised as part of a big humanitarian action named "Pink October" which Galenika organized to mark the international breast cancer month. As part of this action, 10% of all proceeds from the Panthenol cream sales were donated for the procurement of surgical equipment for the Institute.
Carnex donated 7.5 tonnes of products to the Food Bank Belgrade
Carnex donated 7.5 tonnes of products to the Food Bank Belgrade, enough to provide 40.000 meals to the most vulnerable categories of the population.
This wouldn't be the first time Carnex company helped the most vulnerable. In the last three years, Carnex donated around 60 tonnes of products, worth about 220.000 Euros.
Forma Ideale's campaign to reforest Serbia
To celebrate 25 years of business success, Forma Ideale launched a campaign named 25 seedlings for 25 years of operation, with an aim to carry out reforestation actions in 25 Serbian cities.
So far, the company donated the seedlings to Kragujevac, Smederevo, Niš, Aranđelovac, and Leskovac, and more cities will follow.
"The green areas improve the quality of life in urban areas by reducing air pollution and improving the overall health of their inhabitants. We plan to continue to be a partner to the community we live and work in", the company representatives announced.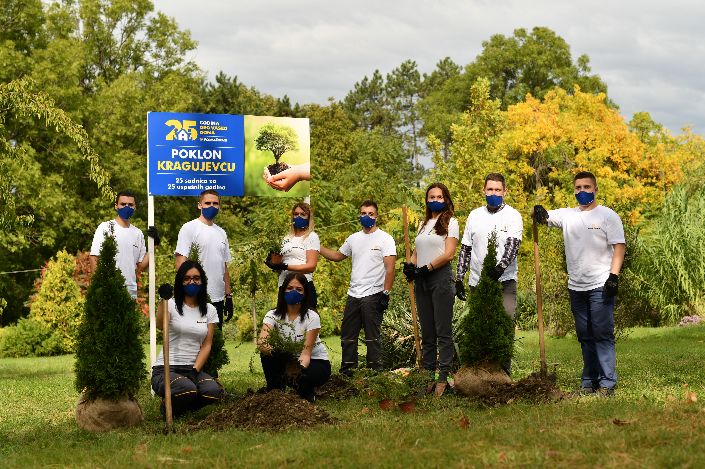 Extreme Intimo za porodilišta u Srbiji
Extreme Intimo for maternity hospitals in Serbia
Extreme Intimo has launched a campaign #stvarnoželim to support maternity hospitals across Serbia. The first phase included a social media campaign in which citizens could take part by sharing a promotional video on their Facebook or Instagram profiles. For each share, Extreme Intimo would donate a certain amount of money to the hospitals. In just 14 days the video was shared over 32.000 times and 27.000 Euros were "collected".
The campaign is still active. Therefore, you can still support the cause by purchasing any of the items from Extreme Intimo's New Year's Collection across Serbia. For every purchase made by 31st December, the company will donate 2% of the proceeds to maternity hospitals.
dm Srbija organizes #GivingFriday
The last Friday in November, better known around the world as Black Friday, is the day when stores offer big discounts to their customers. However, dm Srbija decided to mark this day in a socially responsible way by organizing their #GivingFriday. On that day, 5% of all the revenue they make will be donated to charity. In particular, to the Red Cross Serbia soup kitchens.
#GivingFriday in Croatia for social supermarkets
DM will organize #GivingFriday in Croatia as well. The donation will be directed to beneficiaries of Red Cross Croatia social supermarkets, which will be provided with hygiene and other supplies in the amount of 5% of their total revenue from November 27th.
Donations of BH Telekom
BH Telecom distributed 2 million KM worth of donations. One million was donated for the procurement of medical equipment for the cantonal and general hospitals in Konjic, Zenica, Goražde, Travnik, and Bihać during the first days of the pandemic.
The other million was distributed to 164 different legal entities to support humanitarian projects aimed at helping the most vulnerable populations, people with physical and developmental disabilities, soup kitchens, humanitarian organizations, and educational institutions.
Most donations were directed to educational institutions. 450,535 KM went for the support of primary and secondary schools, 105,200 KM was donated to local faculties to help them equip their IT centers and laboratories and purchase other needed equipment. The recipients were the Faculties of Electrical Engineering in Sarajevo and Tuzla, as well as the Faculty of Transport and Communications in Sarajevo and the University of Bihać.
In addition, BH Telekom provided free internet access for around 4,000 students across BH and donated 320 tablets and 20 laptops in partnership with several other companies.
Don't forget that you too can support your community by donating online for one of the campaigns on Donacije.rs platform or by sending an SMS to 7300.