Inclusion includes and supports all individuals, regardless of their differences or limitations, in social, educational, work, and other activities. The fundamental idea of inclusion is to create equal opportunities for all individuals, regardless of their diversity. An inclusive society ensures that no person is excluded or discriminated against based on characteristics such as disability, race or ethnicity, gender, sexual orientation, or social status.
Inclusion also involves providing appropriate support to enable each person to be included equally. This may include adapting environments, educational programs, policies, and practices to ensure equal accessibility.
Inclusion is applied in various fields, including education, employment, healthcare, and social policies, to create a society that embraces and values diversity and supports everyone in reaching their full potential.
From LGBTQ+ rights to support for people with disabilities, inclusivity in the region has recently been promoted through art colonies, crowdfunding campaigns, corporate social responsibility, or raising awareness about the situation of marginalized groups.
Learn more about it below.
International Humanitarian Art Colony "Life is Art"
The Association of Multiple Sclerosis Patients of the North Banat District organized the 21st International Humanitarian Art Colony titled "Life is Art." Artists from North Macedonia, Croatia, Hungary, and Serbia participated in the event held in Novi Knezevac.
The Association of Multiple Sclerosis Patients of the North Banat District hosted the traditional international humanitarian art colony, which has been organized in Novi Knezevac for over 20 years. It was an opportunity for painters from Croatia, North Macedonia, Hungary, Backa Palanka, Novi Sad, Zrenjanin, Zajecar, and other places to participate in a free form in the town on the Tisa River. The colony, titled "Life is Art," gathered many artists who created new artworks that would enrich someone's home.
Artists like to come here because they feel at home, as they say. We never assign a specific theme for the colony; participants have complete freedom in style and technique to do as they wish. We encourage them to express themselves based on their feelings on that particular day, emphasized Igor Nad, President of the Association of Multiple Sclerosis Patients of the North Banat District.
The International Humanitarian Art Colony, organized by the Novi Knezevac association, which has existed for over 30 years, was held under the patronage of the municipalities of Novi Knezevac and Kanjiza.
Support for the LGBTQ+ Community: Secure the Future of Optimist Magazine
The mission of Optimist, an LGBTQ+ magazine in Serbia, is simple yet extremely important: empowering the LGBTQ+ population and reducing social distance towards the LGBTQ+ community. Optimist Magazine has been providing information, support, and inspiration to its readers for twelve years. However, they are facing financial challenges that threaten the future of the media. Optimist Magazine is published every other month and distributed for free in LGBTQ+ cafes, clubs, organizations, and cultural centers across Belgrade, Novi Sad, Nis, Zajecar, Zrenjanin, and other cities. But this year, for the first time, they face a lack of financial resources that could jeopardize the magazine's publication.
That's why their team wants to raise 8,500 euros with the community's support, enabling them to continue printing Optimist Magazine throughout the next year and cover the costs of production, graphic design, and printing preparation. Donations from willing citizens will help Optimist remain the voice of the LGBTQ+ community, providing support and information and promoting culture, art, and diversity.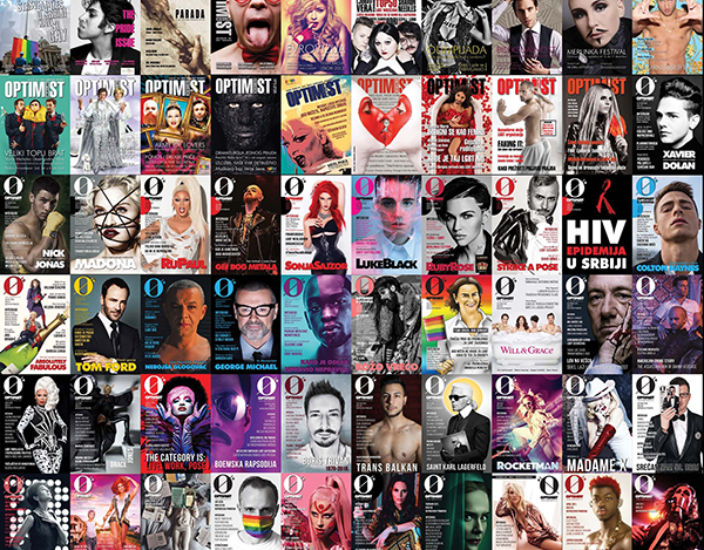 Your support will have a significant impact on the LGBTQ+ community. By donating to Optimist Magazine, you help strengthen visibility, raise awareness, and promote understanding of LGBTQ+ topics. Your contribution enables us to fight against prejudice, stereotypes, and discrimination, thus creating a society that is inclusive and just for everyone.
The first issue of Optimist Magazine was published in June 2011. To this day, 72 issues have been published, with over 1,500 articles on current LGBTQ+ events, analyses, reports, book reviews, performances, and films on LGBTQ+ topics, as well as over 300 interviews with significant figures from the LGBTQ+ community, artists, and supporters of LGBTQ+ rights. In 2013, Optimist Magazine received an award for the best approach in advocating for the rights of discriminated groups from GIZ and the Ministry of Youth and Sports. Our journalist Bogdan Petrovic was awarded by the Commissioner for the Protection of Equality in 2022 for his article in Optimist Magazine.
For support and more information about this campaign, click here.
Dijamant Company Supports People with Down Syndrome
Dijamant is a company that pays special attention to socially responsible projects. One of them is the "Follow the Sunflower" campaign, which has been implemented for the third consecutive year to promote the inclusion of people with Down syndrome in social processes.
The message of this year's campaign was even louder as, in collaboration with author and songwriter Bojana Vunturisevic, a hymn dedicated to individuals perceived as different by society was recorded. "Let the whole world understand that we are all diamonds" is a line from the song addressed to the community.
This year, in Serbia, one million and two hundred thousand bottles of Dijamant oil were available on the shelves, each with a specially designed label. One dinar was donated to the National Association of Down Syndrome Organizations for each purchased bottle.
We started the campaign with a powerful message, along with the hymn, and we ended it in a way that will remain a lasting memory recorded on the walls of our factory. The goal of the "Follow the Sunflower" campaign is not only financial support but also providing assistance to individuals who are unique and special in their own way, helping them feel safe and accepted in society, stated Bojana Petrasek Dundjerski, Brand Manager at Dijamant company.
"Let Inclusion Not Be an Illusion" Project: Violence Often Arises from Deep-rooted Prejudice and Discrimination
As part of the "Let Inclusion Not Be an Illusion" project, a series of lectures was conducted to address the issues of violence, discrimination, and prejudice that exist in society.
Neda Radović, the project coordinator and executive director of the NGO Sistema, emphasized the urgent need to challenge and overcome the issues of violence, discrimination, and prejudice to achieve an inclusive society truly. The lectures' main focus was violence, a tragic reality affecting numerous individuals and communities worldwide.
Crime analyst Momčilo Šćekić highlighted that violence often stems from deeply entrenched prejudices and discrimination perpetuated by systems that marginalize certain groups. Their thought-provoking examples forced us to confront the dark reality that violence continues to deprive individuals of dignity, safety, and opportunities. Šćekić emphasized that today's youth, due to the rapid flow of information, live in an accelerated manner, "with children reaching a commendable level of digital literacy while a certain number of parents lag in education and essentially lose their role as leaders in the family. Because of this problem, we increasingly see situations where children seek help and support from their peers, while communication with parents diminishes."
This generational conflict and lack of understanding of contemporary challenges can be addressed by promoting better digital education for parents and fostering open communication with children. The participation and understanding of parents play a crucial role in shaping children's understanding of the world and promoting the development of empathy and critical thinking skills, he added.
Discrimination, another key aspect, was thoroughly explored by Professor Jasmina Ličina during the lecture. Various forms of discrimination were examined, including racial, gender, religious, and socioeconomic discrimination, that persist despite progress in our understanding of equality, as stated in the press release.
Psychology researcher Petar Marković emphasized that discrimination not only hinders individual lives but also undermines societal progress as a whole.
It deprives individuals of equal access to education, employment, and other fundamental rights necessary for personal and collective growth. Prejudices have emerged as a significant barrier to inclusion. We delved into the psychology behind prejudice and how biased attitudes develop, stated Marković.
Considering that Roma people, the most marginalized minority community in this region, face systemic discrimination and human rights violations, the Roma Platform project was designed to improve their position. Initiated by the National Democratic Institute (NDI) and Roma leaders, this platform aims to uncover the truth about human rights violations against Roma in Serbia, providing support and advocating for an inclusive society.
Inspired by the success of the "Da Se Zna" platform, which focuses on protecting LGBTQ+ individuals from violence and discrimination, the Roma Platform is the outcome of a consultative process led by the Institute. A public opinion survey on minorities in Serbia conducted by the NDI unequivocally demonstrated that Roma faces the highest degree of marginalization. Based on these findings, the initiative to create the Roma Platform was born, supported by the National Endowment for Democracy (NED).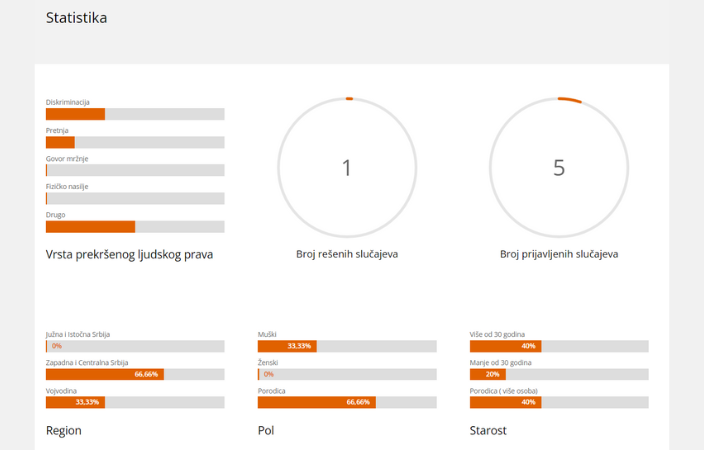 Statistics on Recorded Human Rights Violations on the Platform
The Roma Platform is a project that actively collects and publishes information on cases of human rights violations against members of the Roma community in Serbia while supporting Roma individuals whose rights are threatened.
Introducing the Croatian Campaign "Inclusion in the Education System"
The Disabled Persons' Movement involved in the 8th Knowledge Center for Improving the Quality of Life of Disabled Persons is conducting a joint campaign called "Inclusion is a Human Right" to enact a Law on Inclusive Allowance and establish a comprehensive, inclusive approach to equal opportunities for disabled persons, regardless of the type, level, and cause of disability, alongside individuals without disabilities.
As part of the campaign, a video titled "Inclusion in the Education System" premiered on June 1, 2023, during the roundtable discussion "Inclusion in the Education System – Challenges and Opportunities."
The video is available on the SDDH YouTube channel and in the video below.
Workshop on "Digital Inclusion of Marginalized Categories of Society"
On the premises of the association "Rastimo zajedno" (Growing Together), workshops for children and youth with developmental disabilities are currently being held. The workshops are part of the "Digital Inclusion of Marginalized Categories of Society" project by the NGO Center for Learning and Education "Naučionica" from Gacko, Bosnia and Herzegovina. The Telemach Foundation supports the project through the second cycle of Regional Grants.
Within the project, three workshops were held for the employees of the "Rastimo zajedno" association, and assistive equipment procured through the project was delivered. Additionally, six workshops were conducted for children and youth from the "Rastimo zajedno" association. The workshops are attended by 10 participants divided into two groups.
The workshops aim to familiarize the participants with assistive equipment and applications designed for these categories and develop computer skills, primarily working with the Windows operating system and word processing program Word. Twelve more workshops are planned until the end of the project.
The final promotion is scheduled for July 28, 2023.
Education of Roma Children: When Parents Provide Support, Everything Becomes Easier
As one of the concluding activities of the project "Choosing Education: Empowering Learning for a More Secure Future," implemented by the Humanitarian Association "Đina" from Bačko Gradište, with the support of the Ecumenical Humanitarian Organization (EHO) from Novi Sad and Diakonie Württemberg from Germany, a roundtable discussion was recently organized with parents whose children participated in various activities during the spring and summer.
In addition to the children, activities were specifically designed for parents, such as mentoring visits, to continuously provide stronger support in the education process of their children.
One of the attending mothers highlighted that the children eagerly awaited the workshops, showing progress in school, making more friends, and developing stronger social skills. However, she emphasized the need for many more such activities to support learning and the entire family, including counseling, information sharing, and empowering parents themselves to improve their living conditions.
It should be noted that many parents we work with are returning to school themselves, mostly attending evening classes. Many of them want to improve their living conditions, find employment, or secure better job positions to be more competitive and visible in the labor market, explained Đina, adding: During the roundtable, we heard that every second parent has attended evening school in the past couple of years, and every third parent is looking for better employment. We must not forget to emphasize that, in addition to supporting learning and mentoring visits to families, we organize preventive health check-ups and workshops to ensure that this aspect of life is not neglected. In collaboration with the Food Bank of Vojvodina and the Bečej Association of Youth, we provide them with groceries and school supplies, and gifts for the New Year's holidays.
During the three-month program, approximately 50 children participated, with 15 planned in total.
We observe and find encouraging that parents, together with their children, are planning the future of their entire family, aware that Roma children have a place in all segments of education—from preschool to university. We heard that all children, or the students from our program, are interested in secondary schools, and their parents support them in this. Still, they need assistance in terms of information on scholarships and employment opportunities, knowing mostly who to turn to and where.
The "Đina" Humanitarian Association will continue its activities in the coming period, aiming to provide better living conditions for Roma people and other marginalized individuals in our community.