Last week, companies, organizations, and individuals organized many events aimed at helping the youngest members of the community.
Read 6 stories about good deeds aimed at improving the health, learning conditions, and well-being of children.
10,000 KN for SOS Children's Village in Ladimirevci
Representatives of the Rotary klub Josip Juraj Strossmayer from Osijek made a 10.000 KN donation to the SOS Children's Village in Ladimirevci.
On World Polio Day, the Osijek Rotary Club Josip Juraj Strossmayer with the support of Run4fun organized a charity race to raise awareness about the problems of polio. The race was part of the global Rotary club action called "End Polio Now". For a fee, entire families could participate and give their support to global polio eradication efforts.
As a result, ten thousand KN, tangerines, and some food were collected.
However, wanting to give back to the local community, the Rotary Club decided to donate 10.000 KN, to the SOS Children's Village in Ladimirevci.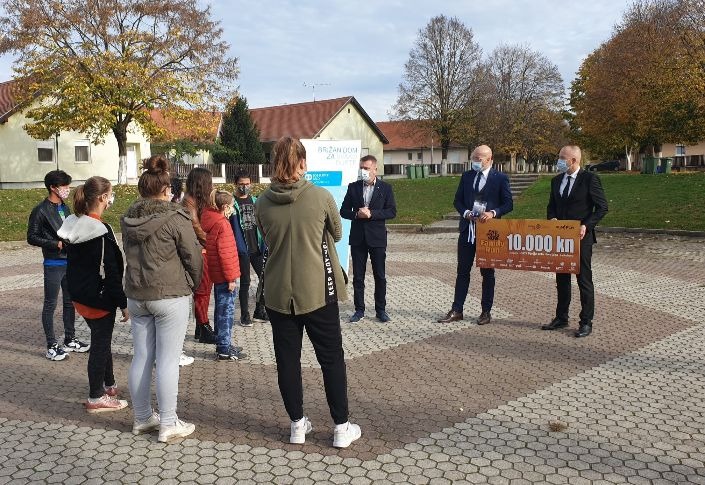 "My Place in the Sun" campaign
The Centre for Culture of Dialogue, in partnership with the University of Rijeka and with the support of The Primorje-Gorski Kotar County and the City of Rijeka, launched a campaign called "My Place in the Sun".
Many socially and economically disadvantaged children lack basic amenities, like their personal space, computers, toys, and quality food. With that in mind, the campaign aims to raise 1.2 million KN by the end of 2020 to redecorate and equip the multipurpose facility – solidarity center in Pećine. The center will provide these kids with much-needed amenities and a place to spend their leisure time.
You can show your support by calling 060 80 20 25, or making a payment to KN or foreign currency account of Erste Bank d.d,
IBAN: HR1924020061500087226,
Model: HR00,
Call to Number: 2020,
Payment Description: Kampanja Moje mjesto pod suncem,
For Payments from abroad: SWIFT/BIC: ESBCHR22.
By supporting this campaign, you support the fight against child poverty. For more information go to My Place in the Sun webpage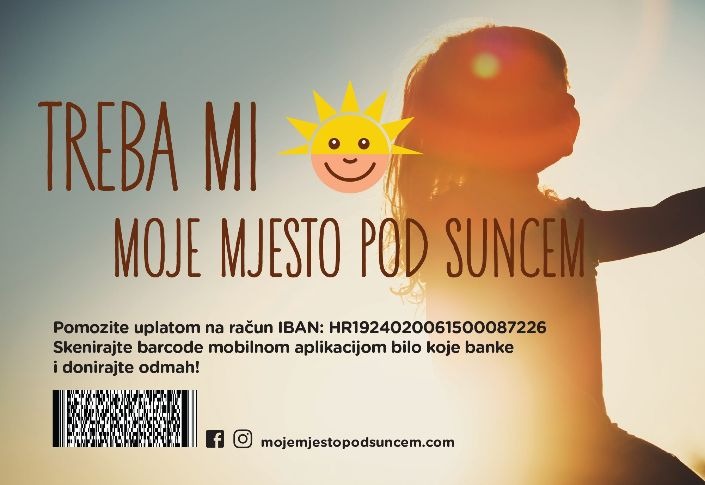 PBZ Group donates more than 300,000 KN to the children's home in Karlovac
PBZ Group, a member of the Intesa Sanpaolo Group, made a donation to the Home for the Raising of Children and Young People in Karlovac, as part of their project "Doing Good Every Day".
The home provides social care services to around 100 children and young people with behavioral and mental health problems, by offering them various types of support – accommodation, socially-organized housing, counseling, assistance to primary and foster families and individuals after leaving social care, and inpatient and outpatient assessments.
This donation will help them make necessary adaptations to the house they currently use for providing non-institutional social services to their beneficiaries, such as improving working conditions and the quality of their social care.
For more information on the project "Doing Good Every Day" and other good deeds visit the link.
Telemach BH delighted beneficiaries of children's home in Zenica
Telemach company, owned by United Group, donated an entertainment corner to the children's home "Dom-porodica" in Zenica, to celebrate the first decade of their business success in Bosnia and Herzegovina.
For 60 years, Public Institution "Dom-porodica" in Zenica has been providing care for children and young people without parental care, up to the age of 18, as well as children with developmental disabilities.
The entertainment corner will allow their beneficiaries to learn, connect with friends, listen to music, or play their favorite games. Apart from hardware, Telemach company will equip the entertainment corner with its latest internet technology and services free of charge.
Grawe Insurance supports SOS Children's Services of BH
Grawe Insurance Company handed over a 10.000 KM donation to SOS Children's Villages BH, in the presence of the Austrian Ambassador to Bosnia, Dr. Ulrika Hartmann.
For the seventh year in a row, Grawe Insurance Company has provided support for SOS Children's Villages BiH, despite the challenges they are currently dealing with like many other companies.
Support for children with cancer
Over the last two months, the PIPOL association implemented the project "COWIN-20GETHER (Let's beat the consequences of the pandemic #COVID-19 together) in Tuzla, as part of a wider initiative aimed at mitigating the negative effects of the COVID-19 pandemic on the vulnerable populations.
To achieve the desired goal, many educational, engagement, and recreational activities were planned and carried out.
One of those activities was the organized visit to Bingo Zoo, during which the members of the PIPOL association distributed sanitary packages and protective face masks to their beneficiaries.
On a separate occasion, 40 beneficiaries were provided with school supply packages, mushroom cultivation kits, protective face masks, and photo books with motivational quotes.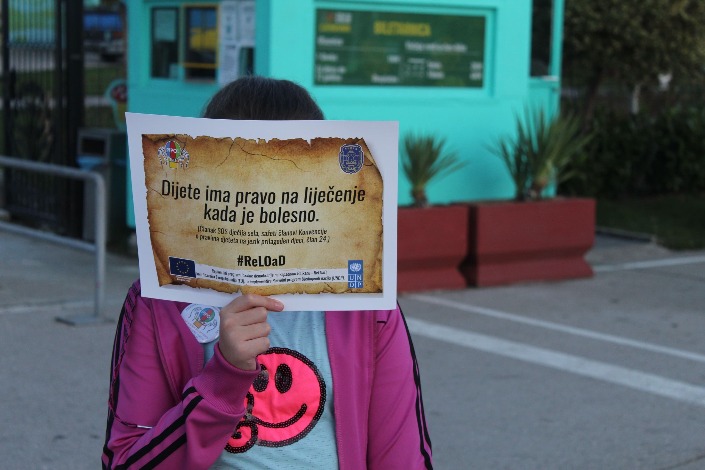 We hope that some of these stories motivated you to do some good yourself. But in case you still lack inspiration on how to help, we suggest you visit our crowdfunding platform Donacije.rs. There you can support one of the many active campaigns by making an online donation or sending an SMS to 7300.