Many of us are accustomed to reading about mass or corporate donations, donations from private foundations, or passionate organizations that contribute to community development daily.
However, there are often cases when we come across examples of responsible individuals - those who, without the help of the state, institutions, or groups of people, manage to make significant differences in their environment, rightly standing out as philanthropists who deserve great gratitude from our society.
That is why we have made a cross-section of small but strong examples that show that each of us has the power to help one another. Find below how individuals from the region achieve their extraordinary efforts.
Golden hands of a seamstress captures special attention in the "Mosaic of Friendship"
Thanks to hardworking tailors Sanja Vukelic and Anka Barudzija, the Humanitarian Association "Mosaic of Friendship" (Mozaik prijateljstva) from Banja Luka has an additional source of income. Their users are people with poorer financial status – have the opportunity to get a new wardrobe.
In the tailor shop "Golden Hands", Sanja and Anka have been sewing and redesigning clothes for three years. However, they also provide an opportunity for those interested to learn the secrets of this noble craft.
A few years ago, the association helped me when I needed it the most because I could not do my job professionally due to family obligations. I thought that this was one of the ways I could redeem myself and thank them, Vukelic told Glas Srpske.
She says that it is a real vacation for her and an escape from adversity to contribute to the community through humanitarian work.
For Barudzija, after decades of hard work, the tailor's shop came as a vacation.
My retirement days are spent on these premises. I am satisfied here. I finished sewing school, and this was the right way to show and do what I know, and the most important thing is not to spend time at home, said Barudzija.
The president of "Mosaic of Friendship", Miroslav Subašić, said that this initiative was launched to help people learn to sew and get a job.
This is the real thing, and our idea is for people to learn how to cut and re-cut fabrics. In the future, it will grow into a social enterprise, which will bring jobs to these people, said Subasic.
He emphasized that the tailor's shop earns money for bread in the kitchen and that her work depends on her fellow citizens and the work of the kitchen.
She can't work if no other people will come to receive the services of "Mosaic of Friendship". They have no one to sew and sell their bags to. I believe that people will still come to us and bring us everything they need to change and fix, that everyone will be okay, said Subašić.
The Association of Citizens' "Mosaic of Friendship" points out that they make minor alterations in the tailor's shop, shorten the wardrobe, and make clothes for households and restaurants.
In addition, they are engaged in sewing bedding, work aprons, and many other creations, all for the benefit and improvement of the public kitchen. The payment for these services costs from one to three KM, which go for the purchase of groceries for a meal of love, said Subašić.
Mirjana Milovanović from Ćuprija: Humane mission of a woman with a big heart
Help in food, clothes, and money arrived at addresses throughout Serbia. She made many friends, and all the celebrations she organized were humanitarian. She is now helping Srdjan Miljkovic, who suffers from a severe form of leukemia.
A person like Mirjana Milovanović, a native of Isakovo near Ćuprija, is rarely seen. This woman, generous and big-hearted, worked in catering in Switzerland for 40 years. Today, she spends her retirement days in Ćuprija. Many know her as a person who helps everyone when needed. She has been doing this for almost two decades. Thanks to the local press that arrived during her stay abroad, she was regularly informed about who should be helped.
There were many times when I didn't have it myself and when I cried for something when I needed it, and mine didn't have the money to buy it for me. I started reading those newspapers in Switzerland to see what anyone needed. I got phone numbers through those newspapers, and first, I helped a family in Čačak, Mirjana begins her unusual story.
Many cities and places in Serbia Mirjana visited to give money, food, clothes, or even wood. She is not sorry because, as she says, she is aware that she is doing a good deed in that way, in a time of alienation.
Many are happy. Here is an example of a family from Nis. They were endangered; they lived in one house. I said, "You can't stay here. You have to look for a bigger apartment. They say, "Where are we going? We don't have money. "I tell them: "I will pay you, you are looking for an apartment". They were overjoyed. Now they have moved, the children have started working, and risen a little. I am sorry when I see that people cannot work, earn and support themselves, said Mirjana.
All the celebrations she organized were humanitarian. Instead of gifts, at Mira's request, guests bring money later paid to help those who need it.
I don't need anything material. I have everything. I did not want gifts but to collect humanitarian aid. It is strange for the guests, although some bring something. Some wanted to repay the help provided, so they bought a gift. I am glad, she says, that she included many family members in her humanitarian activities.
She is currently helping Srdjan Miljkovic from Ravna reka, who suffers from a severe form of leukemia. At one of her celebrations, more than 80 thousand dinars were recently collected for him, and at the same time, Mirjana pays him a therapist who additionally helps him get to his feet, which is his and her greatest wish. Mirjana is filled with someone else's happiness, and troubles only motivate her to help as much as she can. She will continue with that as long as it is needed because her humanity knows no boundaries, but she hopes someone else will follow her example.
The humanitarian action, now forever written down and translated into a book, was launched so that about 3,200 hours of therapy for almost 70 children on the island of Brač, Croatia, would remain free.
I wanted to write as a young man, but I soon realized that I was not good at making up stories. I have to experience an adventure to turn it into a book with my own life. I also noticed that a story could only come to life when one key factor is people. Before the first step on the Via Adriatica route as part of the humanitarian action "1100 kilometers for 1100 therapies", I thought I would be most fascinated by the natural beauty of Croatia - and they are. Still, it turned out that I was most impressed by individuals. Man for man, man for children, children for the fulfillment of man's heart - this is the guiding thought permeated throughout the book, said Ranko Dragičević at today's promotion of his book Heart through the mountains held in Zagreb.
Encouraged by the endeavors of Ranko Dragičević and Daniel Lončar, all interested citizens were able to sponsor kilometers and thus donate funds to the Association of Parents of Children with Developmental Disabilities "Brački pupoljci". The action reverberated throughout the country, raising HRK 169,800, which provided as many as 1,700 free therapies.
On March 20, 2021, the two adventurers set off on the Via Adriatica route from Cape Kamenjak in Istria. They arrived at Cape Oštra on the Prevlaka Peninsula, the road's destination, on May 7, 2021. They passed a hiking trail that connects the natural and cultural specifics of the Adriatic climate during that period, consisting of 14 mountains, 12 rivers, and two lakes. Eighteen protected areas, seven counties, 52 municipalities, and 1,100 kilometers. More about the action can be found on the website www.1100kilometara.com.
It is a great honor for me to be involved in realizing this fantastic humanitarian campaign from the very beginning. Following Ranko and Daniel in the footsteps and waiting for their afternoon or evening reports from the route was like some tense Hollywood movie. I am incredibly proud that this is the second campaign within a year aimed at helping one of the most vulnerable groups in our society, children with disabilities from our close association, "Brac Buds". I hope that in this book, other selfless individuals will find the motivation to help their loved ones and change our society for the better. If we don't, who will?, said Gordan Turković, communication expert and executive director of the CTA communication agency, which provided communication support to this humanitarian endeavor.
Since the action consisted of 13 stages that symbolically represent the 13 challenges that parents of children with disabilities face, the book follows this sequence. It explains each step through 49 chapters, more precisely, 49 days of hiking.
By her will, Biserka left 40,000 KM to humanitarian associations
In her will, the humane woman from Banja Luka, Bosnia and Herzegovina, Biserka Mrkić left a donation of 40,000 KM (note: 20,400 EUR), which she intended for four associations. The Banja Luka humanitarian association "Mosaic of Friendship", one of the recipients of Biserka's donation, announced the following via its Facebook page:
Dear fellow citizens, we have always dreamed of owning a passenger van so that our team members working on constructing a social enterprise in Ramići would have standard transportation to work.
For us, these were unfulfilled dreams, but dreams need to be truly believed. And we became the owners of this great used passenger vehicle, which was necessary for us to transport our friends to the destination, collect clothes, and deliver meals at the field.
The late Mrs. Mrkić Biserka left a will during her lifetime and 10,000 KM in it for four associations, including ours.
After the death of this humane lady, her lawyer contacted us, visibly leaving us in a state of shock while he introduced us to the details of the will of the deceased. Mrs. Biserka.
We have never seen, heard, or met this late lady, and she, believing in our humanitarian work, has done such an unprecedented humanitarian deed.
For that money, we have rebuilt our fleet, so we no longer drive in the trunk of our small cars.
It is hard for us to thank such human greatness for the time when her huge heart was still beating, but today we want the late Biserka to rest in God's peace surrounded by heavenly angels.
Imaginative people from Zrenjanin turned a water balloon into a "bag"
In a city where drinking water has been banned for usage for 18 years, where plastic balloons are piled up in houses and apartments, and there are some on terraces and jumping out of car trunks, two imaginative people from Zrenjanin, Serbia, figured out how to recycle and continue to use them.
Radmila and Nikola Trebovac designed the "bag", a bag made of a plastic water balloon, and one of them were recently donated to the musician Marcelo when he visited Zrenjanin.
Since I worked on radio shows, we have known Marcelo, so we gave him one of our bags because of that Zrenjanin problem with water. This bag warns that the problem is still not solved and that a lot of will and activism is needed, says Radmila Trebovac.
To get a bag like this, you need to bring a water balloon to the store. So, one balloon of water for one "bag".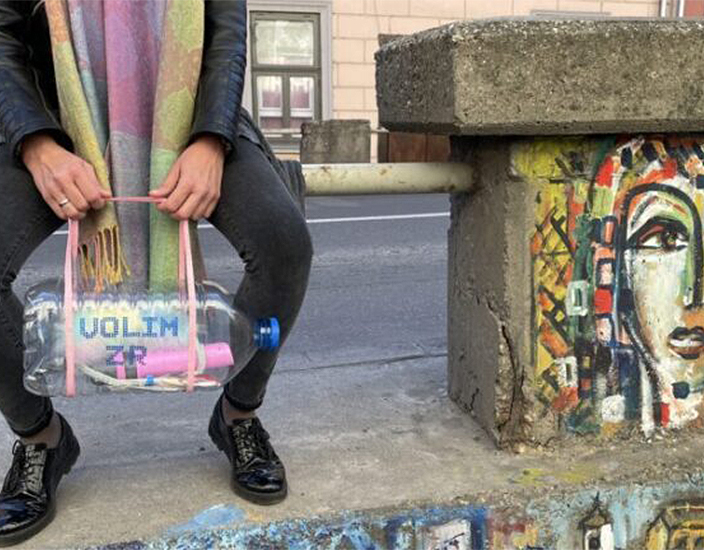 We display the bags we make in front of the market, so citizens can quickly and easily pick them up in exchange for a water balloon. We donate the collected water balloons to the National Kitchen for people who can't buy the proper water. We also contacted two larger retail chains, from which we asked only for permission to hold a performance and action in front of their stores, but none of them was interested in cooperation. Some refused. Others did not even respond. We want to include companies, the economy, and individuals, and we will all be humane, says Radmila Trebovac.
This equation is not, however, so simple, we understand after explaining the author of "Torbalon," Radmila Trebovac, who is building her civic activism, step by step, with her husband, Nikola.
"Torbalon" is both a fashion detail and a practical bag, it has a humanitarian purpose because it is "bought" with a water balloon for the poor. It is also a recycled product for which the authors were awarded in the middle of last month in the competition "Engaging citizens towards the circular economy" organized by CirEkon.
When I came up with the idea of ​​making it a balloon and making bags out of it, I was guided by the fact that a five-liter water balloon is an indispensable part of the daily life of the people of Zrenjanin. Not only are we used to balloons, but we are also used to the fact that we have to buy water and we constantly complain and do nothing. That is why our torbalon is not just a joke at the expense of wearing a balloon every day. It is a call for activism and humanity, says Radmila.
They started with a pedestrian crossing in their street, and now they are continuing with water. So, "torbalon" is not just a mere symbol of Zrenjanin's suffering. It is the idea of ​​these millennials to unite very significantly in a balloon all the circumstances that accompany the water problem in Zrenjanin.
Nikola and Radmila were intrigued by the fact that many people from Zrenjanin go to the shopping center in their city every day and cannot organize any action.
Radmila came up with the idea for the bag after one of the visits to the shopping center, and I participated in the development. Our family activism aims to encourage others to contribute at least a little, each in their domain, to positive change and encourage fellow citizens to become active themselves. The two of us are united in the informal group "Cirkuzzzanti". We make short videos about Zrenjanin water and publish them on our Instagram page under the same name, explains Nikola Trebovac.
Radmila says that the first performance was an action with a pedestrian crossing when she dressed in a zebra costume and stopped cars. In the end, she found understanding in the local community, and the crossing in Prešac was refreshed with paint, so at least the residents of Tihomir Ostojić Street solved their problem.
With donations, a humanitarian is reconstructing the Fire Department in Shtip
The reconstruction of the Shtip Fire Department in North Macedonia is in progress – an action realized by the humanitarian Aleksandar Gorgievski. The president of the municipality of Shtip, Ivan Jordanov, visited the home to provide support for the complete renovation of this institution. He announced that a new fire truck would be procured.
I want to give full support to what is happening because there is a change of doors reconstruction of toilets and other auxiliary facilities in the institution itself. I want to announce that the municipality of Shtip, together with socially responsible companies, is currently giving full logistical support for the reconstruction of these premises, Jordanov emphasized.
Gorgijevski's humanitarian action started two months ago. Many things have changed to this day, and as Aleksandar said, the first floor will be completed in a month.
We have been here for two months. We are working hard, a great job has been done, the first floor will be 100 percent renovated in a month, Gorgievski said.
The fire station already has new doors and windows, renovated toilets, new floors, and furniture.
Such examples of charity are helpful for several reasons. They can introduce us to the humane people who make up our society. They can inspire us to share the news of their successes. They can encourage us to see for ourselves that the power of a human being lies in every individual. If you feel that it is time to join philanthropists who make their community more successful on their initiative, one of the ways is to support current campaigns on Donacije.rs.