Investing in the development of culture and art in the Western Balkans is one of the key factors for building a prosperous society and community development. Art and culture have always been part of the rich tradition and heritage of the region, as well as a means of expressing contemporary social trends.
Investing in culture and art is crucial to preserve our heritage, support talents, and foster creativity. Through such investments, we create favorable conditions for the growth of the art scene, promote dialogue among different cultures, provide space for the expression of diverse identities, and strengthen mutual understanding. In addition, investing in culture and art also has economic potential as it contributes to tourism, attracting investments, and developing creative industries.
Despite numerous challenges, art and culture continue to thrive and exist in the Western Balkans. Below, we present 11 stories from the region that support this claim.
In the following text, you will discover details about projects integrating art into solving social problems or engaged artists who use their talent to draw attention to social, political, and environmental issues.
Some festivals bring together filmmakers and humanitarian music concerts that gather people through music and raise funds to help vulnerable groups and promote solidarity. In the text, do not miss the opportunities for donation or volunteering: in the field of culture, many organizations provide opportunities for that, and the possibility of volunteering allows individuals to contribute to the art domain that interests them, learn something new, and empower themselves as individuals.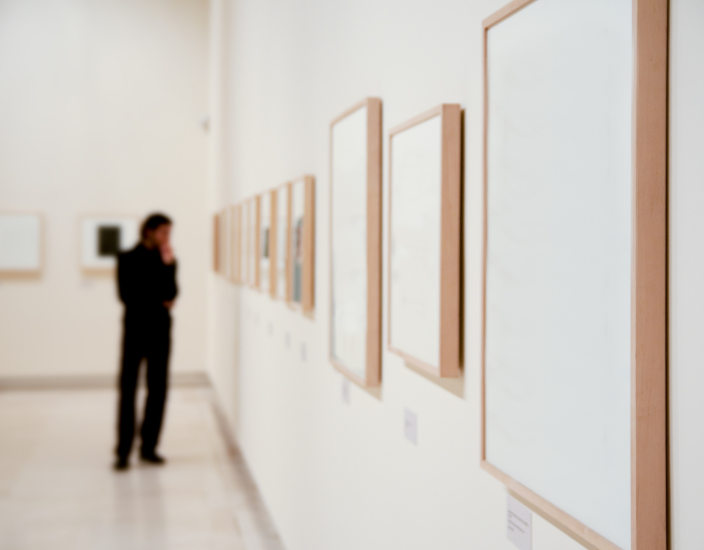 In the branches of UniCredit Bank: "100 Women, 100 Miniatures"
Medieval ornaments, ethnological artifacts, and the Cyrillic script have inspired the unique works of art showcased in the ninth exhibition titled "100 Women, 100 Miniatures." This is the only event that allows women and young people from all over Serbia to showcase their skills in creating traditional handicrafts and receive recognition for their work.
The exhibition features exhibits created using embroidery, goldwork, and lace techniques. It was initially presented at the residence of the Canadian Embassy at the end of last year and is now accessible to the general public at four UniCredit Bank branches in Belgrade. The people of Belgrade will be able to visit the exhibition for the next month at the following locations: Jurija Gagarina 12, Španskih Boraca, Rajićeva 27-29, and Trnska 2. After that, it will tour other cities in Serbia.
The exhibition is organized with the support of NALED, the umbrella association of handicraft producers Etno Mreža, celebrating 20 years of operation. During the opening, Violeta Jovanović, the association's president, emphasized that empowering women and young people, especially in rural areas, fostering women's entrepreneurship, and preserving heritage are their main goals.
Culture, heritage, and women are essential yet neglected pillars of local development; therefore, this exhibition represents authentic values and promotes miniature art. We are grateful to UniCredit Bank for their support and willingness to contribute to gender equality, financial inclusion, and the economic empowerment of women and young people. This exhibition also serves as an introduction to the tenth jubilee exhibition that will follow, which will be regional in scope for the first time and encompass the cultural heritage of a broader part of the Western Balkans," said Jovanović.
As a socially responsible company, UniCredit Bank Serbia has become the exhibition's main sponsor. According to Rastko Nicić, a member of the Executive Board and Director of Retail and Small Business Banking, all entrepreneurs must contribute to preserving cultural heritage and developing women's entrepreneurship.
Therefore, we decided to utilize our resources - in this case, our branches - as places where we can do just that. I am glad that we can organize such an exhibition to support the community in which we operate and to have our branches recognized as spaces where we provide additional value and cultural content to our clients alongside banking services," Nicić stated.
Svetlana Bunčić, Director of Identity and Communications at UniCredit Bank Serbia, took the opportunity to call on other companies to follow their example and use the unique handicrafts created by women from craft associations throughout Serbia as business and corporate gifts.
The aim of this exhibition is not only to showcase exquisite handmade artworks but also to continue supporting those who create them to continuously empower the community and create a favorable environment for developing women's entrepreneurship," concluded Bunčić.
The International Film Festival "Capture Film Banja Luka" seeks volunteer translators. Applications are open until May 5th.
Volunteers are needed to translate dialogues and synopses from English or other foreign languages into Serbian. Those who wish to join the translation team can apply by filling out the application form at the following link.
The "Capture Film" festival is an international event that takes place in Novi Sad and later in Banja Luka, Rijeka, and Kotor. It aims to promote the potential and challenges faced by people with disabilities (with a particular focus on multiple marginalized groups) through a thematic and artistically specific film selection.
The upcoming edition of the "Capture Film" festival is currently in preparation. The recent call for film submissions received 454 films from all around the world. Most films came from Iran and Spain, while ten were submitted from the region. All submissions are being reviewed by the festival's selectors and an expert jury, who will choose the best films for screening at the "Capture Film" festival in Novi Sad. A selection of the chosen films will also be featured in the film programs of the regional editions in Banja Luka, Rijeka, and Kotor.
"Capture Film" is the only regional film festival focused on disability and is the most accessible film festival in the region. It has been successfully held in Novi Sad for 21 years, organized by KAO Parnas. Since 2011, it has been organized in Rijeka by the Association "Spirit," and since 2017, it has been organized in Banja Luka by the Humanitarian Organization "Partner." Additionally, an edition in Kotor is organized by "ART 365" from Podgorica.
The festival aims to promote national and international feature films, documentaries, and animated films featuring people with disabilities and promote the possibilities and challenges faced by people with disabilities (with a particular focus on multiple marginalized groups) through art.
The twelfth edition of the "Capture Film Banja Luka" festival will occur from October 12th to 14th in Banja Luka.
On Sunday, May 7th, at 7 PM, a humanitarian art auction will take place at the Kalem by ZAK restaurant in Novi Sad. The auction, organized by the Tate Foundation Novi Sad, will showcase artworks by renowned artists from Novi Sad and across Serbia, and the program will be hosted by members of the team from the comedy series "Državni posao" ("State Job").
By participating in this auction, you can enrich your home with masterpieces by acclaimed domestic artists and contribute to a good and humane cause. All proceeds from the auction will be dedicated to the treatment of Maja Davidović, a forty-one-year-old Novi Sad resident battling a severe form of cancer.
We invite all citizens who appreciate art and are able and willing to contribute to Maja's treatment to come and choose a painting that appeals to them the most. Your collection will gain additional artwork while increasing the chances of saving our fellow citizens' lives.
You can also help Maja by donating to the current account of the Tate Foundation Novi Sad: 340-11024555-64, with the purpose of the payment, stated as "For Maja," or by sending an SMS message of any content to 6880.
Significant Concert at the "Gvarnerijus" Cultural Institution
The charity music and dance evening "ROADS" was held on Sunday, April 23rd, at the "Gvarnerijus" Cultural Institution. Percussionist Lazar Čolović conceived the project to achieve non-verbal communication through the intertwining of different art forms: music, dance, and video.
The project aims to demonstrate the potential of communication through art without language barriers. Admission is free with a suggested donation of 500 dinars, and the funds raised will be donated to the "Povetarac" Association from Sjenica to support children and individuals with developmental disabilities.
Lazar Čolović is a percussionist and educator, born in Kruševac, and he has been performing as a percussionist in the folk trumpet ensemble "Abrašević" since the age of four.
Nastavak projekta "Svet kakav želiš" Continuation of the "World as You Want It" Project
Leading street artists TKV, Jana Danilović, Rosh, and Endo have once again joined forces within the "World as You Want It" project, which A1 Serbia is carrying out.
Their collective work of impressive dimensions is located at 44 Kornelija Stankovića Street. Through innovative interpretations of the world, they remind us of socially responsible and current issues, combining art and activism.
In their symbolic representations, the artists have expressed their views on the importance of environmental protection, equal access to education, adequate support for public health, and culture as an integral part of our lives.
These values are promoted and supported by A1 Serbia through its socially responsible platform, "World as You Want It." At the same time, the mural painting project is being realized in collaboration with the non-profit organization Gaia Movement, which oversees the Silos in Belgrade. The first mural within this project was presented in July 2022, and after Belgrade and Novi Sad, the project will gather artists in Čačak as well.
"Kickstarter" Campaign for Fundraising for the Short Film "No Ghosts in a Foreign Land"
Macedonian director Ana Jakimovska, studying film directing at Goldsmiths, University of London, has launched a Kickstarter campaign to raise funds for producing a short film titled "No Ghosts in a Foreign Land." The project requires a minimum of £10,000. The campaign will be open until May 4th, and shooting is planned to take place at the end of the following month.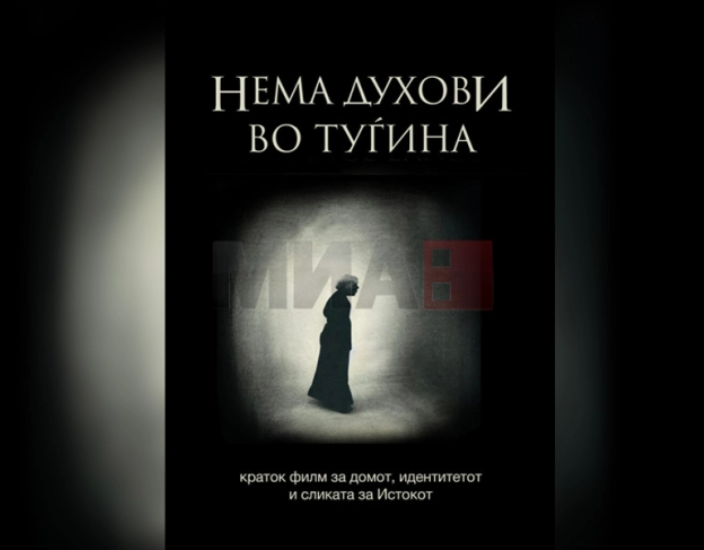 "My short film project titled 'No Ghosts in a Foreign Land' has received support and funding of £3,000 in-kind. My team and I have launched a Kickstarter campaign to cover the remaining difference. The campaign will be open until May 4th. This will be my first film shot in the UK. We have scheduled the shooting for May 18th-22nd at locations in London. With this public fundraising, we are presenting ourselves as open to the public. In this way, everyone can read more about the story, see the biographies of the creative team, learn about our vision for the film, and decide whether they want to support us and watch this film," says Jakimovska. She emphasizes that with a donation of £140 or more, anyone can directly participate in creating this Macedonian film.
Although the film will be entirely shot in England, the story is Macedonian and inspired by Macedonian folklore. The film will be in Macedonian and English.
The story follows Kira, a British photographer of Macedonian descent, who travels to her parents' native village for the first time.
Kira soon discovers that the women fear her camera, believing it has the power to capture their souls. Kira persists in her attempts to create the envisioned portraits, but after the sudden death of one of the women, she becomes aware that her actions have consequences. The film will be unconventional and bold in its visual and structural environment, using frames and colors to enhance the theme of representation. The narration is non-linear, and the genre is satire with elements of horror inspired by Macedonian folklore. The film aims to open a dialogue about the portrayal of the East in the art of developed countries and, more broadly, about the nature of film as an art form, explains director Jakimovska.
Donacija Narodnog muzeja Crne Gore RTV Cetinje Donation from the National Museum of Montenegro to RTV Cetinje
The National Museum of Montenegro (NMCG) has donated its publications - monographs, monographic catalogs, books, and publications - to RTV Cetinje as part of the collaboration between the national museum and the first Montenegrin electronic media.
The Director of the National Museum, Jakša Ćalasan, emphasized that as part of its educational mission, NMCG donates valuable publications on Montenegrin cultural heritage, history, and art. He expressed satisfaction with the donation of dozens of publications intended for the editorial team of the first Montenegrin radio - Radio Cetinje, and the internet portal Cetinjski list.
The Editor-in-Chief of RTV Cetinje, Mladen Zadrima, expressed gratitude for the valuable donation, highlighting that this act continues the longstanding collaboration between the National Museum and RTV Cetinje. He also mentioned that the professional literature would greatly assist the editorial team's cultural work.
Radio Cetinje, the oldest electronic media outlet in Montenegro, started broadcasting on November 27th, 1944, in the newly liberated town of Cetinje. After five years of operation, the radio station was relocated to Titograd and renamed Radio Titograd. Radio Cetinje was revived in 1991, and today, in addition to the radio station, it includes the internet portal Cetinjski list and video service as integral parts of RTV Cetinje.
Events dedicated to the choir Svi UGLAS!
Svi UGLAS! is a unique choir in Serbia in many ways. On April 8th, they began their first fundraising campaign on Donacije.rs for a grand spring concert in Belgrade on May 28th.
Every April 8th, we commemorate International Roma Day. International Roma Day is a day to raise awareness about the issues a part of our population faces. It is a day to celebrate Roma culture, of which music is inseparable. Did you know the official Roma anthem is "Đelem, Đelem"? Do you know the meaning of its lyrics? Do you know any other Roma songs? Although Roma people are often portrayed in popular culture as cheerful, carefree, and in love with life, music, and dance, the reality for Roma people in Serbia is different. We do not know enough about the rich history, culture, and language of the Roma community, and unfortunately, in our society, Roma people are victims of prejudice.
The association Art Aparat was born from the idea that music can be a tool for promoting positive change. Music connects people and gives a voice to those who don't often have the opportunity to be heard in society. Music can evoke empathy, solidarity, and tolerance, and science has proven that different cultures can be understood through music. Art Aparat emerged through volunteering at the Belgrade Shelter and interacting with Roma children involved in street life.
Through music education, it has been shown that children who irregularly attend school and have limited exposure outside their community can find fulfillment and develop friendships, and work habits, practice reading, and learn other essential life skills through music. It started with the choir Raspevano Svratište, where Roma children have been singing for seven years. Under the name Svi UGLAS!, a choir has developed since 2019 where children and anyone interested in learning about Roma culture and community can sing along.
Charity concert for the Music School from Bujanovac in Beli Dvor
The association of artists "Vivarte" organized a charity concert under the patronage of the Crown Prince Alexander Foundation for Education and Culture, which took place last night at the White Palace, with the support of Crown Prince Alexander and Princess Katherine, aiming to support the Elementary Music School in Bujanovac.
This concert was the first charitable event organized by the association "Vivarte," All funds raised on this occasion will be used to purchase musical instruments for the Music School in Bujanovac.
This school offers piano, accordion, clarinet, flute, and guitar classes and is one of the rare schools where children of Serbian, Roma, and Albanian nationalities are educated together.
This proves that education and music, through the most beautiful melodies, can erase all boundaries, stated the Royal Palace.
Students from the Elementary Music School in Bujanovac performed with professional musicians and association members. The concert was attended by many guests from Serbia's cultural and public life.
I am very happy that many people have gathered here in the home of the Royal Family to enjoy the performance of these talented musicians and to provide much-needed support to the Elementary Music School in Bujanovac. The youth of Serbia has great potential, and we all must support them so they can fulfill that potential. It is our obligation and duty.
Videomedeja: Open competition for artists and volunteers
Videomedeja has announced the opening of the Call for Entries and Volunteer Recruitment for the 27th International Video Art Festival. Applications are to be submitted exclusively online, and the call is open from April 1st and will run until June 15th. Volunteer applications will remain open until September 1st, 2023.
The International Video Art Festival, Videomedeja, will occur from October 12th to 14th at the Cultural Station Svilara.
This festival is the main activity of the Videomedeja association. This entirely non-profit event is held every year for several days. The festival consists of a competition program and various accompanying programs in our city, depending on the current production and concept.
The program focuses on artistic projects that utilize new media for artistic expression and communication, encompassing a wide range of genres and forms that combine images and sound, advanced communication, and objects in a symbiotic or avant-garde style. The competition program is open to various forms of creative artistic expression and communication using electronic media completed after January 1st, 2021.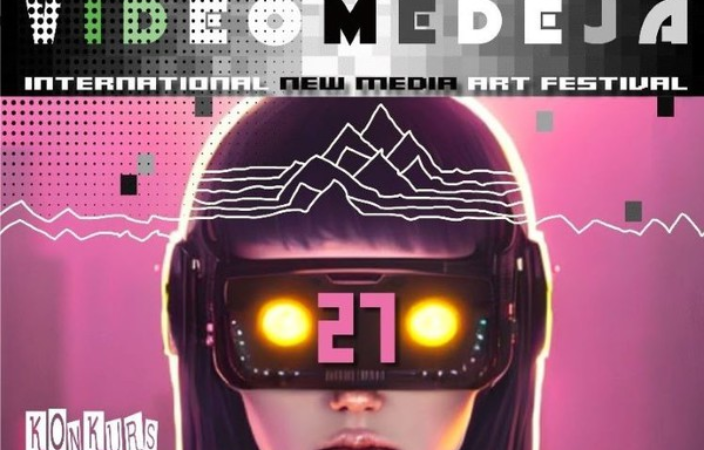 This year, there is a new feature in the Videomedeja festival application process: including donations. This is significant because the funds collected through donations are used for the cash prize.
The awards at the Videomedeja festival hold great importance for the participating artists as they represent recognition for their work and contribution to video art and new media. Additionally, the cash prize provided by Videomedeja serves as financial support that can assist artists in further developing their creative endeavors. The Bogdanka Poznanović Award, specifically for the best work produced in Serbia, holds particular significance for local artists as it allows them to present their work to the audience and the professional community while encouraging their future work. Honorable mentions and the Audience Award are also important as they indicate that the artistic work impacts the audience and has successfully conveyed a message or evoked an emotional response.
"READING IS A SUPERPOWER" - inspiration for a literary and art competition in North Macedonia
The campaign "Reading is a Superpower" has inspired a new literary and art competition organized by the publishing house "Ars Lamina" in North Macedonia. In this creative challenge, which will run until May 23, 2023, all elementary school students from across the country have the opportunity to participate. They can submit a piece of poetry or prose or create artwork inspired by the world of books, reading, and literature.
The winners will be announced and rewarded at a special event in early June 2023. The prize pool consists of certificates and books provided by Ars Lamina.
The primary mission of the "Reading is a Superpower" campaign, conducted by Ars Lamina for the fifth consecutive year, is to promote reading habits among children. The campaign aims to raise public awareness about the importance of reading early on and involve various relevant actors from all spheres of life. Its goals include nurturing the mother tongue, encouraging reading, improving reading skills, providing quality time away from new technologies, supporting education through enrichment of the curriculum and activities of school libraries, and providing support to children with reading difficulties, such as dyslexia, through the creation of a series called "Easy-to-Read Books" with appropriate fonts and spacing.
This year, in collaboration with municipal authorities in Skopje, Ars Lamina is organizing a series of educational presentations for representatives of elementary schools, including principals, librarians, and teachers, to support the curriculum. These presentations offer specific methods, tools, and strategies to foster reading. The aim is to actively involve teachers and librarians in enhancing children's reading culture, reading skills, oral expression, and cognitive abilities. As part of this collaboration with municipalities, Ars Lamina is donating one hundred books (readers, anthologies, exercise books, and visual aids) to the libraries of all participating schools.