The association Women of Bar has been dedicated to help those in need in their hometown of Bar since its founding. Every day they prepare meals in the soup kitchen for 250 users, and 70 are children.
2020 has been their year of good acts. A significant number of people in need received the necessary help and support through their activities with the soup kitchen, the purchase of an apartment for the Marinković family, renovations of several Bar families' residences, financial aid for medical treatments, and volunteer work of over eight hours a day.
For their activities and achievements in the past year, Women of Bar were recognized by the panel of the Iskra philanthropy prize that the Fund for Active Citizenship awards each year. They were awarded the Special Recognition for Civil Contribution To The Common Good.
For more on the humanitarian work of Women of Bar, philanthropy, activities of the association, and the award, we spoke to the association president Ljiljana Vuković and volunteers Sonja Ličina, Ana Joličić, Jelena Dabović, Aleksandra Gvozdenović Kosović, as well as Marija Radović, volunteer and manager of the soup kitchen.
How did the association Women of Bar come to be? What's the idea it all started with, and how did your mission develop?
Ljiljana: In January 2018, I started a Facebook group called Women of Bar Cook From The Heart, wishing to preserve our traditional local recipes. Overnight, the group gained many members, mostly women from Bar, who found it to be a great place to communicate with each other aside from sharing recipes.
Not long after, a family's house burned down in the suburbs. As I was able to gift them furniture, I called the Red Cross to offer them. Considering the family has already taken café of, this kind of help was no longer needed, but an idea developed that it would be nice if women could sometimes cook a meal at their homes and bring it to the Red Cross so that caretakers could then distribute it to our fellow citizens' homes.
Many women responded to my first call on the Facebook group that we already had a month's schedule filled. These were lovely, homely meals, made and gifted from our hearts to unknown elderly townsfolk. We had been cooking and delivering to the RC for six months, and many citizens, restaurants, and bakeries joined in the action.
This campaign's visibility caused us to start receiving many calls for help, mostly from single mothers.
We came to face the shocking fact that somebody living right next door may have a child who cannot sleep due to hunger. We began buying produce and aiding many families door to door.
The unbelievable wave of goodness that arose with the launching of the Facebook group and later Women of Bar led us to build a house for the five-member Huko family in 2018 and provide 240 packs of school equipment for children from families in need. Our homes, cars, offices all became little warehouses, so it became necessary to find space to store all the goods and hold our gatherings.
At Women of Bar, we found our place under the sun to the benefit of many destitute people. We awakened our sleeping talents and started finding ways to materially help those who need it as much as we can.
I couldn't let go of the idea that we should start a soup kitchen and hire the women from the association.
I wrote a book called Threads, and the profit from all 500 copies in circulation became starting capital for the soup kitchen. And so, on November 6th, 2018, we were finally open. By now, the kitchen feeds 250 people daily.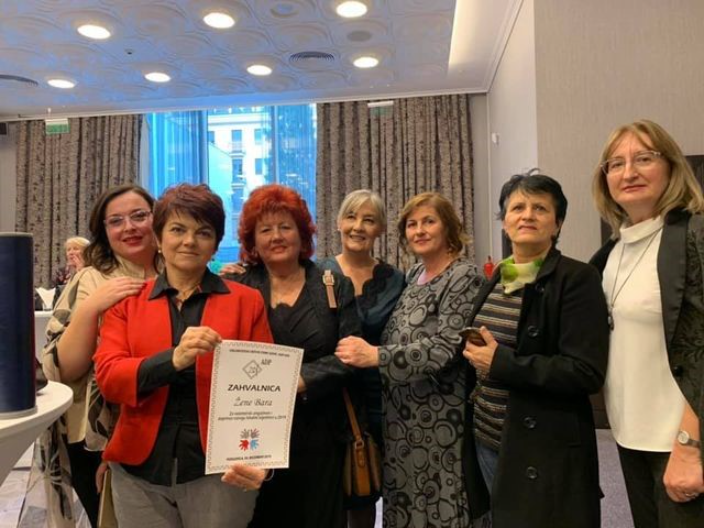 What was your motivation for working in the nonprofit sector?
Sonja: When you're an empath by nature, and especially if you've been through a period in life when you can't provide your children essential means of survival, it only makes sense to be a part of a team like this.
Ana: My motivation for working in this association was primarily the love towards the fellow man and the selfless need to help someone in trouble. Considering I am a retired healthcare worker and have plenty of free time, I wanted to keep doing humane work in these different circumstances. An opportunity appeared to indulge this need at Women of Bar. Here, I meet various social and material needs of people who require psychic and material aid. I try to help people in trouble through my efforts.
Jelena: It's the chance to help others in any way, without any pay or reward, but with a full heart.
Marija: I always tried to be socially useful. Since I've never had a job, and I feel accomplished as a wife and a mother, I felt the need to volunteer in a humanitarian association. Ms. Vujović's idea to help our elderly townsfolk through the Facebook group Women of Bar Cook From The Heart inspired me to join and, since then, I've been active in all aspects of the association.
Aleksandra: Like my dad, who's passed away, who always helped those who came to him, I grew up with a desire for my hand to be someone's helping hand – or at least a hand of support. Today, I realize that helping a man in need with my Women of Bar is the most significant "profit" I enjoy besides the love of my family.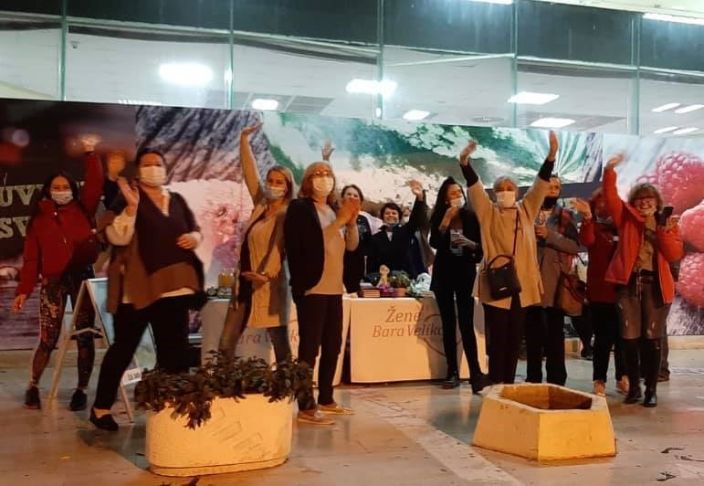 How did the COVID-19 crisis impact the work of the association? What change in the way you operate, what activities were you focused on the most lately?
Ljiljana: The appearance of the pandemic made us think deeply about how to proceed. Public transit shutting down disabled our users from reaching the soup kitchen. The need for food and aid for the many families suddenly tripled. We had to find ways to respond to that and help. As we have no service vehicle, we drove ourselves to deliver meals to our users' doors.
There were no protective masks in Bar, so within 12 hours, we gathered a group of volunteers who had sewn over 10,000 masks, which we gifted to everyone who came to us, from healthcare workers to citizens.
Very are very proud of the ability to help an unknown person facing issues in this difficult year. We had no means to gift the hospital a ventilator or something of that sort, but we have been giving all we know and can.
Aleksandra: The pandemic changed all of our lives and our priorities. It made it impossible for us to do many things which brought us income, such as humanitarian bazaars and various events. However, sewing masks, gathering products, making aid packages with food and toiletries, distributing medicine and heating fuel became everyday routine for our association.
What activities do you mostly focus on right now? What are your plans for 2021?
Ljiljana: Our focus is always to maintain the operation of the soup kitchen. Other than that, we help children in medical treatments; we clothe, feed, give furniture and appliances, fix the homes of those in need. So after the difficult 2020, our wish is to survive and keep working better and harder, to stay in the course we have set.
Marija: Currently, our main preoccupation is helping our fellow citizens in need and all those endangered by the pandemic crisis by providing cooked meals and aid packages with food and toiletries. Essentially, we offer any help we can, from clothing to supporting medical treatment.
Aleksandra: We have long since stopped planning. We realized our sole, everyday goal is to help 250 people with at least one warm meal a day, a pack of food, some hygiene products, and a word of support. We hope that 2021 will bring us more comfort and the possibility to ease the lives of those who knock on our door. We will do our best to keep producing and selling all we can make (jams, liqueurs, fruit juices, cakes, ornaments…) so that, along with our humane fellow citizens, we can remain a safe haven for the many who are facing adversity.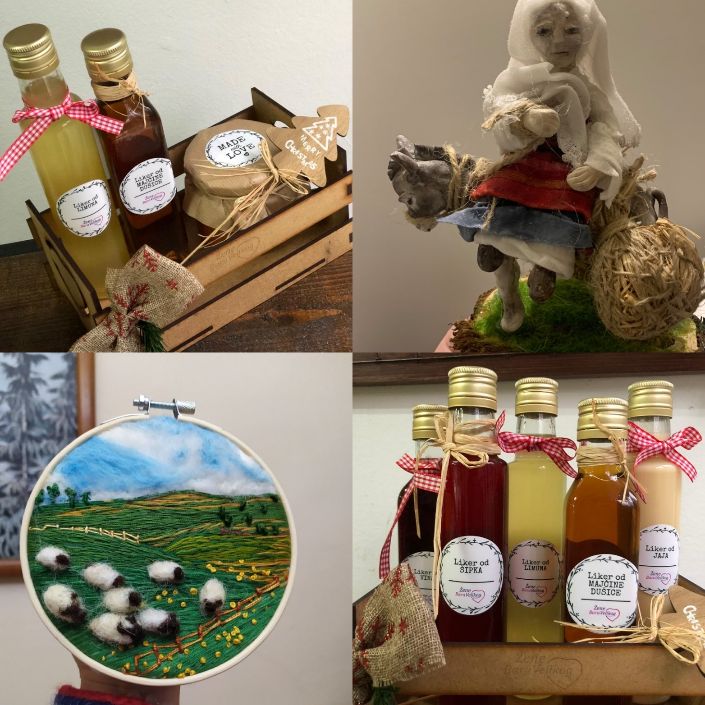 How are the Women of Bar financed? What kind of donors do you work with, and in what ways? How can those who wish to do so support your association?
Aleksandra: Our association doesn't have any constant source of income. The only constant is the expenses, but the income is variable and always changes. Besides the sales of the products we make ourselves and the produce gathering actions we organize at markets, our source of income is based on donations from people of goodwill and companies throughout the world – some in the form of money and some as foodstuffs. Enthusiasm and the will to help a man in need are the only guaranteed goods our association has.
Every day, the doors of our kitchen with a big heart are open to all those who want to help whatever way they can – by donating to our account number 565-3443-40 or by personally bringing money or produce, to which we are infinitely thankful in advance.
Marija: Even though we have no steady income and inadequate support from the institutions, our association finds ways to give a helping hand to people in need. Our donors vary, but they are equal in one thing, they share the humaneness and willingness to help. Mostly, help comes from all sides of the world and in various ways. We try to provide the money ourselves as well by organizing sales bazaars, and at our quarters, we exhibit our handicrafts for sale. The income from sales goes to humanitarian causes.
We also organize humanitarian bids, which we run through our Facebook page. We welcome every kind of aid – in money, goods, kitchen help, clothes, footwear, furniture, construction materials, heating fuel, school gear, medical equipment.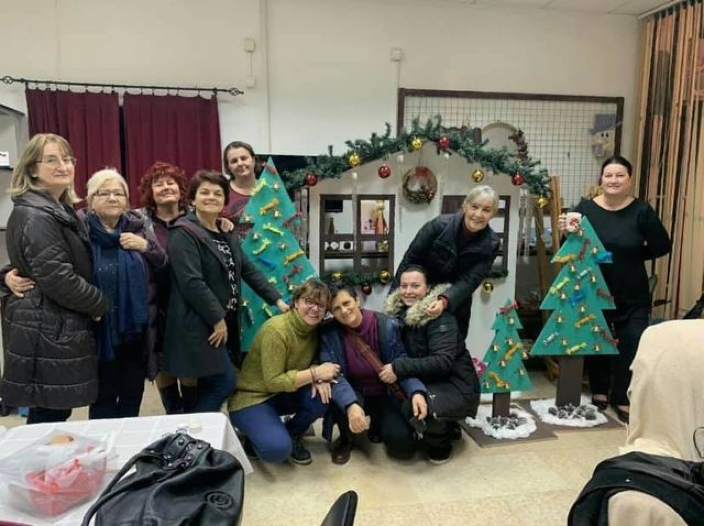 How do you think Women of Bar contribute to the development of philanthropy in Montenegro?
Ljiljana: Women of Bar have done a lot for philanthropy in Montenegro. Foremostly, transparency. Since the first day, we have openly shown what "a little seed of goodness" can turn into when it's built upon and how great a benefit that can have for people in need. We have gathered goodness, which does not ask for one's faith, nation, or skin color, but only sees a man who needs help.
Aleksandra:  Spending every day finding ways to keep asking unknown people for help to provide for somebody in danger without expecting any reward – going to bed and waking up in the morning with this idea is synonymous with our association. We need to teach the next generation that it is our duty to help a man in trouble so that they can live a dignified human life, in a real sense of the word.
Jelena: It may not sound modest, but I really do consider our association one of the best humanitarian organizations in Montenegro. The results of our work are visible, the happiness we share is palpable. I see and feel that we motivate many to goodness, sharing and supporting each other.
Along with all the big-hearted people who help us, we woke up and triggered an avalanche of giving and humaneness, from Bar to faraway America.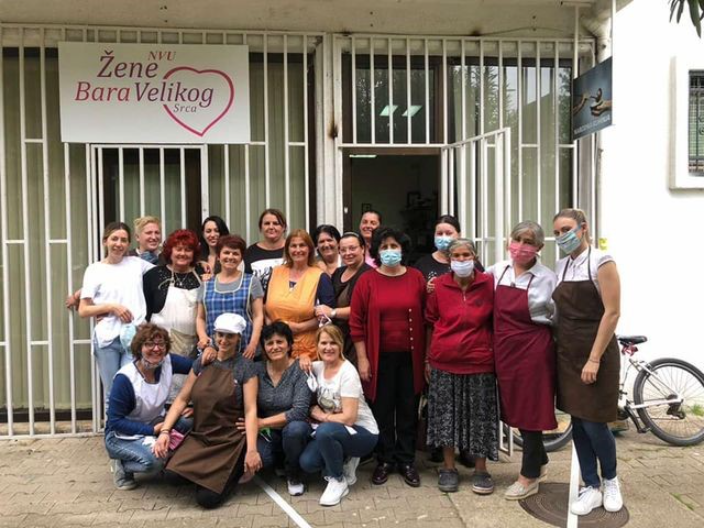 Recently, you were awarded the Special Recognition for Civil Contribution To The Common Good for 2020. Tell us some more about this prize. For what achievements was it granted to you, and will it motivate you to an even greater contribution to your community in the future?
Ljiljana: The Iskra Recognition for Civil Contribution To The Common Good was a panache. We must be honest and admit that every man rejoices in even small recognition, likewise, we are no strangers to this human feeling of joy on account of awards and prizes. It was particularly meaningful to us because our association received no support from official institutions.
This recognition we interpreted as a road sign – telling us that we are not aimlessly wandering, that we should not be afraid, and that we are headed in the right direction.
Sonja: Undoubtedly, this award will motivate us. It's good to enjoy recognition because it means our actions started speaking for themselves.
Marija: This special recognition means a lot to us. It's a prize awarded for contributions to philanthropy. It comes as satisfaction for all we've done and a motivation to keep on. This prize signifies that we're on the right track and that we should keep going further, better and more.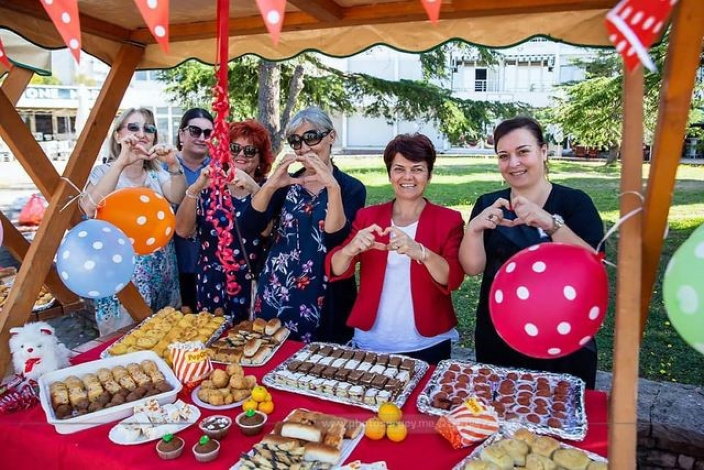 What are the most significant successes you've achieved in your work so far, and what is it that you'd like to accomplish in the future?
Ljiljana: A cup of milk for a child, a pencil, a dry pillow, a slice of bread, all of that is a success to us. A purchased airline ticked to Istanbul for the surgery, eye drops, diapers – all a success. The crown of 2020 was undoubtedly buying an apartment for the Marinković family, one of the most struggling in Bar.
This caused unbelievable joy with all the women in our association and all the good-hearted people who help us selflessly. We would wish to help several single mothers get their own housing. We think having a roof over their heads is necessary for a child's normal growth and development.
Sonja: In 2020, we managed to actualize all we planned and even more. We hope this will be the case in the future as well, and we are never short on plans. But on this, another time.
Marija: We have done a lot. Each success is personally equally important because we've always helped a person facing issues by doing what they needed the most. We have many plans ahead of us.
And hoping the pandemic will soon be behind us, we look towards our future activities. Besides helping the people in need, we also intend our association to be a place where the women of our city will come to socialize, relax; a sort of club where we'll gather, exchange advice and recipes, learn from each other.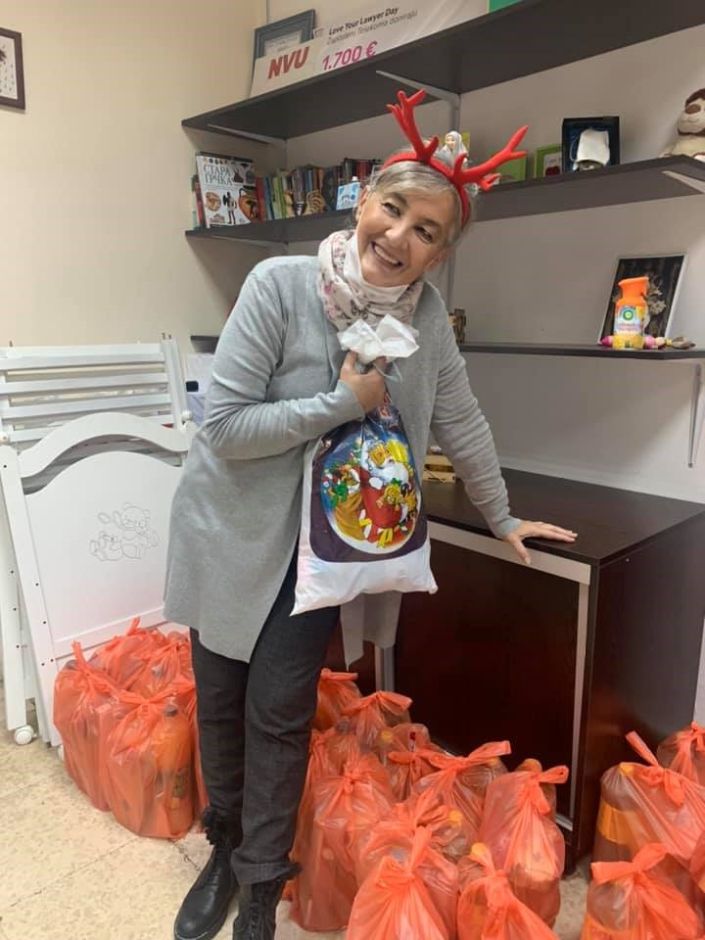 This text is part of the "Good Society" campaign, which the regional SIGN network conducts in Serbia through the Trag Foundation. The campaign deals with what is needed for a good society, how it is built, and whether it is the state's responsibility, media's, companies, civil organizations, or all of us.