Since 2009, the Association "Children of Montenegro" (NVU "Djeca Crne Gore") has been working on social inclusion and daily assistance and support to marginalized children and youth, as well as children with special educational needs and children at risk.
This Association is recognized throughout Montenegro for its contribution to the community, and its president, Sabra Decević, recently received the "Iskra Philanthropy Award", a special recognition for civic contribution to the common good.
At the beginning of last year, Sabra organized an action of collecting funds for socially endangered families from the territory of the municipality of Tuzi and managed to provide assistance in the form of food and hygiene products for the 20 most endangered families, worth more than 10 thousand euros.
We talked with Sabra about the mission, values ​​and activities of the association, as well as the importance of this award that the Fund for Active Citizenship awards to prominent philanthropists every year, for its contribution to the community and the common good.
How did the Association "Children of Montenegro" come about? What idea did it all start with, how did your mission develop?
Sabra: "Children of Montenegro" was founded in late 2009. The founders are former employees of the international humanitarian organization Save the Children UK. In the process of shutting down that organization, its employees felt the need to continue working on the programs that Save the Children had been implementing for years.
The association was founded as a nonpartisan, nongovernmental and nonprofit organization that deals with social inclusion, by providing support and assistance to marginalized children, children with special educational needs and children at risk. This association is working to establish better cooperation between the governmental and nongovernmental sector dealing with social inclusion. Areas of activity of the association are: child protection and inclusive education.
Our mission in the organization has not changed and from the beginning we are committed to the practical application of positive change in the lives of children and youth through professional help and support directly to children or government institutions where children live or study, to create greater opportunities and potential for child development with their abilities and possibilities, and be accepted by their peers and the environment without prejudices and differences.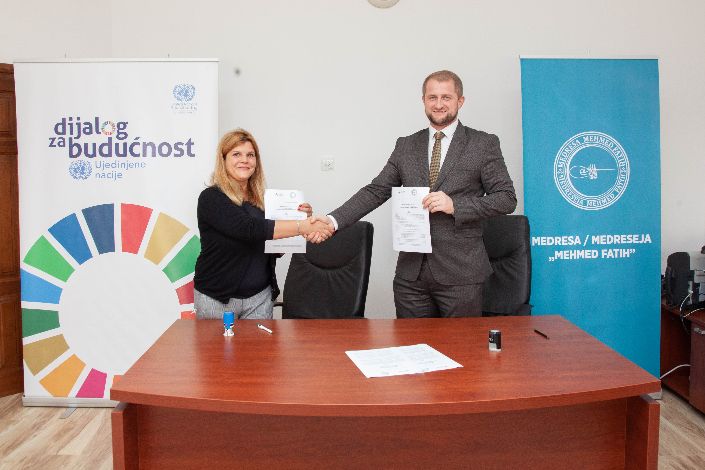 What was your personal motivation for working in the nonprofit sector?
Sabra: My work in the NPO sector started in 2000 while studying and volunteering in organizations.
 
Personally, I was very attracted to this work where you can directly focus your knowledge and skills in working with young people and children. It was mutual satisfaction and love at first sight. Working in the NPO sector fulfilled me especially because through that work I went to various trainings, met people from different parts and republics of the former Yugoslavia and tried to initiate similar actions and activities in my city and my community where the voice of young people would be heard more. I thought that if I started working in school right away I would not be able to reach my potential and because I think a lot of things still need to change in the school system to give children and young people the opportunity to express and develop their opinions and ideas, views on the world.
During my engagement in the organization PRONI (now Forum MNE), I managed to open the first youth club in Ulcinj, a club that gathered all the youth of Ulcinj and which was the pride of the city.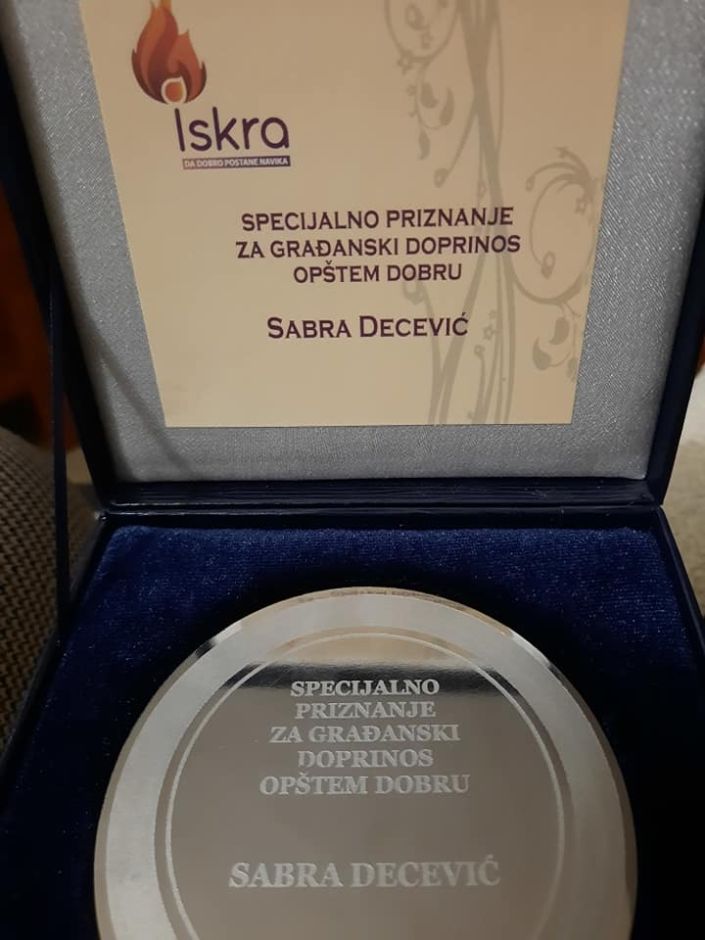 How did the COVID-19 crisis affect the work of the association? How has the way you function changed, what activities have you been most focused on in the previous period?
Sabra: The crisis called COVID-19 has affected the work of the association because we have to measure every activity and try to adapt it to the current situation and the measures that are in force. We were closed for a while, but we managed to implement all the activities online, they were mostly trainings for teachers and students, and we think that everything would have worked better if it had been live, because the two things cannot be compared.
Since September 2020, we have been working on preparations for the implementation of trainings for teachers and students from 4 high schools from Podgorica and Sarajevo, thinking all the time that we will go to Sarajevo. Unfortunately, and again fortunately that we were able to realize anything considering the situation, two two-day trainings for teachers and 2 two-day trainings for students were organized.
This is a regional project that we are implementing in partnership with the Association of Pedagogues of Montenegro and the Peacebuilding Network from Bosnia and Herzegovina. This is the project Interculturality in Education, which is implemented within the Joint Regional Program "Dialogue for the Future: Improving Dialogue and Social Cohesion in, and between, Bosnia and Herzegovina, Montenegro and the Republic of Serbia", implemented by UNDP, UNICEF and UNESCO, and is funded by the UN Peacebuilding Fund (UN PBF).
This is not the only project we had to adapt, but it was perhaps the most difficult for us to carry out given the goal of the project and that is to build youth capacity and develop intercultural skills that contribute to the spirit of solidarity and cooperation among young people in Montenegro and Bosnia and Herzegovina. because it is more efficient when you meet a person, then you have more to say.
What activities are you currently most focused on? What are the most important plans for 2021?
Sabra: We have a lot of plans for this year waiting to be realized. One of them is that as an association we manage to keep a half-day stay for children with disabilities, since we did not receive funds for these free support services, although we applied in several places. The support services we provide in this half-day stay include direct work with children with disabilities, so we hired a psychologist, two speech therapists, a sociologist, personal assistants, etc.
In addition to this program, through the project "Right to Life without Discrimination" which is financially supported by the Ministry of Justice, Human and Minority Rights, we want to increase social inclusion and information levels for people with disabilities, and for this purpose we will organize a school for LSI rights, workshops for high school students, a living library, etc.
We have started to implement another project that is more related to schools and capacity building of schools to work on combating violent extremism and it is a small project with which we want to activate volunteer clubs in schools to implement community actions to prevent extremism and radicalism. This is the project "Schools as a resource for the prevention and suppression of hate speech, extremism and radicalism." The project is supported by the MNE Forum with the financial support of the Delegation of the European Union.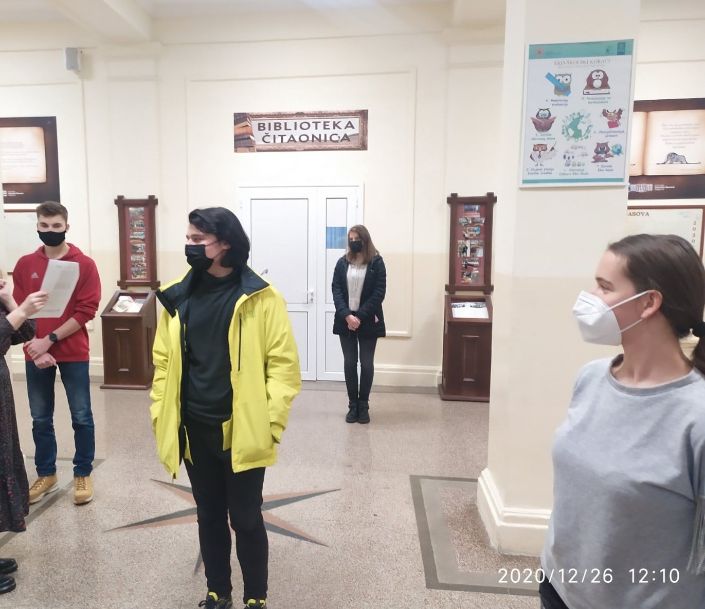 How is the "Children of Montenegro" Association financed, with which different types of donors do you cooperate and in what way? In what ways can those who want to support the work of the association?
Sabra: The financial situation this year is not ideal, because we are financed by projects and these are mostly calls from the Ministries in Montenegro to apply for projects in the given areas. Because we are not so strong financially, we are still partners when we apply for some cross-border cooperation projects and so far we have not been able to get involved in any of them.
We also organize donor events for various activities, so every year on the occasion of the International Day for the Eradication of Poverty, we organize the collection of food and aid for socially endangered families.
There are various ways you can support an organization, from promoting the activities of that organization to financial support or involvement in various actions.
How do you think that the Association of "Children of Montenegro" contributes to the development of philanthropy in Montenegro?
Sabra: As an Association, since 2014 we have been involved in the International Network of Arigatou International organizations with which we work mainly local actions in our community, to raise awareness of young people about the importance of philanthropy and implement workshops, actions, and help those who most needed.
We are mostly tied to one month a year, since in October we organize fundraising and donation actions for families who are socially endangered. If there is a possibility to make a donation in other months, we usually know which families we need to provide this type of help and we always try to be a link between the donor and the local community.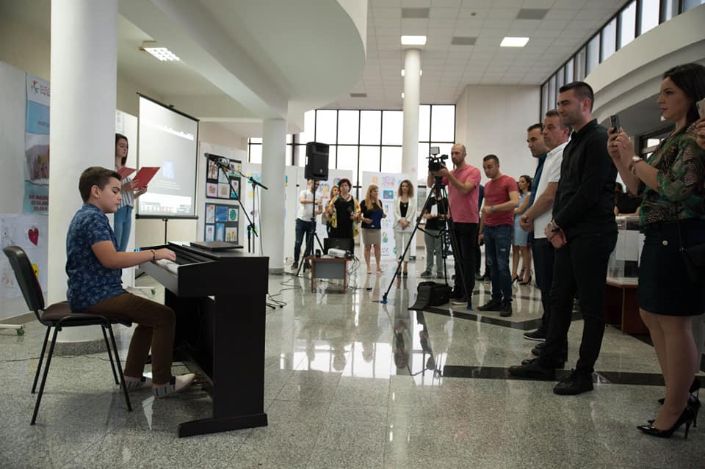 As president of the Association, you recently received a Special Recognition for Civic Contribution to the Common Good for 2020. Tell us a little more about this recognition. What achievements have been awarded and how much will motivate you to make an even greater contribution to your community in the future?
Sabra: It is a great honor that we have been nominated and that we have received this Special Recognition for Civic Contribution.
 
Although she was awarded to me personally as the one who contributed the most to raising funds over the past year and connecting donors and families who needed support and help, I believe that all employees of the NPO "Children of Montenegro" were united to help in this difficult period. when the whole situation with Covid-19 paralyzed and shut us down.
It was this moment that my colleagues from the National Association of Parents of Children and Youth with Disabilities recognized as a key moment when we managed to attract attention and provide assistance for the families of children with disabilities. We were imprisoned in Tuzi for almost a month so that we were not even allowed to go out in the yard during April 2020, and then a small action was launched by the parents of the elementary school "Mahmut Lekić" from Tuzi to direct the money paid by the parents for the children's excursion. children with disabilities who are beneficiaries of our half-day stay in Tuzi. It was not a large amount, but it started a chain of activities and actions for this target group.
We then connected with several organizations, associations and foundations that helped our donation actions such as NARDOS, the Fund for Active Citizenship-Fact, the Civic Alliance, Group 484, UNICEF, the Municipality of Tuzi, etc. We also had donations from citizens who, when they heard our story and what we stand for, wanted to get involved in actions, such as the action of collecting groceries in the markets and donating to socially endangered families. Through this action, we supported a total of 55 families from Tuzi and Podgorica who turned to us for help.
Personally, I was very surprised when I received the news of the recognition because I felt that I had not contributed anything great, I had just connected people and managed to organize actions. I even asked colleagues to give me feedback on what I had managed to do.
I think that no matter how small my contribution was, it was significant because it came at a time when we were closed and when we could do nothing but the desire and will to help. It was this desire and will of mine that was recognized by my colleagues from the NARDOS association.
What are the biggest successes that the association has achieved in its work so far, and what is it that you still want to achieve?
Sabra: The biggest success is that we managed to stay active and that we were recognized not only by the local community in which we operate the most, but also by the wider community where we implement activities from time to time.
I think we became recognized in the community when we opened a space for working with children with disabilities as we call it - a half-day stay, but it is also the biggest challenge for maintenance because to hire professionals who work with children (psychologist, speech therapists, social worker, personal assistants) we do not have the support of the state and we have to manage on our own.
For certain months of the year, we receive support from the Municipality of Tuzi, but in general, since these support services for children are free, we have a lot of large expenses that we need to cover and that is our biggest concern for now.
In Tuzi, we launched the first Local Action Plan to protect LSI from discrimination for the period 2021-2023. and this is the first such official plan that will be implemented by the Municipality of Tuzi, where we, as members of the working group, will monitor the implementation.
The implementation of the project "Right to Life without Discrimination" is underway, supported by the Ministry of Human and Minority Rights of Montenegro, where we ask that the voice of people with disabilities be heard more, that people with disabilities let their voices go somewhere and learn to recognize when others discriminate and react in order to address it.
In the end, I can say that we will always look to follow the needs of our users and try to solve some of the challenges we are currently facing, and that is our mission and vision at the moment, to create a better environment and better conditions for children to grow and develop. young people whether they are with or without disabilities.
This text is part of the "Good Society" campaign, which the regional SIGN network conducts in Serbia through the Trag Foundation. The campaign deals with what is needed for a good society, how it is built, and whether it is the state's responsibility, media's, companies, civil organizations, or all of us.