Mountain Hikers Club from Gjakova, Kosovo, established in December 2020, is known for its extraordinary passion for walking in nature. They are known as a nonprofit organization with clear goals within the sport and the positive influence of mountain climbing.
They share this enthusiasm every Sunday, exploring the beautiful places around them, with the willingness to promote the values of nature to the people, which is of immense importance – as stated in their recent crowdfunding campaign on the Kosova Ideas. Kosova Ideas crowdfunding platform helps to realize projects in all fields of art & culture, civic engagement, and sustainability in Kosovo.
This year, Mountain Hikers Club had a goal to involve children in the sport of hiking in the mountains. 
The organization aimed to pass on to children the culture of walking in nature and educate them to appreciate and preserve nature around us. They believe that new generations should be more involved in this sport because they will have significant physical and mental benefits, especially in a world where most time is spent in traffic and social media – making it difficult to experience nature's beautiful sensations.
Children are free beings; they form their character from an early age. Nature will make them reflect on their personality. Nature will give them freedom and a detachment from reality and daily routine. Children deserve to know what beautiful places around them. They need to play in the mud, run, pick flowers, have fun, play with wooden sticks, and so they will create unforgettable memories from their childhood.
The Mountain Hikers Club offered them one day a week, starting in May – a day full of adventures and various outdoor activities. The idea was to show them what nature has to offer to create a better social life and, most importantly, to know themselves and the strength that each of them has.
Our values of nature characterize our country. If we engage the new generations in these adventures, they will serve the future of our country and will preserve and promote these values.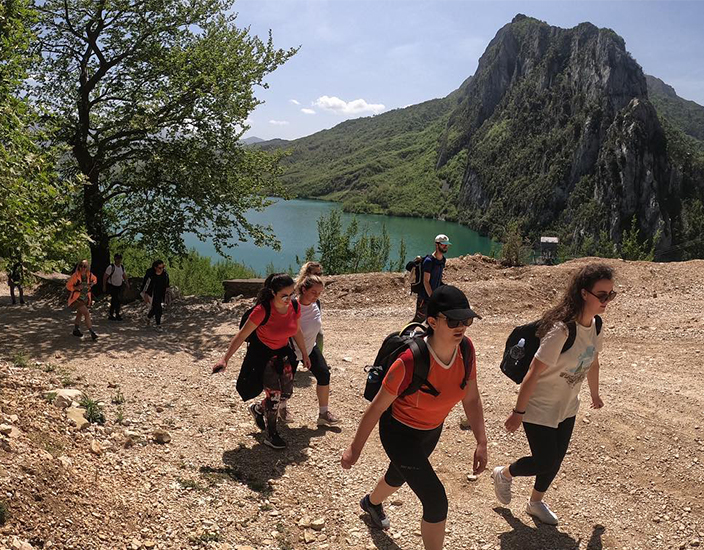 They also highlight that they want to achieve something that people do not practice enough – mountain hiking and camping with children.
To make this initiative possible, they needed the support of their community.
To implement these activities, they needed adequate equipment, both for hiking and camping. This equipment is meant to facilitate their work, provide security, and enable the realization of these activities. So, they invited their community to support the campaign "Mountain kids" so the new generation could learn how to love and preserve nature.
Funding for the campaign was successful, raising € 2,812, allowing this organization to fulfill its needs and take action.
They successfully funded 70.83% of their initial goal, but they still managed to meet their goal with the help of the supporters and the community – 28 backers, to be specific.
KosovaIdeas is the first crowdfunding platform 100% committed to projects in all fields of art &culture, civic engagement and sustainability realized in and for Kosovo. It connects project owners with their communities in and outside Kosovo. KOSOVA ideas (Verein/association) is a not-for-profit in Basel, Switzerland, registered under CHE-181.369.863.
This text is part of the "Good Society" campaign, which the regional SIGN network conducts in Serbia through the Trag Foundation. The campaign deals with what is needed for a good society, how it is built, and whether it is the state's responsibility, media's, companies, civil organizations, or all of us.