Famous Serbian shooter Zorana Arunović and her sister Jelena founded the "Olympic 011" sports association in 2016 in Belgrade. This club is dedicated to improving shooting sports, and they are focused on improving the national team's results.
Some of the goals of the association, among other things, are the common good and social benefit, and as they point out, they are dedicated to precision and accuracy - both in sports and in life.
A large number of medals won at the most prominent world competitions confirms the talent of the members of the club, and their efforts to carry out their activities in the community responsibly were approved on Neprofitne.rs.
As it usually happens, after winning the blue badge of the highest transparency on that platform, an interview with the representative of "SK Olimpik 011", Zorana Arunović, followed. You have probably already heard of Zorana – recently, she achieved great success at the ISSF World Cup in Rio de Janeiro, winning a gold medal.
Despite her obligations, this multiple European champion took the time to talk to us and assess the position of women in sports and the importance of responsibility. She told us how Nadja Higl inspired her to strive for great goals and "hit right in the target" next year.
Congratulations on the gold medal at the World Cup in Brazil and the silver medal at the European Championships in Norway! How much has that success helped the visibility of your association?
Zorana: Thank you for the congratulations. First of all, I would say that I still feel the desire to win. I like to compete. It inspires me to give the most I can, so I am still in sports. When I don't feel that "charge," I will know it's time to end it.
Jelena and I gave an identity to the association behind me and for which I stand. After every medal, successful performance, or affirmative activity, we highlighted our club, "Olympic 011," in the foreground. My wish is further to improve the club's image through my performances, and after my career, I can say that the "SK Olimpik 011" is the carrier and a measure of quality in the discipline in which I perform.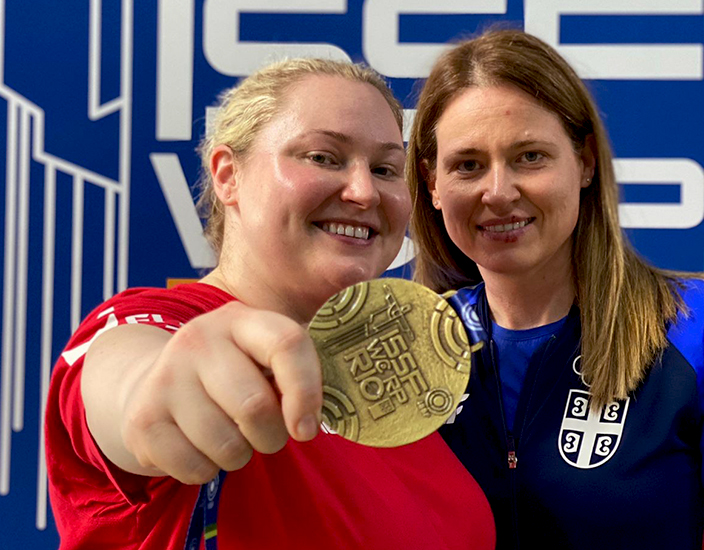 Zorana and Jelena Arunović
Why is it important for you to promote the culture of sports in your community?
Zorana: The system in Serbia recognizes school sports, amateur sports, sports for the disabled, top sports, and recreational sports. This shows how important it is to include all age categories of the population in sports. Our association is also going in that direction, to continuously work to expand the base of members through the results and visibility. In previous years, Jelena wrote a couple of author works that dealt with the phenomenon of sports in our society, the unity of sports and education, and the various roles we can have when we are participants in the sports system.
Due to the above, I think she is far more competent to answer this question. Still, I will use the opportunity to give my opinion. That is that sport prevents many negative consequences in society and provides an opportunity for whole families to strengthen their relationships. This modern time has alienated us, so the field is a real opportunity to spend quality time together.
What has changed for your members thanks to the programs you run?
Zorana: The users, and members of the club, received new sports equipment and consumable equipment characteristic of shooting sports. We managed to uniform the competitors, get sets of equipment for the trip, competition, proclamation ceremonies, training... Also, to diversify the activity, we equipped ourselves with various sports equipment, which encouraged the versatility necessary to create a quality base for success in any sport.
In addition to all the above, we have organized joint training activities with other associations several times, and this was a novelty concerning the work done so far.
I think that we have shown care for all users of the program, as well as we have successfully created the visual identity of club members. And new activities are planned, which will be a big step forward with what we have had the opportunity to see so far.
How do you reach supporters?
Zorana: The activities of our association are mainly financed based on outstanding sports results, as well as projects that promote women in sports.
There are clear criteria that determine the number of funds and specified items financed with these funds. From this, it is clear that at this moment, the fight for funding is only through exceptional sports results.
Since the work program of the association is of a co-financing nature, we decided to embark on an adventure with Neprofitne.rs and try to complete a lovely story about the realization of my competition calendar in the Paris 2024 cycle. Still, your relationship has been highly encouraging, and I am incredibly grateful to you.
I strive to gather people of the same values ​​around me, and in that society, I quickly find support for what my association is doing. I am talking about tangible and intangible assets. But, to raise the association to a higher level, it is necessary to expand and strengthen the base, so this is an issue that I have been dealing with very often for a few months now.
There is the support of the state and the help of the city. Still, my vision is an association recognized for the exceptional sports results of its members and socially responsible action in its community. I think that is achievable, but it takes time. Sport has taught me not to be impatient, so I am not even now, and I am thrilled to have a clear goal that I think is achievable.
Do you cooperate with other nonprofit organizations or associations? What does it bring you?
Zorana: Yes, cooperation is present daily. It's incredible how easily you can solve a problem or overcome a stalemate when you have good advisors who don't have to be from your "business code" at all.
In the last few years, I have witnessed that a different view of the situation brings another solution to the problem and that two or three heads are certainly smarter than one. I am highly grateful for that experience! Although the sport has taught me to rely only on myself, I am alone in that line of fire, and I make most decisions on my own – when I am the leader of my association, I often consult others and choose the path on their suggestions.
Of course, that doesn't mean that I ignore my opinion, but the part of me that deserves success in sports strives to improve efficiency. This means that you do not have to make the same mistake more than once or make mistakes that others have already made.
How would you describe the position of women in the sports community?
Zorana: I was lucky to build a career in sports that women made famous, i.e., the athletes' results. This means that everything I am doing is nothing new, or anything strange or unusual, but "deja vu," for which I can be grateful to the shooters who wrote the history of our sport.
Also, if we look at the current situation, we get the impression that we have a lot of quality athletes and successful women's teams. Take a look at the candidates in the various elections for the athlete of the year. These are top athletes, achieved through the individual, club, and representative careers - an actual cream of world sports.
I would also say that I am always happy when I hear that my result inspired someone, which is why he started playing sports. I consider that one of the most important confirmations of my success and a pledge for the future. Did it happen by accident? I don't think so because I tried to represent myself and the community I come from in the right way from the very beginning.
I mentioned that women wrote the history of my sport. That burden was weighty at the beginning, but that weight was lost over time. I am happy that now, after more than 20 years in sports, I can give advice and encourage younger people to embark on their sports adventures.
As a woman, have you encountered obstacles in your career? If so, tell us more about it, as well as whether your male colleagues also face this type of problem?
Zorana: In a career that has lasted for over 20 years now, I cannot say that I have encountered any major problem or obstacle with the explanation that it is "because I am a woman." With my results, my attitude towards sports and colleagues, and my behavior on and off the field, I fought for the respect I enjoy. On the other hand, just because we are girls/women, many athletes face worse / more complex / more demanding performances monthly due to our bodies' changes. I think that, in that respect, men are in the lead.
As an athlete within a sizeable international federation, I cannot help but see the inequality and lack of women in leadership positions within the federation. I think women can contribute identically as much as men, so the current situation worries me and makes me angry. As someone who believes that knowledge has no gender, I think that this situation must not persist, and I hope that the position will be better in the future.
I must emphasize the success of the International Olympic Committee (IOC), which through the 2020 Agenda, managed to incorporate reciprocity among athletes participating in the Olympic Games. Thus, in 2021, 49% of women performed in Tokyo, which is a historical figure. Participating countries were encouraged to bring both a female and a male representative to the opening ceremony, who carried the flag together. Tokyo has thus laid the cornerstone of gender equality in sport.
In what ways are you working to improve women's sports in Serbia?
Zorana: I believe my results directly improve women's sports in Serbia and increase its visibility. In my example, I show that a girl from Serbia can succeed and be the best in the world with great efforts, work, dedication, and faith.
When I was that girl, my idol was Jasna Šekarić - a five-time Olympic medal winner and Olympic champion from Seoul in 1988. As time went on, I found inspiration in my colleagues and their successes.
I am happy to repeat that one of the most inspiring stories for me was the gold medal of Nadja Higl at the World Championships. Nadja won the gold medal in front of the favored American, Rebecca Sonny, who had all the machinery behind her and set a world record in that discipline only a day earlier. I watched her on the podium; she was so dignified. And at that moment I thought, so if Nadja from Serbia can be the best in the world, so can I! The following year, I became the world champion and runner-up!
I was delighted when I heard that my successes also motivated many girls to start shooting because I used every opportunity to invite young people to play sports.
However, the current situation, i.e., the apparent lack of interest in playing sports, cannot be influenced by the stories and appeals of top athletes. Systemic changes are needed. We have entered an era of significant reduction of people's interest in everyday sports activities, which is commonplace. From my position as an individual in the world of sports, I try to initiate changes in my community because I believe that everyone in their microsystem can and must start a change.
What are the biggest challenges facing sports organizations and associations in Serbia?
Zorana: Of all the challenges, in my opinion, the biggest one is how to ensure stable financing on a multi-year level. Stable funding provides the possibility of long-term planning, with the evaluation of the Program at checkpoints. Then we can talk about creating an efficient system of functioning whose ultimate goal at the beginning of the process is clearly defined. Of course, even in the case of stable financing, the situation will not change if there is only mere spending of funds and meeting the basic needs of the association.
Photo: Stefan Djakovic
The goal is to invest in experts, equipment, facilities, and activities, expand the capacities of the association and be careful not to cross the red line, which marks the limit of current capabilities.
What does transparency mean to you and in what ways do you show it in your work?
Zorana: In our Club, transparency is one of the most important factors of successful cooperation. Openness means trust, and trust is the cornerstone on which the relationship between athlete and coach rests.
Without trust there is no openness, without openness there is no progress, without progress it stagnates, and stagnation is not what we as a club strive for.
What are the benefits that the Neprofitne.rs platform brings to the nonprofit sector in Serbia?
Zorana: The Neprofitne.rs platform provides an opportunity to find a significant amount of information relevant to potential donors in one place, who can get an insight into the business, orientation, and success of the association, as well as the current way of using donations and their results. In this way, through one platform, potential donors can create an image of the association itself, and associations gain greater visibility and show their transparency.
In addition to all the above, we are given a precious opportunity to group supporters around our idea and spread valid values beyond the borders of our community. I highly appreciate the platform's potential, which, to be honest, I did not get acquainted with until our meeting. I realized how much room for progress and cooperation was beyond what I knew until then.
What do you think needs to be done to increase transparency in the work of organizations and trust in the sector?
Zorana: I think it is necessary to encourage associations and organizations to increase their transparency because trust grows through transparency. As I have already said, the foundation of our association is trust, and I believe that we have created a healthy environment in that way. The moment the ladder of trust is raised, we get benefits at all levels, and that is the goal for all of us at the end of the day - to be better today than yesterday and better tomorrow than we were today.
So, to answer your question - it is necessary to understand that with greater transparency comes a more incredible opportunity for progress.