EVERYTHING for HER association provides psychosocial and logistical support, as well as information to women diagnosed with any type of cancer in Croatia.
The Association also advocates for better treatment of cancer patients, their rights, and psychosocial protection through changes in the legal framework.
Find out more about the Association's activities, plans, initiatives, and success stories in our interview with the Association's President Dr. Almenka Balenović, Member of the Executive Board Dr. Nika Lazić, also the daughter of Vesna Andrijević Matovac, the founder and first president of the Association, and Head Secretary and Head of EVERYTHING for HER Center for Psychological Counseling prof. psyche. Ljiljana Vukota.
How was EVERYTHING for HER association established? What changed from the beginning to this day? 
Nika: My mom, Vesna Andrijević Matovac, was diagnosed with breast cancer in 2001. Back then, cancer was considered a horrible disease that inevitably led to death. My mother was lucky to have the full support of her family. However, when facing difficulty, we all need advice and support from experts and people going through the same kind of adversity. Support like that was hard to come by in Croatia, so my mother came up with the idea to establish an association for women with cancer. The association would provide these women with psychological counseling and a place to exchange advice and experiences.
I remember that even before the Association was established, many women would visit us to talk with my mom to find out which doctors did she contact, both here and in Europe, or what to do next.
I recall that get-togethers with these women were always pleasant, despite the fact they discussed difficult topics. Afterward, you'd feel good about knowing that you helped someone and shed some light on their path. And so, the idea snowballed. To this day, our Association continues to provide cancer patients with information on the latest findings from experts and offer a "second home" to our beneficiaries at the Center for Psychological Counseling.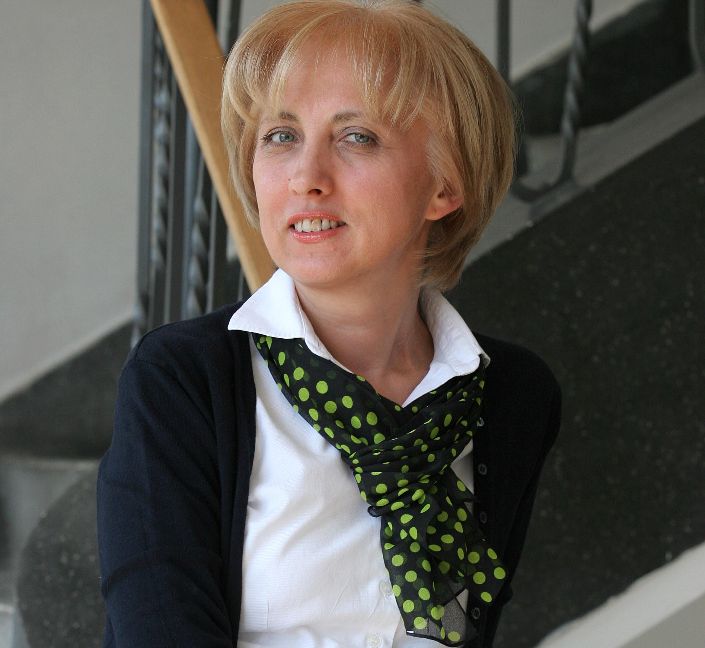 Vesna Andrijević Matovac
Almenka: It all began one day in Vesna Andrijević Matovac's apartment (the first president of the Association). Three women sat next to each other and shared their life stories. I was one of them. After a few more meetings, we took the next step and established EVERYTHING for HER association. We believed that if we can help ourselves, we should also help others. We gathered several psychologists that were willing to volunteer their time and started offering free psychological counseling to women with breast cancer and later to women with all types of cancer.
Ljiljana: On Almenka's recommendation, Vesna invited me to join in and help set up the Center for Psychological Counseling for women with cancer and their family members. I accepted. The two of them transformed my personal and professional life. I decided to retire from my job and dedicate myself completely to the Center. For the last ten years I have been organizing programs (individual therapy, support groups, lectures by doctors and other experts, legal aid, nutrition counseling, dance, art, and other workshops), and accommodation for women coming to Zagreb for treatment. The activities are carried out by our employees and external associates we've been collaborating with for years, including nine psychotherapists and their supervisor.
What was your motivation to work in the nonprofit sector?
Nika: Honestly, I don't know. In a way, I grew up with the Association. Since I was a kid, it was part of my and my mom's life, so working there, later as part of the board of directors, came naturally. You tend to get attached to things that give you meaning. We may call it nonprofit, but you actually "profit" from your work when you see how meaningful it is. Helping someone, even a little, brings you joy and that is the true profit that makes you a more complete person.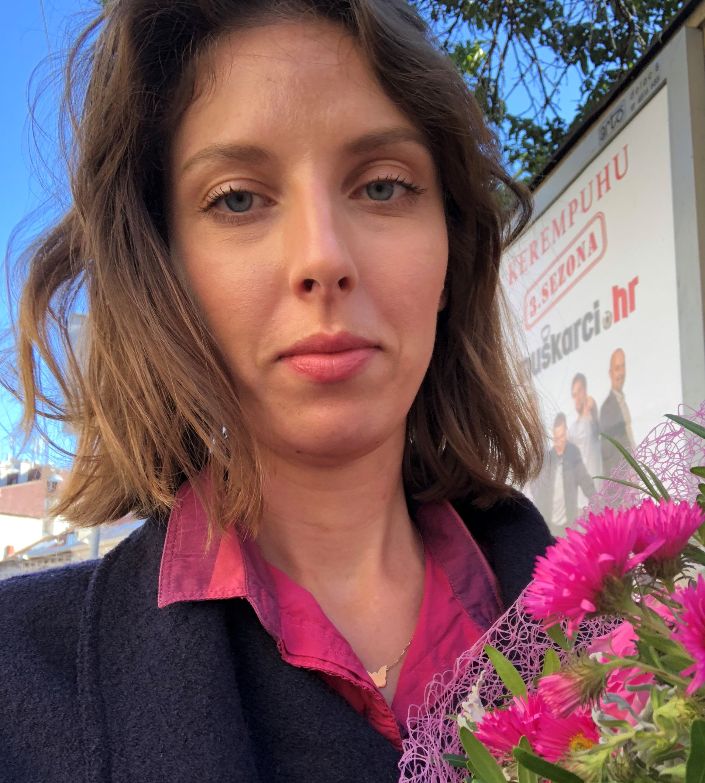 Nika Lazić 
Almenka: I drew my motivation from my fight with cancer. Within my own four walls, I would constantly look at the clock ticking away the precious time I had. I wondered – will I get the treatment in time, will I make it, will I survive? I know it's no different for others. Charity work is precious and priceless and only that sort of work makes my days worthwhile while helping others fills me with joy.
Ljiljana: Helping people is part of my job description. When Vesna invited me to join, her zeal won me over and I simply couldn't refuse. On top of that, I am also a breast cancer survivor, so I had an intimate knowledge of the psychological crises and difficulties women with cancer go through. I knew they needed psychological support from professionals, but also each other.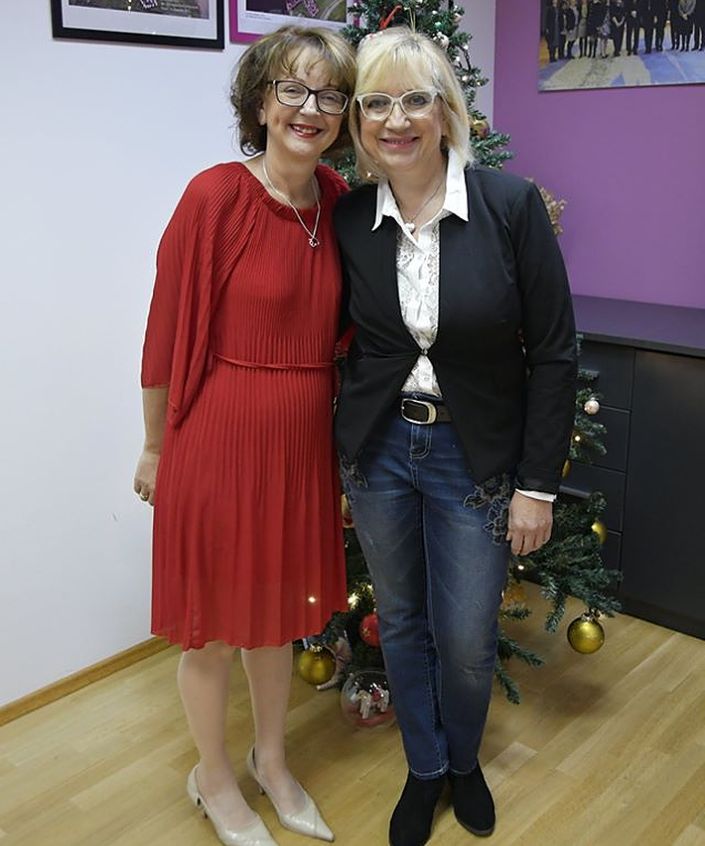 Ljiljana Vukota i Almenka Balenović
How did the COVID-19 crisis affect the Organization's work? How much has the way you operate changed? What activities were you focused on recently?
Ljiljana: The COVID-19 pandemic affected everything. And on top of it, Zagreb was hit by a devastating earthquake. For a while, we were unable to use our premises and had to work from home. However, I am proud to say that we didn't stop working even for a single day.
Since we couldn't organize meetings in person, we digitized most of our programs. Individual sessions with the psychologist, psychotherapist, or nutritionists were done by phone or video call, while workshops, support groups, promotion, expert conferences, lectures were held online on the digital platform Zoom. We still avoid in-person meetings, since many of our women are immunocompromised, because of the chemotherapy, targeted therapy, or radiotherapy.
We all miss direct contact, hugs, and handshakes, but we need to stay patient. We're going to make it. Currently, what our beneficiaries need most is information on what changed in the health care system procedures due to the new circumstances, as well a kind word and advice.
Fear of COVID-19, delayed check-ups, or recurrence of their disease increased the usual mental distress cancer patients feel. Some beneficiaries died in the earthquake and some lost their homes. Every day we get proof that our support is needed.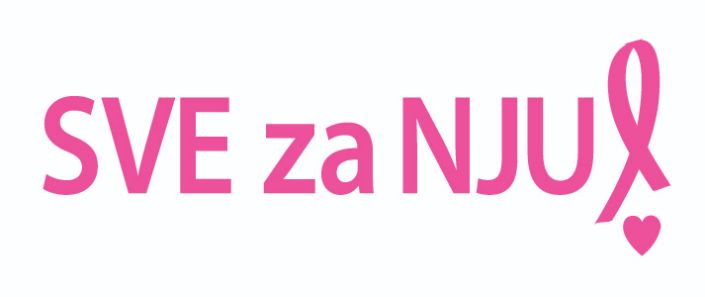 EVERYTHING for HER association has been around for a while and I believe your work is recognized by the public. How can someone support your work?
Nika: The association was officially established in 2008, while the Center for Psychological Counselling has been operating since mid-2010. This year the Centre celebrated 10 years of existence.
Since many people know about us and what we do, those who need us, have no problem reaching us. Often, they come on recommendation – from their oncologist, a friend, a family member, or directly.
Ljiljana: Over the years, the Association became recognized by professionals and the general public, gained a good reputation, and won the trust of patients and experts. The women discover us from traditional or social media, or the internet, but lately mostly through the recommendation of doctors and existing beneficiaries.
The Center for Psychological Assistance is one of its kind in Croatia, and possibly the greater area. We provide our beneficiaries with needed information, psychosocial support, legal aid, nutrition counseling, and accommodation. We get calls from women from all over Croatia, even the region.
The disease knows no borders, so helping shouldn't either. We're happy to help everyone. All of our programs are free of charge, and available for everyone, regardless if they are members of the Association or not.
Apart from helping individuals and women with cancer, we also lead awareness campaigns focused on the importance of prevention, as well as public campaigns aimed to improve cancer patient care. Some of them are - Mom, be healthy, Not just a women's issue, Pearls of Wisdom, Vesna Andrijević Matovac Award Ceremony, Second Chance, Daffodil Day, Run for Fighters, and others.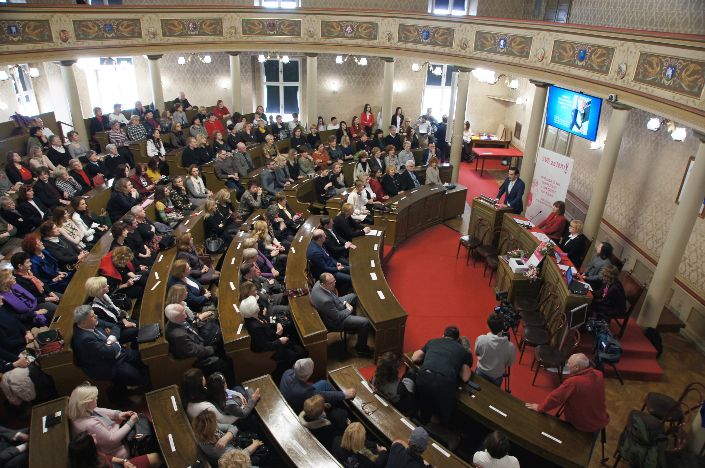 How is EVERYTHING for HER association funded? Which types of donors do you work with the most, and how? How can someone support your work?
Ljiljana: The Association relies on funding from public sources. In particular, on project funding gained through calls for proposals from the ministry, the county, the City of Zagreb, or the corporate sector. Apart from that, we also rely on corporate donations or sponsorships, as well as individual donations raised through humanitarian actions and membership fees. We are devoted to ensure continued funding for our programs and cover basic operational costs.
We get most of our funding from the private sector, mostly from pharmaceutical and cosmetic companies, retail chains, banks, and others, as well through projects. Apart from the financial support, we couldn't go without the work of our volunteers and in-kind donations of cleaning supplies for the Association's premises and the beneficiaries' accommodation.
When someone asks us how he or she can help, we first find out what they know, because there is always a way. Someone will help us by translating, someone else by proofreading, making visual content, photographing our events, tutoring children of women with cancer, painting our premises, holding a lecture, etc. For example, for years the Yoga as Part of Your Everyday association has been providing free yoga classes to our beneficiaries. The possibilities are endless.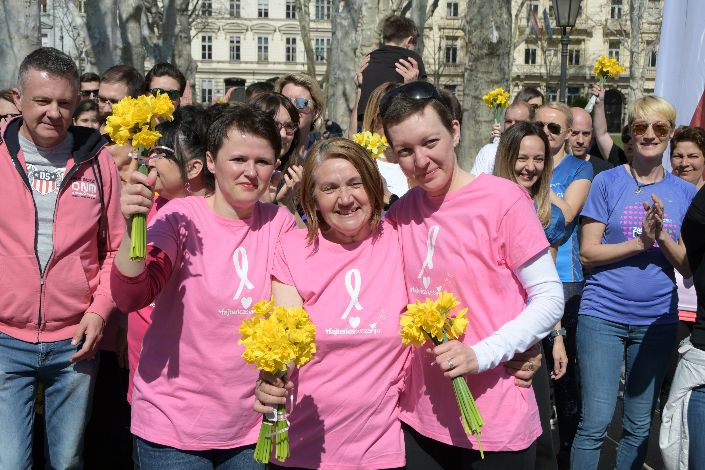 I believe that in your line of work you collaborate often with medical staff. Can you tell us more about it?
Almenka: Our cooperation with the medical personnel is essential for cancer prevention, successful implementation of the National Program for Early Detection of Cancer, or organization of health-related events funded or supported by the Ministry of Health, the Croatian Institute of Public Health, the Ministry of Science and Education and other institutions.
We really appreciate the lectures doctors deliver at our Association because they provide us and our beneficiaries with more information on the therapeutic process, its side effects, along with advice and answers to our questions.
Ljiljana: The collaboration with medical workers is essential for all services we provide to our beneficiaries since we have someone to turn to for advice. This collaboration especially proved valuable during the pandemic, because many women needed help to reach their doctors and other healthcare professionals and communicating the urgency of their problem online. Besides, we cooperate with medical centers and professional societies, mostly those specialized in oncology, in general, and on projects. With some of them, we also have collaboration agreements. Often, we get an opportunity at conferences to present our association's work, talk about the need for psychological counseling, and showcase the model we developed at the Center for Psychological Counseling.
Through our representatives, we participate in the work of different committees and the development of programs and documents. For example, we participated in the development of the National Cancer Control Strategic Framework, which we expect to be adopted soon.
Can you tell me more about your activities related to education and advocacy? What results have you achieved so far?
Ljiljana: The association members focus their efforts on helping individual patients and women with any type of cancer. We advocate for cancer prevention, regular check-ups, and try to spread the word about free screening provided as part of the national programs for early detection of cancer.
We also advocated for the development of Genetic Counseling and Testing for Hereditary Breast and Ovarian Cancer guidelines, which included this type of treatment in the National Health Insurance Program.
We engage less with public policy, but when there is a good reason for it, we write to the Department of Health directly and draw attention to problems. Currently, we are carrying out an important initiative, Croatia against Cancer, to adopt the National Cancer Control Strategic Framework, since we are the only EU country without it. The framework will allow better organization of palliative care and reduce cancer mortality in the long term. This initiative has been supported by our Minister of Health, the President of the Republic of Croatia, as well as many politicians and experts, so we expect this important document will be adopted soon. We call ourselves "Cancer fighters" and our motto is "Let's beat cancer - one step at the time!".

What are the biggest challenges you face?
Ljiljana: Currently, our biggest challenge is COVID-19 pandemics, and the inability to implement programs in the Center for Psychological Counselling, which is one of the essential parts of our Association's work. Both we and our beneficiaries miss the personal encounters, which are the vital part of those programs. And even though we keep in touch with women living outside of Zagreb by phone or e-mail, the majority of them would come to our premises for counseling. Another challenge will be to ensure the resources for our ongoing programs. However, we'll do our best.
What do you consider your greatest success and what is next?
Nika: Each phase in the Association's development had its achievements. One of our first achievements was the opening of EVERYTHING for HER Center for Psychological Counselling.
I'm very proud that our Association became a trustworthy institution recognized both locally and internationally by doctors, scientists, beneficiaries, and fellow associations. We gained that reputation by exclusively disseminating scientific and evidence-based findings and medical research.
Perhaps, our greatest success is that we gained public recognition for our work, maintained our zeal, and kept a perfect record for all these years.
Ljiljana: I think our greatest success was maintaining the continuity of the organization for all these years and continuing to increase the number of services we offer our beneficiaries. We owe it to strategic planning, but more importantly to the togetherness of the women running the Association. We are proud of the respect we gained among our beneficiaries, the general and professional public, as well of the awards that some of our campaigns won.
We managed to raise awareness about the importance of psychological support as an inseparable part of the treatment since it is a type of therapy. Many patients need professional help in addition to the support they get from their families, and that's exactly what our team of psychologists and psychiatrists provides them.
We deliver around 1500 individual sessions per year, while around 5000 people join our programs. This year these programs will take place on online platforms.
Lastly, I would mention that on behalf of the Association, I participated in the development of the National Cancer Control Strategic Framework, and the chapter Psychological Support, Rehabilitation, and Reintegration of Oncological Patients.
As for the plans, we have a lot of them, but like many others, we will wait for better times for their realization. Nevertheless, we will aim to complete the projects we started, which we consider a success in these challenging times.