From the beginning of the COVID-19 crisis to the 30 November 2020, a total of 20.056.752 Euros was donated in Serbia to mitigate the negative effects of COVID-19, according to the Catalyst Balkans' research on charitable donations.
The business sector made the biggest contribution, accounting for 64% of the total donated amount. The biggest donors which donated over one million Euros were the Novak Đoković Foundation and HIP-Petrohemija JSC, followed by United Group Ltd with a donation of 900.000 Euros.
| | |
| --- | --- |
| Novak Đoković Foundation | 1.065.799,97 |
| HIP-Petrohemija JSC | 1.003.944 |
| United Group RSD LLC Belgrade | 902.262 |
| The Association of the manufacturers of innovative drugs INOVIA | 600.000 |
| MK Group LLC Belgrade | 489.222,01 |
| Mozzart LLC Belgrade | 438.921,59 |
| Galenika JSC Belgrade | 400.000 |
| Philip Morris Operations JSC Niš | 400.000 |
| Serbian Medical Chamber | 395.436 |
| Henkel Srbija LLC Belgrade | 384.999 |
10 biggest donors in Serbia during the COVID-19 crisis
The state, mostly local and national authorities, and institutions received around 80% of the total donated amount. Most donations, over 47%, were used for the procurement of medical equipment. Around 39% was directed at the procurement of disposable items, such as masks and gloves, 5,3% at humanitarian aid, and 7.5% at all other needs.
The fight against COVID-19 is far from over, and support is still needed. One way citizens and companies can support their communities is to donate on Donacije.rs, a crowdfunding platform, owned by Catalyst Balkans. By donating for one of the currently active campaigns, you can support the most vulnerable - children from socially and economically disadvantaged families, socially disadvantaged people with disabilities, cancer patients, medical staff, and COVID-19 patients living in hotspots.
Based on the research findings of Catalyst Balkans, the philanthropic response in the Western Balkans was mostly focused on providing COVID-19 relief. From the beginning of the crisis to 30 November, over 65.5 million Euros was donated to fight COVID-19, while all other topics raised slightly above 37 million Euros in total.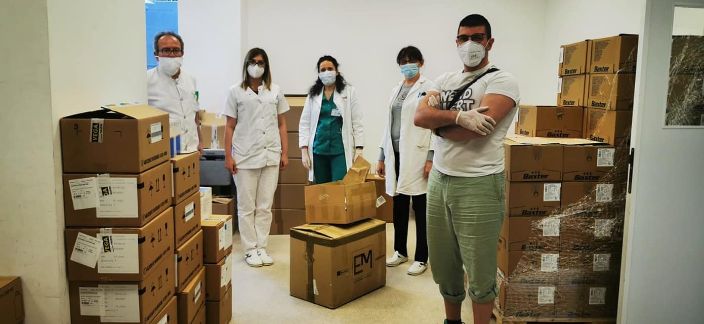 This research on philanthropy and giving in the Western Balkans was carried out by Catalyst Balkans as part of the Framework for Giving project, implemented by the Coalition for Giving and funded by USAID.
The Coalition for Giving, through various activities, including National Day of Giving, is committed to developing philanthropy in Serbia, promoting the culture of giving, creating inter-sector partnerships, strengthening the philanthropy infrastructure, and improving the legal framework to incentivize transparent giving by individuals and legal entities.
The Coalition is led by the Foundation Ana and Vlade Divac. Other Coalition members are the Trag Foundation, SMART Kolektiv, the Serbian Philanthropy Forum, the Responsible Business Forum, the Serbian Chamber of Commerce and Industry, and Catalyst Balkans.
Support for COVID-19 specific philanthropy tracking was given through a grant from the BalkanTrust for Democracy.