Catalyst Balkans is a regional nonprofit that provides data and tech for other nonprofits and companies to help them do more good in their communities.
With our tools – Giving Balkans philanthropy insights app, CiviCatalyst community management platform, Donacije.rs crowdfunding platform, and Proaktor.org eLearning platform – we're changing the way nonprofits and CSR departments work. We are helping them make more informed and better decisions and have a greater social impact in their communities.
Now we are looking for a Junior CRM Implementation Coordinator with both skills and passion to join our 28-member strong team in the Western Balkan region. 
What are we looking for in a perfect candidate? 
You have knowledge in the use and management of CRM software or
You had a history of direct client or customer support
You have some experience in working in (or with) a nonprofit
You have a computer science bachelor's degree or you or on your way to getting one
You are fluent in English and Serbian.
You care about the user experience.
You should know how to manipulate data using spreadsheet software (Microsoft Excel, LibreOffice Calc, Google Sheets)
You are eager to develop a deep understanding of our clients, yet know how to prioritize solutions
You quickly grasp technical concepts.
You are a great communicator and work your way around obstacles - big or small.
Rather than following strict processes, you are not afraid to explore different solutions.
You have knowledge of multiple functional areas such as IT experience with Content Management Systems (Drupal/WordPress)
You understand HTML/CSS/JS
You are team-oriented and excel at working with others to achieve common goals
You have excellent written and oral communication skills with a proven ability to quickly absorb technical concepts and effectively communicate them to a non-technical audience
What you will be doing? 
In this role, your team and you will be responsible for driving the product roadmap focused on how clients use CiviCatalyst CRM to organize daily work. Your team will drive the improvement of the customer experience and growth by understanding customer needs, identifying new areas for growth, and building products.
You will work closely with the CRM coordinator and System-Admin to answer the client's needs. You will also partner with teams such as Marketing and Finance to help them create offers and promotion plans for our products.
As a member of our team at Catalyst, you will have the freedom and autonomy to do your best work, with plenty of support along the way, working alongside people who share the same values and work ethics.
Implementation of open-source CRM solution for nonprofit clients (CiviCRM)
Responsible for clients' onboarding and offboarding
Data cleaning, migration, and import
Creating web forms and other basic set-ups as needed by clients
Ongoing support (email)
Training in CRM use (events, webinars, in-person)
Writing technical documentation on customizations and user guides
What do we offer?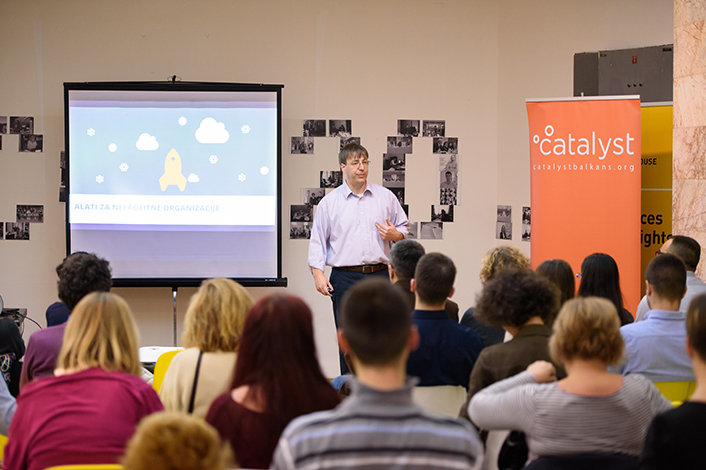 Immediate regular employment with unlimited contract
Private health insurance after three months of probation period
Work hours: full-time (40 hours per week)
Flexible working schedule
Remuneration: 60,000 - 70,000 RSD net per month
Mentoring and learning environment
Central Belgrade office near the Botanical Garden
Remote-friendly workspace
Business class laptops, monitors, and additional needed equipment
Everyday work that makes an impact on others
Great work-life balance
Supportive, open, and relaxed working environment
Want to join us?  
If you are interested in this position, please submit your CV and cover letter in English. Your cover letter should explain why you are interested in working with Catalyst Balkans and what you believe you would bring to the team. 
Please note that only complete applications, including CV and cover letter, will be taken into consideration.
Selected candidates are expected to be available for interviews at the beginning of September.
Desired start date would be September 15th. Deadline for applications: August 31st.