BH Futures Foundation, with its team of experts and volunteers since 2015, supports young people's education
Dr. Edhem Eddie Čustović, the founder, Milan Kusmuk, President of the Board, Haris Arnautović, Member of the Board in charge of Finance, Majda Mujanović Babović, Executive Director, Melvisa Miskić, Scholarship Program Manager and Valerija Ereš, Chief Marketing Officer, told us what the daily activities of this Foundation look like, how its mission has developed and how it changes its community for the better.
How was your organization established? How did your mission develop through time?
BH Futures Foundation team: BH Futures Foundation was established in 2015 in Tuzla, the birthplace of our founder, dr. Eddie and Rešad Čustović. The establishment of the Foundation was prompted by a conversation with electrical engineering students, which pointed out their great concerns and a significant lack of opportunities in relation to their peers abroad.
"What do you need to be successful?" Eddie asked the students present. Repeated responses were: opportunities for practice, opportunities for networking, mentoring, opportunities for learning from industry experts. These opportunities and their wishes are precisely what the BH Futures Foundation provides today to young talented people.
Thanks to the experience, connections, and great love for Bosnia and Herzegovina and young people, Čustović brothers have created an incubator and accelerator for our future leaders and bearers of positive change. In our seven years of existence, the Foundation has changed and grown. Still, the mission has remained the same: to empower young people through education, access to technology, and leadership. And that is our guiding thought for all activities, which improve as we grow and progress.
What was your motivation for working in the non-profit sector?

BH Futures Foundation team: The personal motivation of our founders was to create opportunities for personal and professional development of young people in Bosnia and Herzegovina, similar to those of their peers abroad. From their own experience, as people who have achieved their education and career in Australia by force of circumstances, their motivation was to prove to young people in BiH that they are no less valuable or capable of success, regardless of where they live.
The motivation of our students and volunteers to get involved and continue to support our mission is equally inspiring. Valerija Ereš points out that her trip to the BH Futures Foundation was enjoyable, to say the least. She joined us through an expanded mentoring program where she felt tremendous understanding, belonging, and support for her further development. She participated in the Innovation Nation program and, at the same time, became a Senior Scholar. Thanks to experts in the field of human resources, although a mathematics student, she focused on marketing, learned from the best marketing experts and other team leaders, and took on the role of Chief Marketing Officer of the Foundation after a while. Through this path, one can see how much the Foundation, i.e., the people who make up the Foundation, has built one young person. According to Valerija, she got a huge opportunity and can now provide it to others. BH Futures Foundation is an opportunity to learn, grow, and meet new people, places, and most importantly, yourself. According to her, your impact on young people and society is a huge motivation. Although we hear many negative stories about Bosnia and Herzegovina, she believes it is the best country. Still, she is aware that it may be because she lives under a cloud of good, successful, positive people and stories within the BH Futures Foundation.
How is the BH Futures Foundation financed? What different types of donors do you work with, and in what way? In what ways can those who wish to do so support the work of the Foundation?
BH Futures Foundation team: The BH Futures Foundation is funded through donations from individuals who share our vision to transform Bosnia and Herzegovina into a prosperous society. The total number of monthly donors is almost 1,100, coming from more than 35 countries. A small part of our portfolio includes cooperation with partners in international projects in youth capacity development and connecting with the diaspora. We also have joint scholarships with companies; one of our values is to partner with those who share our vision. In addition to donors, our mentors, ambassadors, volunteers, and partners greatly contribute to the Foundation's activities.
Depending on you and your interests, you can join the Foundation in several ways, each of which is described on the following link.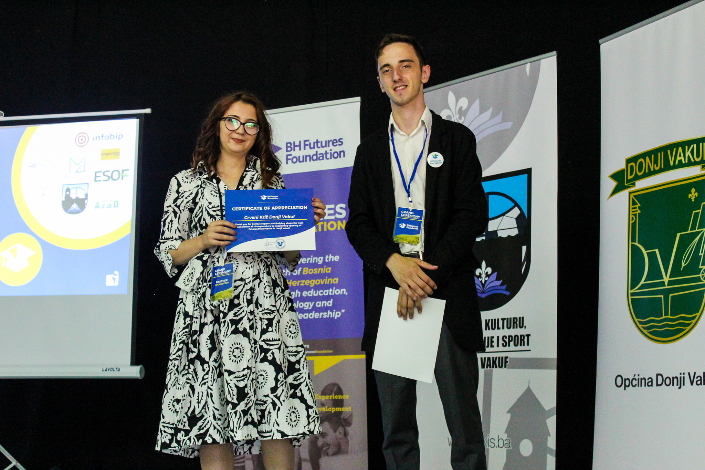 In what ways do you involve the community in your work, and what does it bring to you?
BH Futures Foundation team: On the one hand, we directly involve and support young talented people, students in the field of natural and technical sciences, to develop personally and professionally while providing support to their peers. One example of such activities is the Tutoring program in which our scholarship holders give free instruction to high school students, and since 2020 more than 500 high school students have attended this program.
On the other hand, we are proud of our network of 200+ highly respected professionals in the country and the diaspora (4 continents, 40 countries), who actively mentor students and help them understand the labor market and their position in it. In addition, they are our lecturers at webinars, podcasts, conferences, and live lectures. More than 1,000 active individual donors (⅓ in the country; ⅔ in the diaspora) support our goal to help young STEM and IT talents while at the same time taking advantage of the active economic engagement of the diaspora and knowledge transfer.
Through cooperation with the academic community and the real sector, we have created numerous opportunities for all participants. By involving the broader community in the activities of the Foundation, we create conditions to get to know each other better, understand each other, and then together, but each in his own authentic way, we help young people in BiH.
More information is available at the links: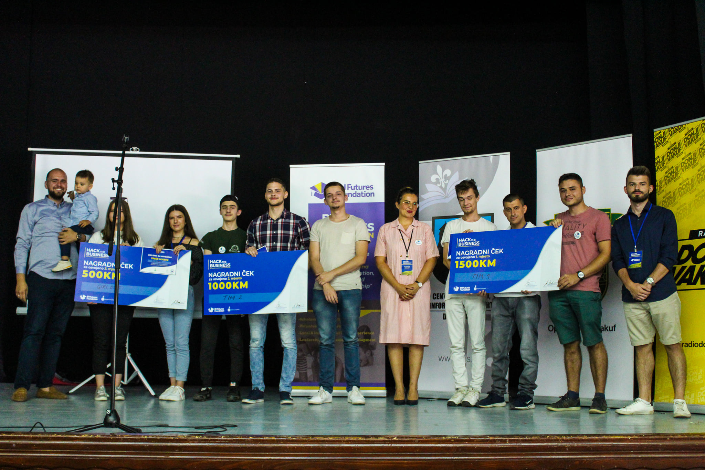 What activities are you currently most focused on? What are the most important plans and goals you plan to realize in the future?
BH Futures Foundation team: The long-term goal of the Foundation is a community of 10,000 changemakers - bearers of change by 2030 in Bosnia and Herzegovina.
Talented individuals who become part of the BH Futures Foundation story always bring their ideas and perspectives, improve the Foundation, and achieve their personal goals. Contacts made in the Foundation always create wonderful friendships, often business partnerships. Our former scholarship holders today are ambassadors, mentors, and donors of the Foundation. Through one golden circle in which you get the opportunity and, over time, become the ones who give the opportunity, we believe that our goal of 10,000 change makers will be achieved before 2030.
By the end of 2022, one of the primary goals is to publish a public call for all STEM and IT students and third and fourth-grade high school students to join our programs and activities. We will strive to involve young people from smaller communities in BiH and empower them to acquire skills and knowledge through various educational opportunities that will complement their formal education and help them prepare for changes in the global labor market.
Immediately after the call for a scholarship, we are followed by Innovation Nation - a program for young people to develop an idea for a successful startup. And we will look for natural and technical sciences students in BiH, the new Vera Schneider in our society, who will be awarded the eponymous award and provide her with an international experience modeled on Vera Schneider, a famous mathematician and the first dean in the former Yugoslavia.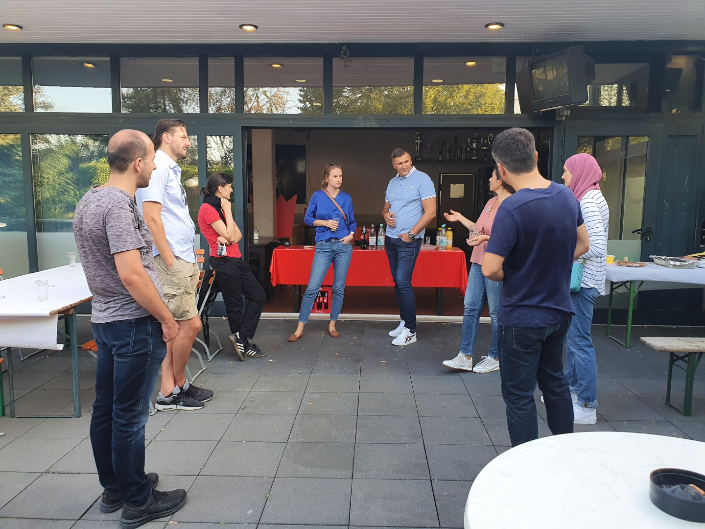 How do you think the BH Futures Foundation contributes to the development of philanthropy in your community?
BH Futures Foundation team: Philanthropy is love for man, and the BH Futures Foundation shows it to each of its fellows, partners, and donors, through an effort to provide and seek them equally in return for the community. Our activities are based on volunteer work; through our activities young people learn philanthropy and practice it daily. It is often said that it is also the most beautiful feeling in the world.
BH Futures Foundation has developed a completely different relationship with our diaspora because we have developed programs through which they can contribute their knowledge, money, and connections. This made a lot of people think similarly. Our fellows learn from ingenious people who give their time to help them and, through team projects, help their local community, spread philanthropy through words, and more importantly, through deeds.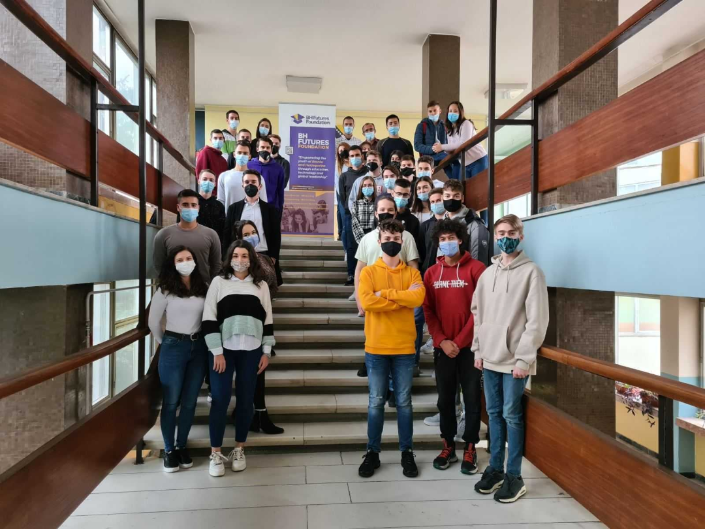 Are you involved in the work of the BiH Philanthropic Forum, and in what way?
BH Futures Foundation team: We are currently not actively involved in the work of the Philanthropic Forum in BiH, given that the current focus of the Forum is on areas in which the BH Futures Foundation has no expertise.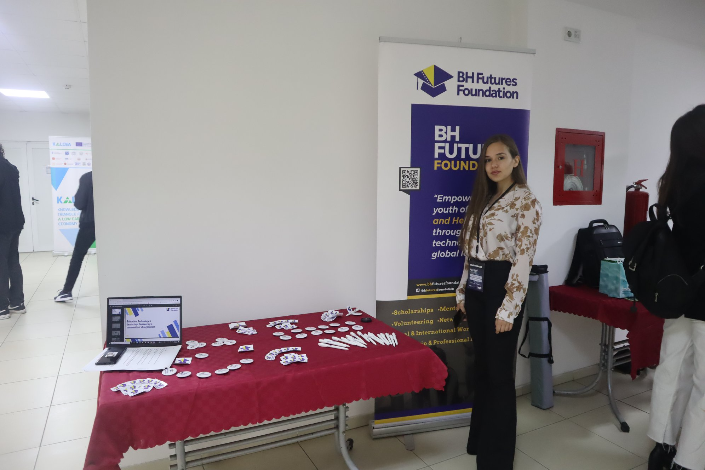 What are the biggest challenges you face in your work?
BH Futures Foundation Team: We are growing very fast, and growth brings challenges. It is important to stay focused on the mission, vision, and goals and to think strategically.

For example, the BH Futures Foundation is primarily focused on students of natural and technical sciences (STEM). Still, a growing number of non-STEM students want to become part of the Foundation and gain access to similar opportunities. However, we are not yet able to admit more non-STEM students, although we are working diligently on this through projects such as 3MT, Innovation Nation, and volunteering programs in operational teams within the BH Futures Foundation.
In addition, one of the biggest challenges we have had in recent times has been the situation where our portfolio of activities, in certain segments, has surpassed the volunteer engagement we rely on with the goal of learning through work for our fellows. Then it became especially important to strengthen those people who believe in and live our mission and vision, that is, to start hiring and maintaining the office as a pillar of further long-term development.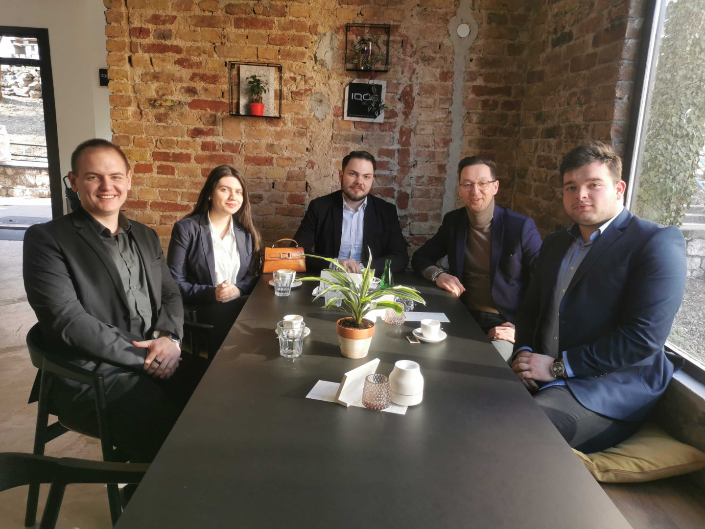 What are the biggest successes that the BH Futures Foundation has achieved in its work, and what do you still want to achieve?
BH Futures Foundation team: Our greatest successes are definitely our fellows and their successes. They often attribute success to the Foundation, but in fact, they are the ones who have everything they need in themselves, and we have only encouraged and directed them to achieve their goals.
Each individual's story is special and amazing in its own way and when they are happy and fulfilled, we know we are on the right track. All of our activities are designed to help them, and the community we build continues to spread support, opportunities, and all that is good to help these young people from the beginning to help someone tomorrow.
The second biggest success is the animation of Bosnia and Herzegovina professionals and our diaspora to invest their time and resources to positively influence future leaders' development in BiH. We strive for this, and the larger the community of changemakers, the greater our success. Our scholarship holders decide on their own initiative to contribute to new generations, and that is the way we are transforming our beautiful BiH.