Beyond Barriers is working on the improvement of human rights education, social inclusion and diversity, volunteerism, youth employment, and social entrepreneurship, youth participation and active citizenship, digitalization and innovation, and youth work in Albania. They are especially active in the field of stimulating and promoting volunteerism.  
At this moment they are also focused on raising funds to build a greenhouse for children and young people with intellectual disabilities, and they need the help of the community for it. 
Ana Dervishi, Executive Director of Beyond Barriers told us more about the greenhouse project, organizations' mission, activities, and plans for the future. 
How was your organization established? What was your primary idea when you founded the organization? How did your mission develop through time? 
Ana: The idea was born very spontaneously by a group of young people with disabilities and other young people. In 2003 we did a sports activity, so together young people with disabilities and other young people, and then later seeing that it was very successful and we had so much fun, we thought to form an organization and call it Beyond Barriers, which was registered on June 30, 2004. Our mission was unique in terms of the reality that existed at that time in Albania. Because there were organizations working with disabilities that did inclusion activities, but only within their social group, youth organizations were non-existent. Our mission was to empower young people with disabilities, promoting a social model rather than the medical model for these young people with disabilities to remain locked up and isolated. And it was a unique organization of its kind because it brought for the first time the part of social inclusion of young people with disabilities and other young people. 
We did not have a donor, as is usually the case in Albania, where organizations have a donor and do projects. Our union was purely voluntary, with the goodwill of the youth to do something necessary for the community and the youth. The board members and I were young people full of ideas and initially applied with two small but very impactful projects. In the first project, we realized a ramp at the Art Gallery and an exhibition with drawings/paintings of children with intellectual disabilities of the special school Luigj Gurakuqi located in Tirana. Over 250 people participated in that activity which took place in 2005. We still cooperate with this school which currently studies 127 children with intellectual disabilities such as down syndrome, learning disabilities. 
The organization then participated in the activities of European education programs, the Youth program that existed at the time. I was lucky enough to be selected by SALTO SEE in a contact seminar in Budapest and that is where our journey in working with the educational programs of the European Union began. This seminar marked a beginning not only for our organization, for the increase of cooperation and networking with European organizations but also to promote the engagement of young people from Albania in these projects that were unknown at that time to the Albanian youth. It was a fantastic experience because we in Albania did not have such experiences. 
With the development of the organization and seeing that the youth sector was very weak in Albania in that period, our mission expanded. Many young people expressed interest in joining us and we expanded the target group of the organization by expanding it to all young people in Albania. 
Beyond Barriers today has a strategic plan for the organization, we have 7 pillars of our work which are: human rights education, social inclusion and diversity, volunteerism, youth employment, and social entrepreneurship, youth participation and active citizenship, digitalization and innovation, and youth work which is also the common denominator of what we do in our programs. 
Volunteering is one of our main pillars. Currently, we work at local, national, regional, and European levels in terms of stimulating, promoting, and recognizing volunteerism at the policy level but also at the direct level. At the moment we have a project funded by Lëviz Albania, which aims to create an enabling environment for volunteerism in Albania, one of the interventions is in the recommendations we have made for the Albanian state to improve the law of volunteerism, (in Albania we have a law which is not functional, instead of being a promoter of volunteerism, it has created an administrative and social barrier to volunteerism). This project for the first time has set up a digital platform called which has various functions such as promoting and informing the public about volunteering, matchmaking for volunteers/institutions and organizations.  
In addition, we cooperate with RYCO, we are local partners for Albania for regional volunteering in the Route WB6 project which promotes regional volunteering in the Western Balkans and enables the exchange of volunteers between the Balkan countries by promoting peace and reconciliation among young people. And for this, a manual has been made, short-term and medium-term volunteer exchange schemes have been tested. 
While at the European level, we work with European volunteers. Starting from 2011 until now we have hosted almost 250 young people from Europe in our activities here, in the field of social inclusion but at the same time, we have sent about 200 young people to different European countries to do volunteer work in the countries of the European Union. 
The BBA has also implemented other projects related to youth employment and entrepreneurship through IPA projects. 
While a very important part of our activities is youth participation and active citizenship, and these are the youth programs we participate in Europe, from the European Commission is Erasmus+, and we send young people to various activities that increase youth participation but also active citizenship. 
Looking at the trend, especially with the pandemic, although we have not developed this component much, the staff of the organization is working on two platforms, as I said, one is vullnetarizmi.al and the other platform that we are developing is for human rights issues, specifically hate speech. The function of this platform is informative, to show what is hate speech or what are the steps that people who encounter hate speech should take. We have also built a module within the platform, where young people, teachers, and youth workers can be introduced and self-taught to learn what hate speech is through non-formal education methods.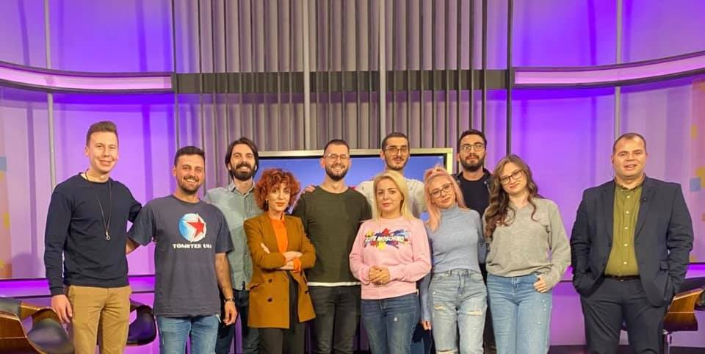 What was your personal motivation to work in the nonprofit sector? 
Ana: I have studied social sciences, but I have always had a great desire for the development of society, volunteering, participation, and being an active citizen, and always when I had the opportunity I used my free time in the service of groups in need in volunteer activities. For me it is important to leave a mark in life, to contribute as much as I can to the activities that develop the community. I have received a lot of expertise; I have completed a master's for European projects and planning and management. But I have always wanted to stay in Albania and give my knowledge and contribute to the Albanian youth. I am idealistic in nature, and I like to be that way. As Mother Teresa said, let us do small things with great love. 
I have been working in this field for 23 years, and I could have been in any kind of profession, but I preferred to stay here because I really believe in what we do. This is also the motto of our organization "We believe in what we do". Because I have seen change, I see that the difference can be very small, and it can be individual in some cases, but it is like those circles you throw a stone in the water and those circles open. So, I have seen this change in young people in the activities we have done, and I think this is the most important part of the work I do. Because when I get older, I want to look back and to see that I have done as much as I could for the youth, and I think I have somehow achieved it so far.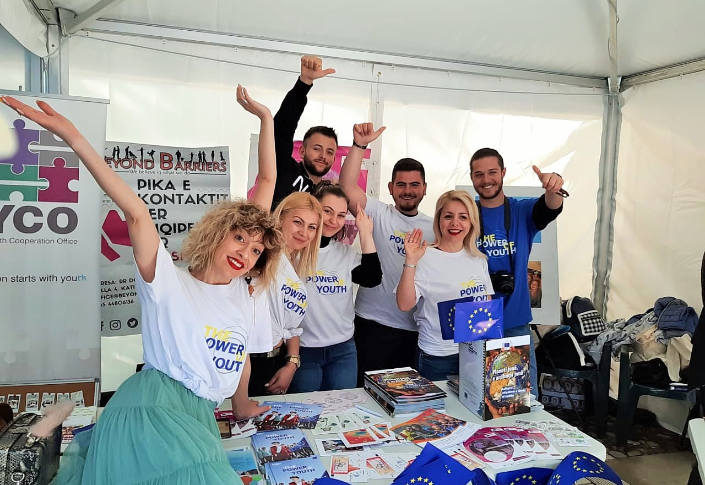 How did the COVID-19 crisis affect the organization's work? How much has the way you operate changed? What activities were you focused on recently? 
Ana: Covid-19 has had an aggressive impact on our work. There have been very few donors who have published calls for applications, and the consequences are more visible now. Since we were not able to apply, those reserves that we had accumulated as an organization were used, we had some fluctuations such as salary reductions for a certain period. But then through hard work, the organization started to recover. It wasn't that simple. What we as an organization learned is that our work turned mainly online, and even training employees to work digitally has had that effect of its own. We had to train staff on how to work online. This too has been a difficulty, but I believe it has not been so only for us, but for the whole world. As I said, we have recovered now, but the pandemic had a very bad effect also because the state did not want to know about the organizations at all, even though we needed help at the time.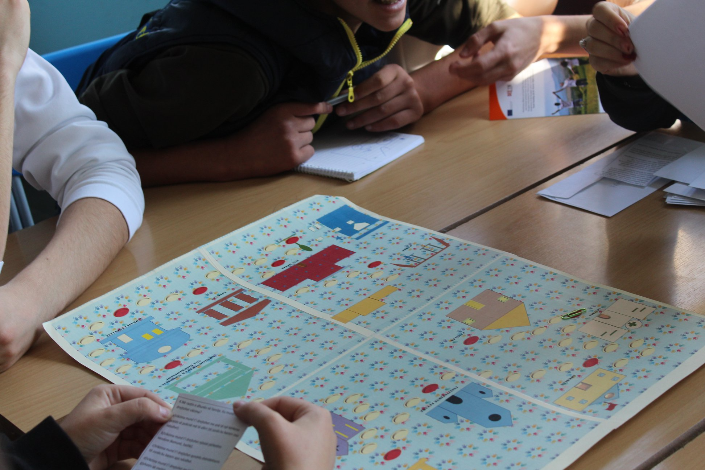 Which activities are you most focused on at this moment? Which are the most important goals you have planned to achieve in the future? 
Ana: The organization has several projects under implementation, but I would like to dwell on a project very dear to me, the greenhouse for children and young people with intellectual disabilities, which will be built on the premises of the special school Luigj Gurakuqi, with which we have been working since 2004 until now. To the school, we always sent volunteers, the foreign volunteers we got, part of their time they worked at the school. So they did artistic, cultural, sports activities with the children. The philosophy of the school is for these children to go there and study, but it is impossible because of the difficulty and the way of development they have. The work of volunteers has helped children a lot because they need an alternative curriculum and not just to learn school subjects. 
These children need an alternative environment to learn, to interact in groups, to work with other young people and their peers outside the classroom, so the idea of ​​the greenhouse was born. When the smile.al platform was opened in Albania, we sent the project there, and it was liked very much, it was evaluated as a very good project, as we also sent a model of what the greenhouse will look like when it is realized. I think our society still needs time to perceive the culture of giving for social causes to contribute to the good of the community. In the call for donations in the platform www.smile.al we have done a lot of promotion but the results are not good. For all those who read this interview, I would like to invite you to contribute as much as possible to our initiative on the platform smile.al: Greenhouse for children and young people with intellectual disabilities in order to be able to raise the necessary amount to give this greenhouse to disabled children. 
In terms of goals for the future, those 7 pillars of work that I mentioned are important to us. Normally we want to expand our organization, we are the number 1 organization for youth in Albania, we work at the local level, not in all of Albania because it is impossible for us, we cover the largest cities and some areas that are geographically more marginalized. Our plan is to work with young people, but more on the part of building leadership capacity among young people by being active citizens, participating in community development. We have a very good scheme to do this with volunteer clubs but that requires funding and human resources. While we will stick to these pillars of work that I highlighted at the beginning because they are in line with the objectives set by the European youth strategy.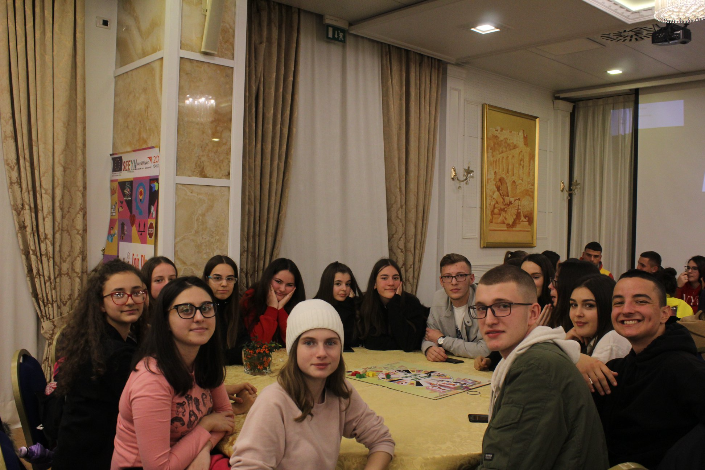 How is your association funded? Which types of donors do you work with the most, and how? How can someone support your work? 
Ana: The biggest sponsor of our projects is the European Commission through the Erasmus+ and European Solidarity Corps programs. We also have cooperation with RYCO, with the regional office and from them, we have won several projects, we also have other donors but none of them are from the business sector. Here in Albania, there is a great need for organizations to connect with businesses and be able to be financed by businesses. This is still an unexplored area. We have also cooperated with Partners Albania and they have created the opportunity for us to meet different businesses that were interested in financing the field of civil society, through a meeting organized by PA where we had the opportunity to present our ideas to businesses. It was a great initiative, and they are the only ones helping the sector and making an effort in this area. I personally see this form of financing as a very good alternative to be developed in the future. But for now, our main donor is the European Commission.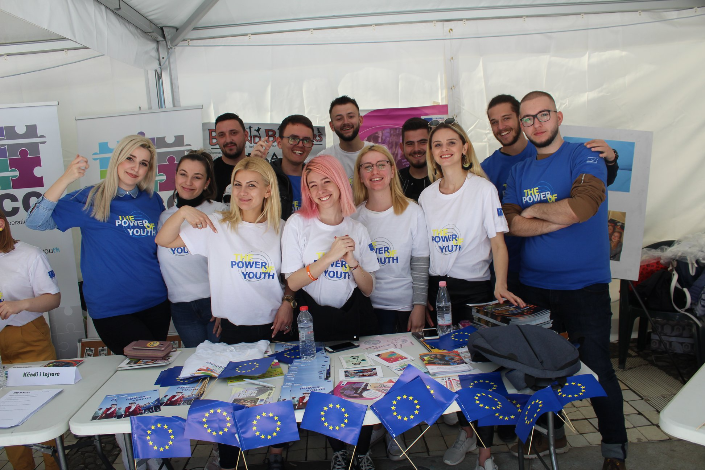 How does your organization contribute to the development of philanthropy in Albania? 
Ana: We have local partnerships, which means that we have not seen local organizations as a competition but quite the opposite, and this has always been our philosophy, we have helped and promoted and shared with others the knowledge we have. Through the EC in Slovenia is Salto Southeast Europe working in the Western Balkans, and Salto has licensed us as an organization to be the contact point for the Erasmus+ and European Solidarity Corps program s, from 2011 until now. And what we do is provide information and build the capacity of organizations at the national level in terms of knowledge to apply to EC programs. I think this is a kind of philanthropy because we share a lot of information and if you look at the national level the funds that Albanian organizations have received through the Erasmus+ program or Youth Injection, are much more than in all other EC programs, because the programs of the commission operate in such a way that our state pays a fee for participation in this program and they then return with projects.
Albania has received many projects in the programs I mentioned, and all this is our merit because in 2009 in the youth component only one organization applied and that was us. While now 80 organizations apply, they receive a lot of funding. For example, in 2018 or 2019, Albania received about 1 million euros from the youth component alone. So, we have really built the capacity of organizations, and philanthropy is not just about donating money, but also donating time and information. We have also donated several times from the organization's funds for civil society projects which have been presented at various events.
Also, in the earthquake of November 2019, our organization donated one of the containers worth 2,000 euros, not a small amount for a non-profit organization like ours, we donated the container to a family with two children who were living in a tent in the middle of winter. And usually, we as an organization, when we have seen projects or issues, especially of social importance, have always donated with the opportunities we have.
On the other hand, we have continuously contributed to our society with volunteer work and with our efforts to develop volunteer work, in 2011 we formed the Local Voluntary Service in Tirana, and it was the first of its kind and was distinguished as a very good practice. The service consisted of us as an organization and 12 institutions and organizations that wanted to host volunteers, we trained them in the cycle of sustainable volunteer management, and on the other hand, we hired young people who worked in these organizations and served as a bridge. This continued until 2015, but then in 2016 after the law on volunteering was approved, which was very restrictive and we were forced to stop this activity, as the law was presented as a barrier and did not enable volunteering, but rather limited it. What I wanted to say is that this activity was also in the framework of philanthropy, in 2011 we had 500 volunteers throughout Tirana, but there were 500 trained volunteers, with regular contracts for a period of 3 months, prepared for working adequately under the supervision of staff. Which again means capacity building. 
How do you involve your community in your work, and why is it important? What does that support brings to your organization? 
Ana: When compiling our projects, we take into consideration the opinions of our members, but not only that, but we also make an impact measurement with the target group we work with, evaluate reports on activities, and always seek feedback and suggestions for the future. And based on this measurement of the impact we make, not only when an activity ends but also in general, I think this is how we address those needs that are in the community. I also stressed that we work with partner organizations, e.g., we work with organizations that work with the Roma community, we work with European integration units in each municipality, in 61 municipalities of Albania, we have worked with them in terms of preparing them to apply for EC programs, but at the same time, we also do local activities. So, cooperation for us is very important with organizations, institutions, organizations of minority communities, small organizations that do not have many opportunities, organizations of marginalized communities such as those of sexual minorities. So, this is how we convey our work to the target group in need.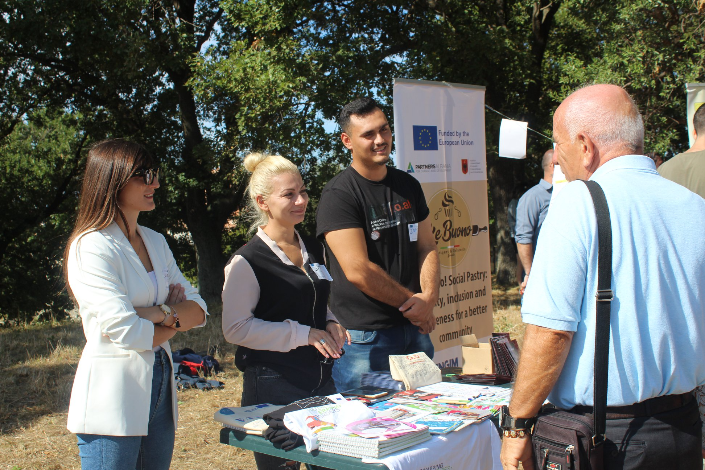 Do you cooperate with other nonprofit organizations? How? Can you tell me more about that? 
Ana: Being a contact point for the Erasmus+ and European Solidarity Corps programs, has given us the opportunity to get to know many organizations, and in addition to helping these organizations, we have also had the opportunity to talk and discuss what are the objectives of each organization, strategic plans, and with those organizations, we have found common lines of action we have established partnerships. So we have cooperation with many organizations and integration units that are located in each municipality in Albania.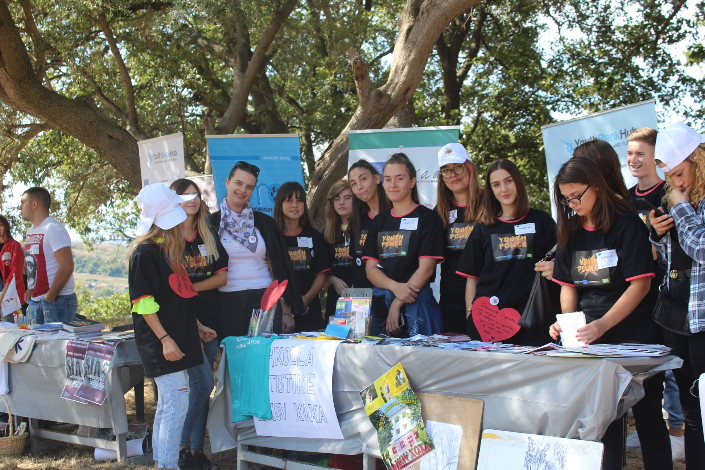 What are the biggest challenges you face? 
Ana: The biggest challenge I think is to work in an environment where meritocracy cannot flourish. The youth sector is still underdeveloped, and many organizations are still at the survival level. The youth sector needs sustainability and state policies that support and legislate youth work. This leads to the efforts that youth organizations must make for the recognition of youth work, which is still underdeveloped in Albania. I think this is the biggest challenge, then it brings all the following, that there is no financial stability, we train the staff and then when they find a better job they leave because youth work still does not have a status, it is not recognized in Albania. We asked for the law in 2019, and if you look at it then at least for the first time a definition of youth work has been made, but there is nothing about the status of a youth worker, it is not recognized as a concept. So, youth work needs to be recognized in legal and social terms, and this is something that presents itself as a challenge. Ignoring the youth sector or youth work, the efforts that our organization or many organizations at the national level make. So, our work is not being considered. Lack of cooperation and institutional support severely limits our work, although working with young people is quite difficult and responsible.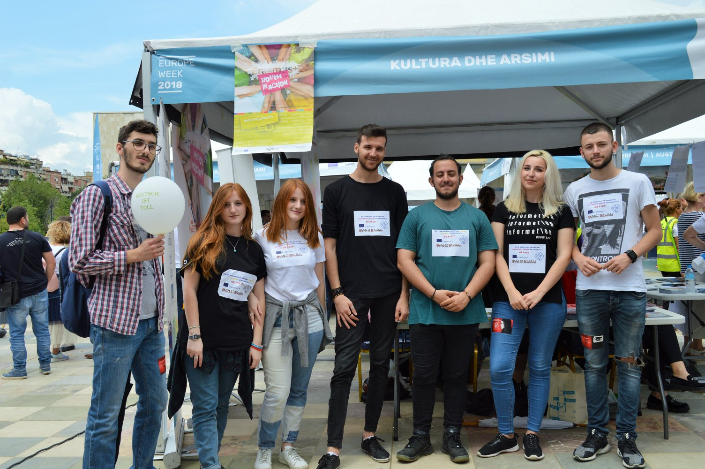 What do you consider your greatest success, and what is next? 
Ana: I am proud of what our organization has achieved, despite the fact that we have not had a donor like many organizations here in Albania, and I am very proud that the executive staff in cooperation with the organization board has worked and continue to work hard that the organization carries out sustainable and time-resistant projects. 
Beyond Barriers has managed to develop, create, and bring a unique approach to working with young people, mobility programs, such as volunteering, digital platforms, board games (gamification and board games for human rights), that we brought in Albania for the first time as an innovation from our projects. The other part that is very important is the impact we have left on young people by giving them opportunities to receive information, to increase their competencies in various fields, opportunities offered to young people from all over Albania. Not far from yesterday, we received the news that a young man from a small village in Albania, whom we sent through a volunteer program in Italy, has shown tremendous success, although when he left from here, he did not have a jacket with him, and this is just one of many examples we have over the years. So, the fact that we give young people an opportunity to develop and advance is the biggest success for us. Although over the years we have received several awards for our projects from various institutions and organizations, the opportunity we offer to young people who do not have an opportunity remains our greatest success.