The COVID-19 pandemic has changed the lives and habits of us all, affecting all segments of society. This year has been different from all the previous ones in terms of philanthropy and donations as well. According to our surveys on philanthropy, the largest number of donations was intended for the fight against the negative effects of the pandemic.
Certainly, many initiatives have been organized for other causes as well, and we have strived to offer you regular weekly reports on good deeds and donations intended to support communities in the entire region.
Nearing the end of 2020, we present you with the stories of 10 good deeds that have marked this year, each in its own specific way.
We hope that some of these stories will inspire you to round up this year with a good deed of your own and to support your community in multiple ways in the upcoming year.
Providing emergency assistance to Novi Pazar, Tutin and Sjenica
The same as many previous crisis situations, the coronavirus pandemic has shown that we respond to crises with solidarity and unity, providing support where it is vital.
One of the best examples of that has been the campaign for providing assistance to Sjenica, Novi Pazar and Tutin, which was launched at Donacije.rs when these three cities became COVID-19 hotspots.
When the situation escalated in these three cities, a campaign for providing emergency assistance was launched, whereby 462 donors contributed with RSD 2.5 million in just over two weeks. What is more, the first RSD 1.5 million was raised in only two days.
Owing to the support of numerous citizens, companies, organizations, as well as Group 484 and the Norwegian Embassy, necessary medical and protective equipment was purchased, which enabled medical professionals and patients to fight COVID-19 more efficiently when they most needed to.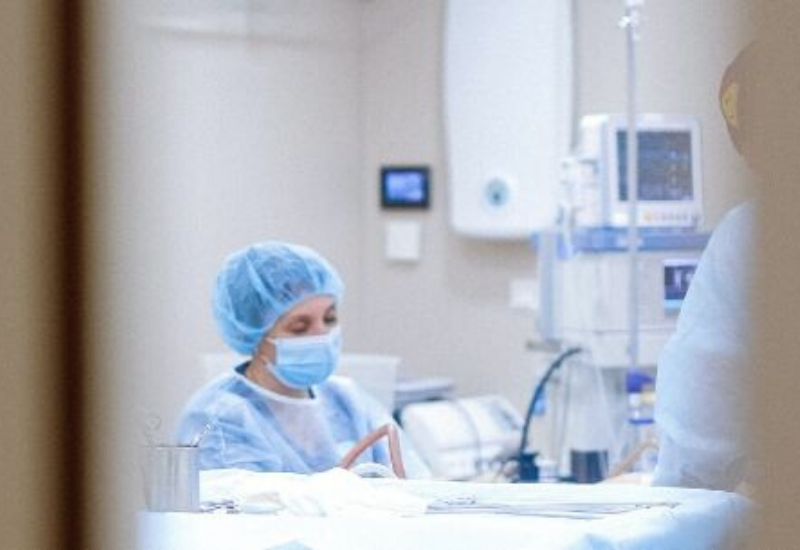 Considerable community support for Café Bar 16 that employs children and youth from the Children's Shelter in Belgrade
A special café called Café Bar 16 has existed in Belgrade for almost three years now, and it employs over 40 young people living in extreme poverty, offering them a sanctuary and a place to learn and have fun.
The Center for Youth Integration founded Café Bar 16 so that the children who have to leave the Shelter when they turn 16 would not be left on their own.
For 16 years, the Children's Shelter has been working with children aged 5 to 15 who live and work on the street. These children mostly live in extreme poverty, in shanty towns in Belgrade.
The coronavirus pandemic stopped the world, and we have all felt the consequences. However, the pandemic particularly affected vulnerable groups, including children who live and work on the street.
On the other hand, as a hospitality business, Café Bar 16 was among the first to feel the economic effects of the measures introduced to protect the health of the population. It became almost unsustainable for the café to finance its operation from revenue, as it had been doing before the outbreak of the pandemic.
In order to be able to continue operating in the following months, they organized a fundraising campaign at the Donacije.rs platform.
The campaign was originally launched with a goal to raise RSD 600,000, but it soon reached a higher goal – RSD 1 million, which was also exceeded in just over 2 weeks.
The project was also supported by Group 484 and the Norwegian Embassy, and the total sum of donations amounted to RSD 1,349,610.
In addition to attracting donations, this campaign inspired a huge response of the community, which provided support by sharing information and calls for assistance. A large number of citizens and celebrities in Serbia shared the information and invitations to donate via their social media, while the media also provided support by reporting on the campaign and its success.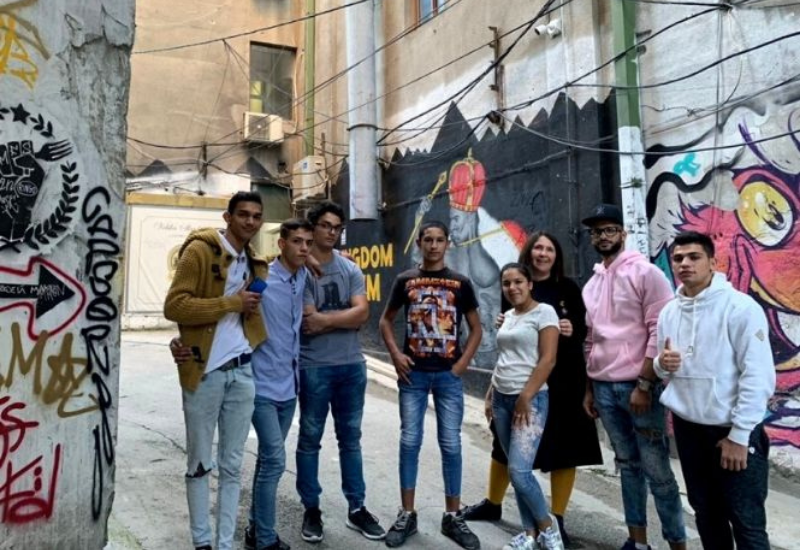 The contribution of the Serbian Philanthropy Forum and B92 Fund in the fight against COVID-19
From the beginning of the crisis to the end of November 2020, over EUR 20 million was donated for the fight against COVID-19 in Serbia. The corporate sector was the largest donor, while the greatest number of donations was directed to local and national governments and institutions.
The cooperation between the non-profit and the corporate sector also resulted in a significant contribution, whereby B92 Fund and the Serbian Philanthropy Forum played an important role.
Owing to the engagement of the members of the Serbian Philanthropy Forum and the entire philanthropic community, and in cooperation with B92 Fund, around RSD 190 million was raised in the form of cash, while over RSD 10 million was donated in the form of goods, all of which was intended to provide support to the healthcare system of the Republic of Serbia.
The members of the SPF worked on finding distributors, storage facilities and delivery companies that were able to urgently deliver the goods. In this way, in cooperation with Nordeus and UNICEF, a permanent table of needs and deadlines for delivery was created, where data is updated on a daily basis.
Some of the examples of donations for the support of the healthcare system are the following: Hemofarm Foundation – RSD 5,000,000; Hemofarm Stada – EUR 387,000; Delhaize – RSD 6,000,000; UniCredit Bank – EUR 50,000; Elixir Group – EUR 30,000,000; Nordeus – EUR 60,000 and RSD 3,391,200.00, individually and through their initiative with the members of Digital Serbia; Telekom Srbija – RSD 20,000,000, and Marbo Product as part of PepsiCo Group – RSD 11,000,000.
Donations in goods were also crucial, primarily hygienic products, which were provided by Unilever Belgrade, regular meals for medical staff and patients, which were donated by McDonalds, and food and beverages donated by MOL, Coca Cola, Marbo Product, MDS, and Mars. The total value of these donations was over RSD 10 million.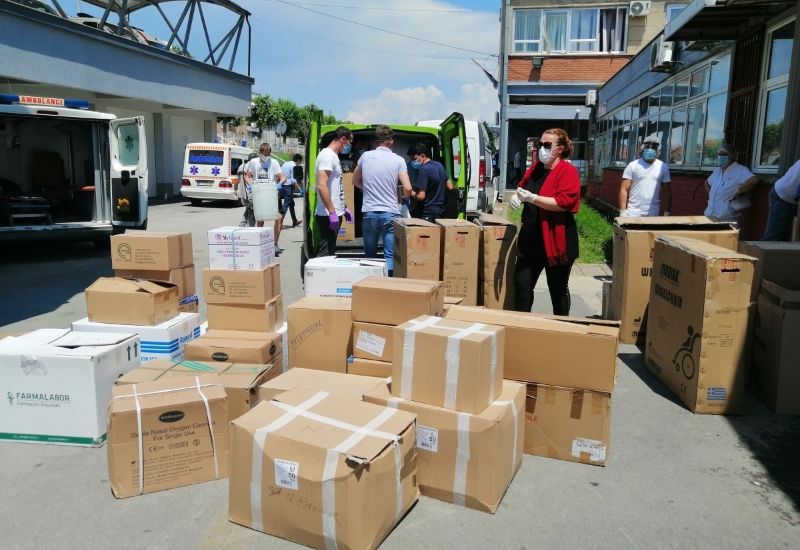 Individuals donating for children's medical treatments
Although the majority of donations was intended for the fight against the negative effects of COVID-19, the support to other causes was not lacking either. One of the most supported themes was healthcare, where, according to our research, more than EUR 10 million was donated to 'Budi human' Foundation for medical treatments of people in need of expensive medical care abroad.
What attracted a lot of attention were the contributions of individuals, who provided donations for the medical treatments of children in various ways.
A wonderful example was given by Miloš Mijailović and Biljana Dragićević, who donated their 90 m2 house in the center of Rudnik for a charity auction organized as a fundraiser for the treatment of Anika Manić.
The house was sold for USD 8,000 to Spasoje Cvijetinović who lives and works in the United States. He also bought a scooter that Ivo Car and his family auctioned off to raise money for Anika. More specifically, he paid for the scooter, but he did not take it, leaving it to the family which made this humanitarian gesture.
Radoslav Marjanović from Umčari made a similar gesture by selling a house he inherited and donating the received EUR 10,000 for the treatment of Minja Matić, who is suffering from spinal muscular atrophy.
'Budi human –charity auctions' is a group established last year, where citizens raise money for children and adults whose treatment funds are raised through 'Budi human' Foundation.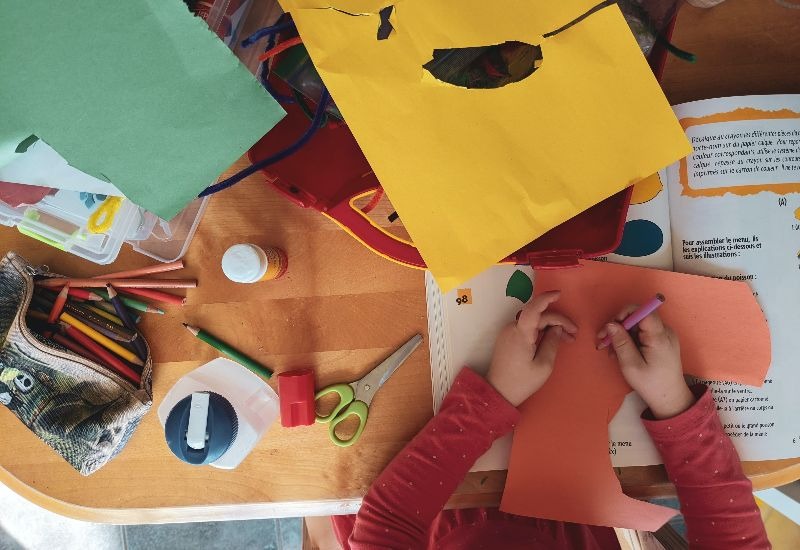 DM drogerie markt collects RSD 3 million for soup kitchens through the #GivingFriday campaign
For the second year in a row, DM drogerie markt organized their #GivingFriday campaign instead of traditional Black Friday sales.
As part of this campaign, the company donates 5% of its Black Friday revenues to charity. For this year's #GivingFriday, on 27 November, DM collected a total of RSD 3 million for the Red Cross soup kitchens in Serbia.
DM drogerie markt organizes #GivingFriday globally under the slogan 'Giving is the new black'.
In the last year's #GivingFriday initiative in Serbia, RSD 3 million was collected for the refurbishment of the University Children's Hospital Tiršova.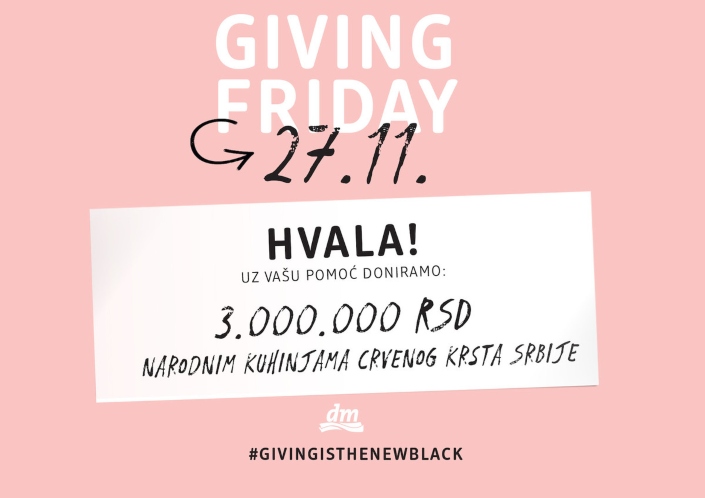 Hajriz Brčvak: good deeds supporting Montenegro and Sandžak
One of the outstanding individuals widely known for his philanthropic work in Montenegro is Hajriz Brčvak, who has been supporting the Montenegrin community in various ways for years. For his contribution, he received the 2019 Iskra philanthropy award, awarded by the Active Citizenship Fund. His support has not been lacking this year either, both in terms of donations for tackling the effects of the COVID-19 pandemic and initiatives for other causes.
In 2020, Brčvak has supported his community through numerous donations, some of which include the following: EUR 100,000 to the National Coordination Body for Communicable Diseases to support the fight against the coronavirus; a donation of 60,000 gloves, 15,000 masks and 2,000 visors for hospitals and health centers across Montenegro; 100 protective suits for the Bar Health Center; disinfection tunnels for Montenegrin hospitals; 750,000 masks for citizens and 140,000 masks for school children in Montenegro.
The total value of Brčvak's donations in money and goods amounts to more than half a million euros. To show their appreciation, this summer, the people of Bar installed a billboard with his name, calling him "the symbol of kindness in Montenegro".
In addition to his donations in Montenegro, Brčvak has sent donations to Sandžak in Serbia. In times of the worst health crisis in that region, he donated money, equipment and supplies for Novi Pazar, Tutin, Sjenica and Prijepolje.
Cross-border solidarity: support to Albanians affected by the earthquake
In late 2019, Albania was hit by a devastating earthquake, and the people affected by it continued to receive support throughout the following months, i.e. the first months of 2020.
The total value of donations provided by citizens, companies, international organizations and governments of various countries was EUR 1,988,854,600.00. A significant sum was collected at a fundraiser held in Brussels in February 2020, where the largest donors were numerous foreign governments which together donated a total of EUR 1,336,536,000.00.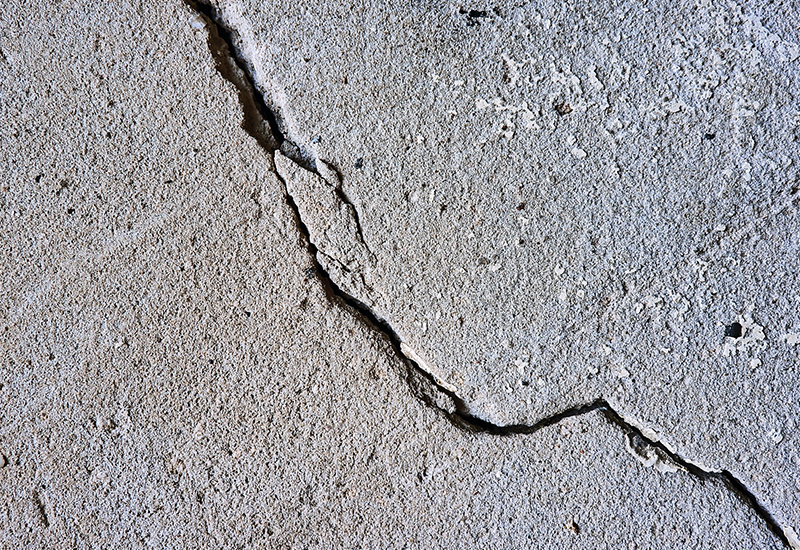 Emergency support to the most affected by the Zagreb earthquake
Following the devastating earthquake that hit Zagreb in March, many companies, organizations and individuals organized support for the people who had been most affected by the earthquake.
One of the initiatives included Fund 5.5, which was established by citizen initiative 'Zagreb Earthquake Relief' and Association SOLIDARNA.
The main goal of the Fund was to provide emergency financial assistance to the socially vulnerable groups of citizens that had been particularly affected by the Zagreb earthquake.
Through a public call for application, assistance was awarded to 48 socially vulnerable households, in the total amount of HRK 706,400, while the average individual grant per household was HRK 14,716.
In this way, a total of 132 people received support, including 37 children, 18 people with disabilities and 21 persons with chronic or serious diseases.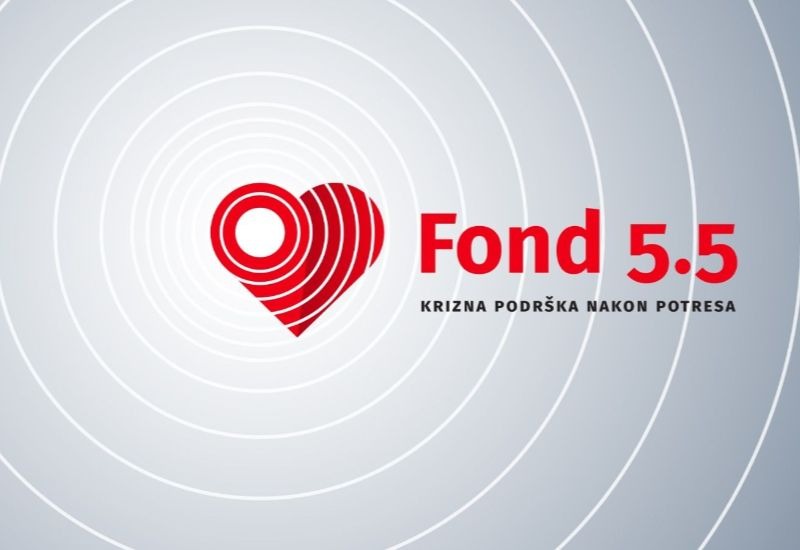 BH Telecom donations
This year, BH Telecom has provided donations across Bosnia and Herzegovina in the total amount of over KM 2 million, of which KM 1 million was donated in the first days of the pandemic, where canton and general hospitals in Konjic, Zenica, Goražde, Travnik and Bihać each received KM 200,000 for the purchase of the necessary equipment.
The remaining KM 1 million was distributed to a total of 164 legal entities for the purpose of supporting projects related to providing assistance to the most vulnerable groups, people with disabilities and developmental difficulties, soup kitchens, humanitarian associations and education institutions.
Many of these 164 legal entities that received donations were education institutions. A total of KM 450,535 was donated to a number of elementary and secondary schools, while KM 105,200 was donated to the universities in Bosnia and Herzegovina, including the Faculty of Electrical Engineering in Sarajevo, Faculty of Electrical Engineering in Tuzla, Faculty of Transport and Communications in Sarajevo, and the University in Bihać. The funds were used to purchase the necessary equipment for IT centers and laboratories.
Furthermore, BH Telecom provided free internet access to around 4,000 students across Bosnia and Herzegovina to enable them to attend online classes. In addition, in cooperation with their partners, BH Telecom provided the students with the necessary equipment – 320 tablets and 20 laptops.
SASA Mine provided 200 tablet computers for students in Makedonska Kamenica
Another example of support to education comes from North Macedonia.
Since this school year has been different, SASA Mine decided to purchase 200 new tablet computers and donate them to schools in Makedonska Kamenica, so that all students would have the necessary conditions to attend online classes.
More specifically, 150 tablet computers were donated to students of the Saints Cyril and Methodius University elementary school, and 50 tablet computers were donated to 'Mile Janevski-Dzingar' high school.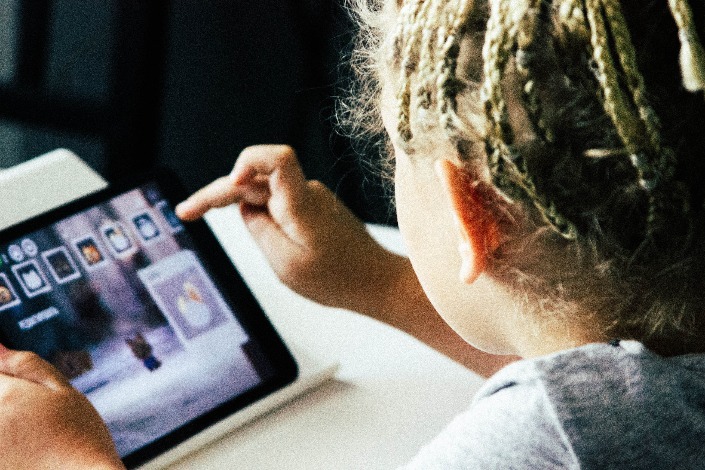 Conclusion
Among countless good deeds it is difficult to choose which ones marked this year the most. We will offer more examples and details on donors, the value of their donations, and the causes they donated to in our annual reports on the state of philanthropy in the Western Balkans in 2020, which we will publish in 2021.
In the meantime, if you think any notable initiative has not been included in these examples, please write to us and we will gladly expand the list.