Association 'Čepom do osmeha' ('Bottle Cap for a Smile') has been successfully carrying out the action of collecting bottle caps so as to strengthen and support individuals and families of people with disabilities.
This action has been carried out since 2012, and currently gathers more than 2,000 volunteers across Serbia and the region. Vanja Petković, the Association President and master environmental protection analyst, has told us more about the work of the Association.
How was Association 'Čepom do osmeha' established? What was the initial idea and how did your mission take shape?
Vanja: Association 'Čepom do osmeha' was established in 2014, but the idea of launching the action had sprung a couple of years earlier. Namely, when I was a student of ecology, and today I am the President of Association 'Čepom do osmeha' and master environmental protection analyst, I adopted a good practice of collecting plastic bottle caps, of which I learned during my stay in Slovenia, where I spent my undergraduate studies. Owing to my inclination towards environmental protection and determination to change my environment, with the support of my family and friends, I decided to launch a similar action in a country where I grew up, went to school, and started a family.
Humanitarian Environmental Organization 'Čepom do osmeha' deals with collecting plastic bottle caps, through whose recycling it ensures funds for the purchase of aid devices for children and students up to 26 years old with physical and developmental disabilities. So far, 55 aid devices have been delivered, including wheelchairs, electric wheelchairs, electric verticalizers, various types of walking aids, electric tricycles, oxygen concentrators, tablets, laptops and keyboards in Braille alphabet adapted to the needs of blind people, and many more.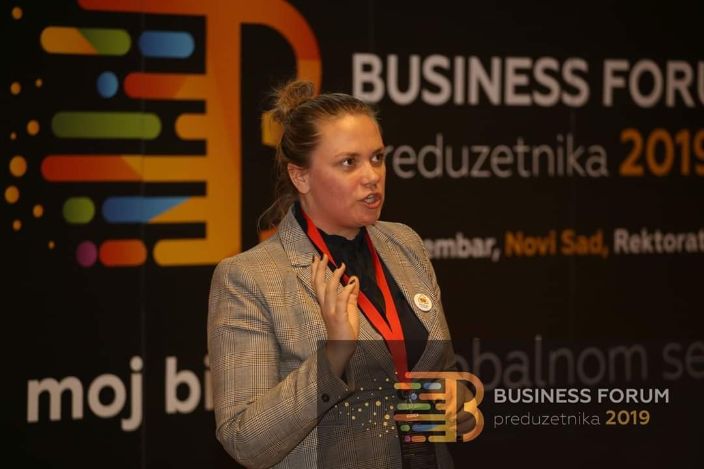 What was your personal motivation to work in the non-profit sector?
Vanja: I have always wanted to do something that fulfills me completely and to apply my formal education in a way so that I can contribute to changes in my environment and leave an indelible mark behind for generations to come. I have to admit that the model of behavior in terms of my approach to environment has been acquired at home, and that my parents encouraged the affinities which I am now trying to foster and which, with the help of my team of experts, I am trying to spread and share with all citizens of Serbia.
As I have said before, by selling the collected plastic bottle caps, we ensure funds for the purchase of aid devices for children with disabilities. In this way, as we often like to say, we combined the useful with the pleasant, i.e. by carrying for the environment we managed to inspire humanity, empathy, solidarity, tolerance and social integration of socially vulnerable groups.
For every child's smile and infinite gratitude of their parents, whose lives we have changed by doing a very simple thing – collecting plastic bottle caps, we feel the need, as well as the responsibility to continue fulfilling our mission, and we will not give up on that idea.
How has the COVID-19 crisis affected the work of the Association? To what extent have your activities changed, and what has been your main focus in the recent period?
Vanja: Like everyone else, this situation also caught us partially unprepared. In a short period of time, we had to change our priorities and get used to the new living conditions. With our team of volunteers and engaged coordinators, we made sure that we make the best out of the situation, use our activities to show the importance of environmental protection, help the vulnerable and make all our resources available, that is – give our maximum.
We have to stress that the written words are not a coincidence and that our actions during the pandemic, as well as our long-term work, have been recognized and acknowledged, and that we have won the 'Drivers of Change' award, in the category 'Citizens' first vote', which is awarded by Belgrade Open School (BOS) and the United States Agency for International Development (USAID).
For all those whose philanthropy cannot be measured or expressed with an award, this is a confirmation that we are on the right track and that we are doing the right thing.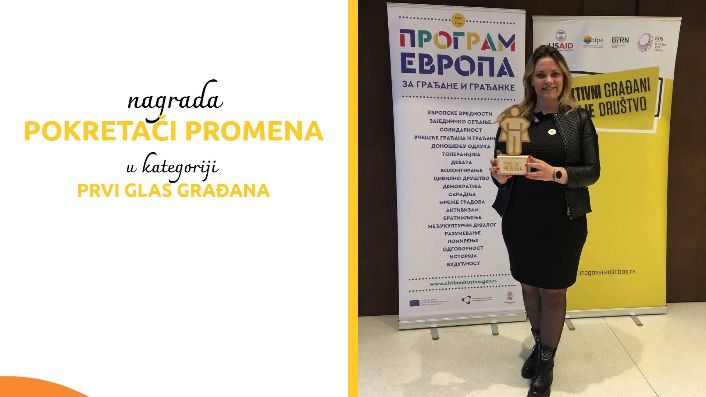 Which activities are currently in your main focus? What are the most important plans for 2021?
Vanja: Of course, we are still mostly focused of providing help and support to children and adults with disabilities, through collecting plastic bottle caps, purchasing aid devices, and by carrying out project activities that are aimed at improving the position of people with disabilities in society and increasing the visibility of their needs and the quality of their everyday lives, both in the period of growing up and ,later on, while they are searching for employment. We try to foster what is genuine and characteristic of our action, which is humanitarian nature, volunteer spirit and children's smiles.
We have worked diligently on developing an initiative for enhancing environmental protection called 'Europe's Green Area – Vojvodina without Pollution'. The initiative comprises a series of activities that we will carry out, which are diversified and aimed at mobilizing citizens and public figures from the field to engage on various levels in the Association's initiative, so that by 2023, AP Vojvodina would become Europe's green area.
If the circumstances allow, we will continue with our trademark activities – training of the youngest members of society, organizing creative workshops through which we communicate with children in an innovative and approachable way, including involving as many children as possible and promoting proper habits and values important for the social development of children and environmental protection.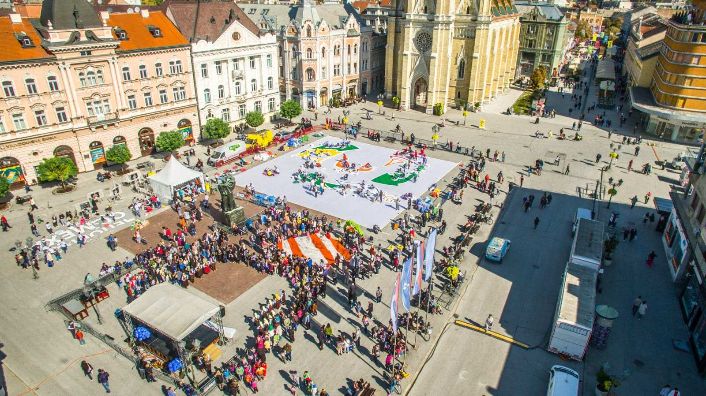 How is the work of Association 'Čepom do osmeha' financed? Which types of donors do you cooperate with and in what way? How can we all support your work?
Vanja: Association 'Čepom do osmeha' is a non-profit organization, and the funds covering basic costs that are necessary for its sustainability are ensured through applying for and implementing projects at the city, provincial and state level.
The main way to support the initiative 'Čepom do osmeha' is to collect plastic bottle caps, participate in our activities and engage people around you to do the same. The plastic bottle cap is only a symbol of changes that happen through raising awareness of ecology and environmental protection.
We advise everyone who wishes to join the action of collecting plastic bottle caps to start today. With a little bit of creativity, you can design your own box for cap disposal, or you can contact our volunteers and coordinators to get our branded and recognizable boxes for caps.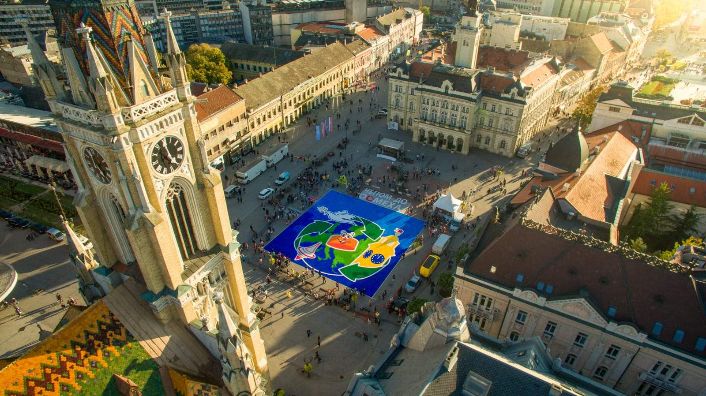 How do you think 'Čepom do osmeha' contributes to the development of philanthropy in Serbia?
Vanja: The answer to this question lies in all the things we do together with everyone who supports us and participates in the 'Čepom do osmeha' initiative. Everyday fight for respecting equality, care for children and adults with disabilities, preventing discrimination, and the fact that we do not recognize any differences on any basis define our contribution to philanthropy, but not only in Serbia. We say this because we act locally but think globally, building a system of values that must be and is universal in every part of planet Earth.
Environmental protection and spreading information, advocating for and educating on this topic are also covered by the term "philanthropy", because nature and its goods are where we draw our main life energy from and on which our survival depends.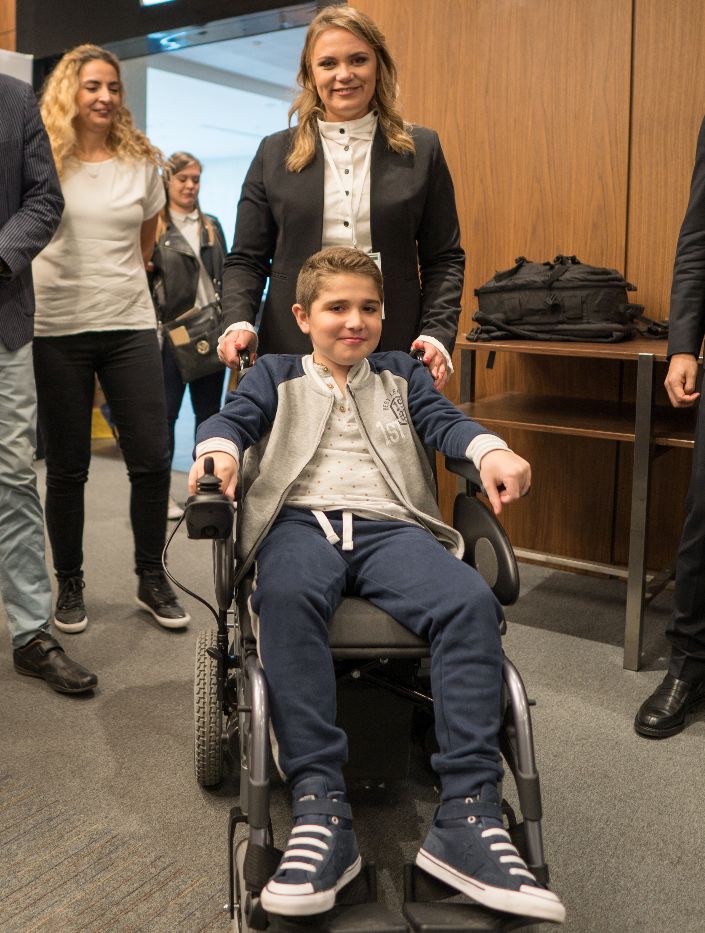 Do you cooperate with other non-profit organizations? If yes, which are they and in what way do you cooperate with them?
Vanja: We cooperate with numerous non-profit organizations and associations across Serbia. We truly have a wide scope of interests and we are always open for cooperation with everyone who in our mutual contribution sees the benefits to social good and entire community.
We have never entirely limited our scope of work, although our vision is specifically defined, and it is probably the reason why our actions have no limitations, and this is something we would say is the greatest advantage and virtue that characterizes our organization.
You have a large number of active volunteers. How do your reach and engage volunteers in the work of the Association?
Vanja: It is true. Association 'Čepom do osmeha' has over 2,000 volunteers, of which 25 are coordinators in all major cities in Serbia. Actually, the number is much higher, because everyone who takes a plastic bottle cap and disposes it in a proper place is our volunteer and a part of a wonderful community and broad network.
All of those who volunteer at the organization in one way or another have found us, because the positive energy we give out is strong, the goal we strive to achieve is clear and defined, and everything we do is transparent, reliable and meaningful. Basically, we have formed an environment where everyone feels accepted, has a chance to equally participate in decision-making and has the possibility to release and give their all.
Our end results, that is – children's smiles and the feeling that we did something good to help and make someone else's life easier, are healing and make the difference between life and pure survival.
This is all corroborated by the fact that in 2019 we were honored with the Award for Volunteer Work, in the category 'The Best Long-term Initiative in Serbia', with which we rounded up our story and gave it a new dimension.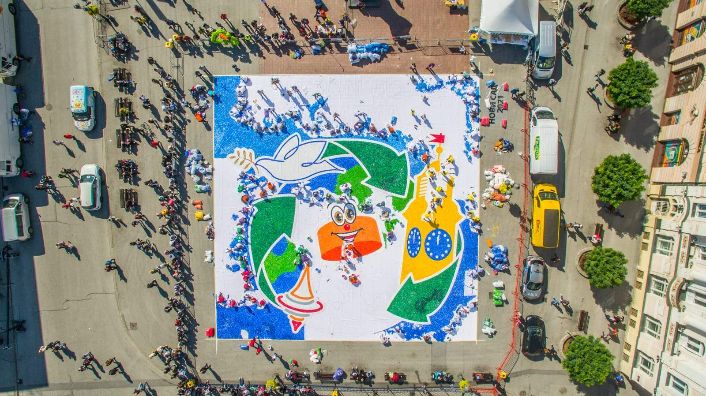 How can people who need your support, i.e. for whom you collect bottle caps, reach you?
Vanja: Every year, a Call for Application is published at the official website of Association 'Čepom do osmeha', where parents or guardians can apply their children for receiving aid devices they need but cannot obtain in any other way. The application procedure is not complicated and everything is thoroughly and clearly explained. Coordinators and volunteers encourage parents in their cities to submit the documentation for receiving aid devices, cooperate with similar associations and are available to answer any questions. All of the aforementioned is available on our social media, and we make relevant announcements in the media, so that the information would reach as many people as possible.
Regardless of the limitations defined in the Association's Statute and the fact that we cannot respond to all requests, we would like to emphasize that we are reachable through any means of communication, from social media and telephones, to email, and that we always try to offer a solution or an option, at least in the form of advice.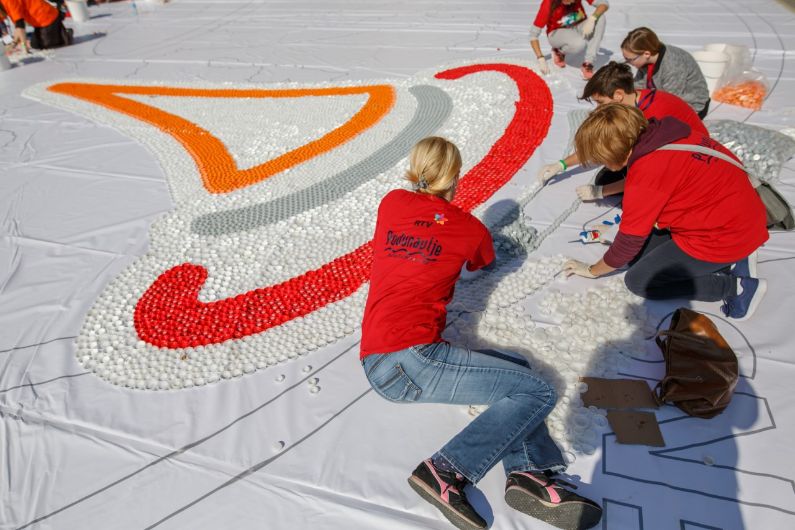 What are the greatest achievements of the Association so far, and what else do you wish to achieve in the future?
Vanja: It may seem like we are always going back to it, but the amount of 55 delivered aid devices is truly inspiring, because it is not just about a device that will make a child's life easier or about a properly organized day. It is about a long-term relationship that we build with those children and their families, it is about making one's problem more visible, solving it for the moment, listening to their needs and letting them know that they are not alone. We are never critical of anything, we are at their service with all our resources, knowledge, skills and experience.
The fact that we managed to employ three persons with disabilities during the COVID-19 pandemic is truly a pinnacle of our actions throughout all these years, because we managed to change the lives of three people and their families, who actually made us better and broadened our horizons in ways we could never have imagined.
The achievement we are also very proud of is the First combined playground for children with and without developmental disabilities, which we installed with the help of our partners at the Novi Sad beach Štrand, in 2018. This playground has five specifically designed pieces of equipment adapted to children with disabilities which can be used by all children equally.
What is probably our greatest success is the team that is the heart and soul of the initiative 'Čepom do osmeha'. A team of motivated, ambitious and enthusiastic people of different age, different background, coming from different places, gathered around a noble and unusual idea of collecting plastic bottle caps, which has now become common in every home and community in Serbia.
We will continue educating people on the topic of environmental protection, waste sorting, recycling, acquiring proper habits, models of behavior and raising environmental awareness. We will encourage the development of social entrepreneurship and try to develop and ensure a better environment for the advancement of children and adults with disabilities. The idea we strongly and sincerely believe in is that only if we join forces can we make changes and great and useful things for society.