Our community of benefactors is growing by the day. Since recently, Alma Quatro became one of them.
Alma Quattro helped us increase visibility of philanthropy and good deeds in Serbia and broadcast our calls for solidarity. Well known for its CSR (Corporate Social Responsibility) activities, during the 25 years of existence Alma Quatro supported many non-profit organizations and took part in many humanitarian actions. Some of the organizations they helped include Coalition for Giving (Dobročinitim campaign), SOS Children's Villages Serbia (campaign "What color is your heart?"), Animal Rescue Serbia, NURDOR, BELhospice, Cork for Handicap, B92 Fund (campaign "Battle for Babies") and many others.
As part of our joint action on promoting philanthropy, Alma Quattro supported Catalyst's campaign "Solidarity during pandemic" by providing free billboard space on many locations throughout Belgrade.
Owing to their support, in the following two weeks, our message of the importance of solidarity during the pandemic and call to support the most vulnerable populations will reach many. In that way, organizations raising funds for important goals on our platform Donacije.rs will be able to gain needed support.
Anyone who sees our billboards will find out how can support the most vulnerable people living in cities that became COVID-19 hot spots or children from socially and economically disadvantaged families across Serbia that need learning tools for their online classes.
You can support each of these campaigns by donating online or by sending an SMS to 7300.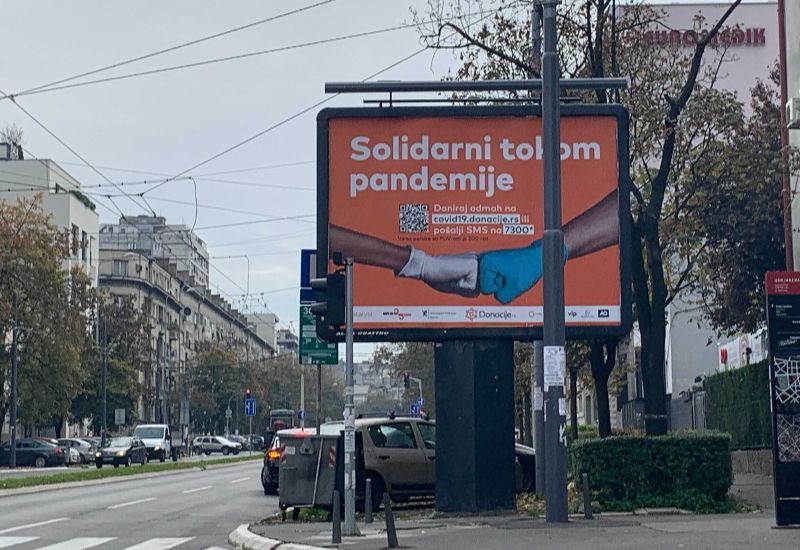 Established in 1994, Alma Quattro was the first company to bring outdoor advertising to Serbia. Therefore, we believe that this partnership will be of great value in our future promotional and awareness campaigns, as well as for calls to action.
We would sincerely like to thank Alma Quattro for their trust and support. We believe that this campaign is just the beginning of a long collaboration and that we will continue working together on the development of philanthropy in Serbia.